Please note: All Sun Lakes events and activities are subject to change based on the COVID-19 guidelines and protocols set by the State and County of Riverside.
Garage sales are back!
The first three weekends in May from 8 a.m. to 4 p.m.
May 1: Districts 1, 4, 6, 8, 9, 10, 11, 12 and 13
May 8: Districts 14, 15, 18, 19, 20, 21, 22, 23
May 15: Districts 2, 3, 5, 7, 16, 17
Homeowners and shoppers are asked to please maintain social distancing and safe practices.
Face masks are strongly recommended.
Lifestream Blood Drive
Tuesday, April 27; 9 a.m. – 3 p.m.
In an effort to support Lifestream, we will be hosting another much needed blood drive. Our goal is to have 40 people to donate.
Please call Linda Vang at (951) 845-2191 to schedule your appointment.
Timeslots are limited and walk-ins will be accepted based on availability.
Community Shredding
Friday, May 7; 9 a.m. – 12 p.m. MCH Parking Lot
On Friday, May 7, iShred will be onsite in the MCH Parking Lot accepting your boxes for only $4 a box (standard Bankers Box please).
This is a great way to get rid of those confidential papers that you no longer need.
No sign-ups are required. Just show up with your boxes.
For more information, please contact the Recreation desk at 845-2191.
Ice Cream Socials are back!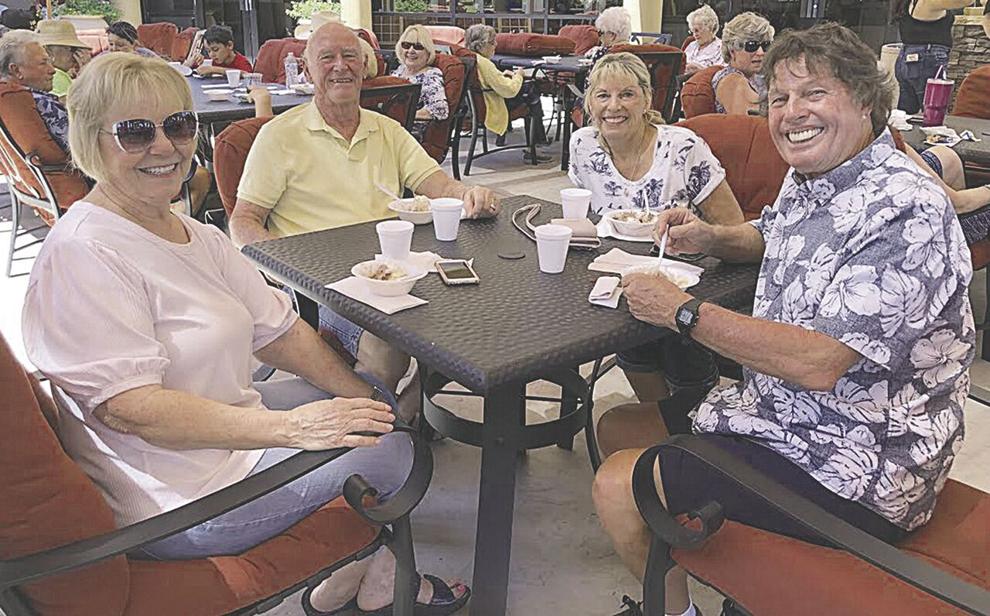 Join the Recreation Department and Recreation Advisory Committee every third Tuesday of the month for delicious Ice Cream Sundaes.
Sundaes will be $3 for vanilla or chocolate ice cream with your choice of syrup, sprinkles, whip cream, and cherries.
The first Ice Cream Social will be held on the Veranda from 2 to 3:30 p.m. on Tuesday, May 18.
Sun Lakes Charity Week
Monday June 7 – Sunday, June 13
"Island Dreams" will be a week of fun in the sun. At this time, all events are planned for outdoors with limited capacity.
The schedule of events is published in Lifestyles Magazine and elsewhere in this newspaper. Watch channel 97, Good Day Sun Lakes and the Sun Lakes website for more information and to print out a flyer for all of the events beginning April 21.
Flyers will also be available in the MCH.
July 4 Cart and Classic Car Parade!
The Recreation Department and the Recreation Advisory Committee are excited to announce that our Annual July 4 Golf Cart and Classic Car Parade will be taking place this year!
Please keep in mind that all event activities will be determined on what tier we are in and what the COVID-19 guidelines and protocols are through the Riverside County at the time of the event.
For those who wish to enter as a Cart, Float or Classic Car Parade participant, applications can be picked up at the Recreation Department Front Desk during normal business hours or you may request to receive an application via email by e-mailing Elise Campbell at elise.campbell@fsresidential.com.
The theme for this year's celebration is "United We Stand".
First, second and third place awards will go to recipients in each category of either float or cart.
We will be awarding the winners with a ribbon and gift certificate to the restaurant. There will also be a special, Most Creative Award that we will be calling the "Bill Mock Award" in honor of Bill Mock.
You may begin picking up or requesting for the applications May 1.
The deadline to register will be Thursday, July 1. For more information, please contact the Recreation Department at (951) 845-2191.