In May 2017, we traveled to South Africa to continue the exploration of the wonders and beauty that the African continent has to offer.
After several days in the country's largest city, Johannesberg, we flew to Skukuza Airport, the only commercial airport in Kruger National Park, where adventure awaited us.
The single runway Skukuza Airport is very unique and the facility and its decor blends exceptionally well with the African bush environment.
We collected our luggage and boarded a bus to take us to our hotel located on the Sabi River at the Paul Kruger Gate of Kruger National Park.
It wasn't long before we spotted elephants, impalas, crocodiles, giraffes, and hippos through the windows of our bus and my excitement and that of my fellow travelers was palpable.
We settled in to our luxurious hotel in the African bush and enjoyed dinner under the stars.
After dinner, we were entertained by a local Shangaan tribe that performed amazing African dances and music for our enjoyment.
Early the next day we met our driver and guide, Chris, who would be our guide during our time in Kruger National Park.
Chris, a fount of information about the park and the animals that inhabit it, was born and raised in South Africa.
Kruger National Park became South Africa's first national park in 1926 and is one of the largest game reserves in Africa (about the size of New Jersey).
The topography of the park includes hilly wooded savannas, grassland and scrub brush, as well as forested areas.
After breakfast we loaded into our safari vehicles for a day-long game drive in this magnificent park that is home to 146 species of mammals, 126 species of reptiles and over 500 species of birds. All of the big five game animals (lion, leopard, rhinoceros, elephant and Cape buffalo) are found in Kruger. Soon after entering the park we began to see a wide array of the animals that the park is known for.
Chris told us there are approximately 17,000 elephants in Kruger Park.
These huge mammals eat 18 to 19 hours per day, consuming 300 pounds of vegetation daily and utilizing only about 40 percent of what they eat.
African elephants have six sets of teeth during their lives and live to be between 60-65 years of age. Once their last set of teeth are ground down such that they can no longer mash grass, leaves, and other vegetation they die from malnutrition or starvation.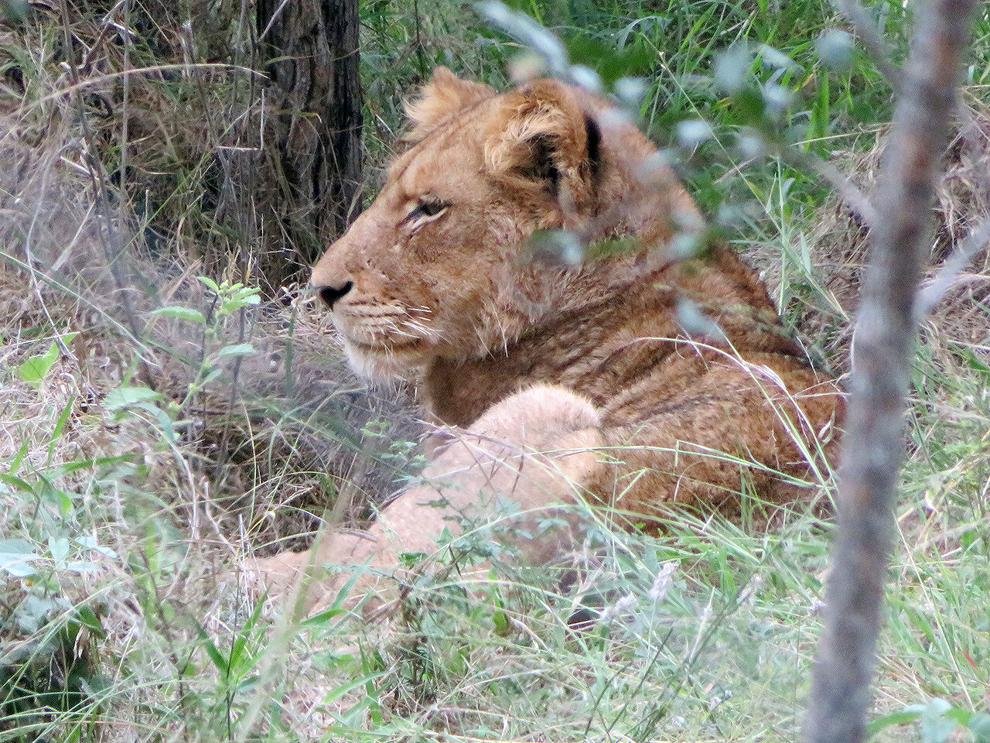 There were two highlights during the morning's game drive. The first was when we happened upon a lioness and a lion mating.
The male roared following the mating which is very unusual to hear during the day.
Our guide explained that this behavior by the male was a warning to other males in the area to stay away.
Later a bull elephant in musk was walking in the middle of the road causing the safari vehicle in front of us to back up which caused our vehicle to back up as well.
With his ears flapping, he trumpeted as he lumbered towards our vehicles.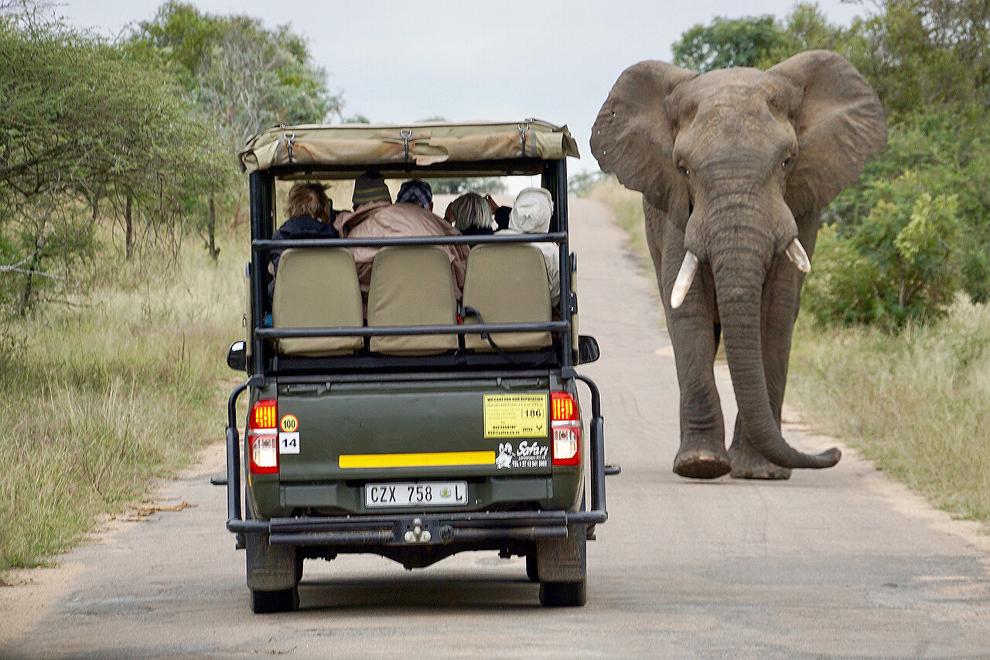 Our driver and others in the caravan revved their engines which eventually dissuaded him from continuing on his path towards our vehicles and he charged off into the brush and undergrowth along the highway.
What an experience! After a picnic lunch in the park we saw crocodiles, hippos, and elephants in the Sand River and four lionesses in the bush.
Before leaving the park at the end of the day, a family of 24 elephants crossed the road in front of our vehicle.
In addition to the lions, elephants, hippos, and crocodiles, we also saw a group of Cape buffalo, giraffe, impalas, warthogs, and a large variety of birds on our first day exploring Kruger National Park.
We spent three days exploring Kruger.
Our guide told us that there are between 800 and 1,000 leopards in the park and on our second day we caught a brief glance of one of these very elusive and beautiful animals.
Before leaving the park on our last day, we drove to a lookout point for a group photo.
From our vantage point, Kruger National Park encompassed as far as we could see.