The Main Clubhouse ballroom was bursting last weekend with fans of Journey, the 70's-80's American rock group, as the tribute band "Don't Stop Believing" was in the house. Led by charismatic lead singer Juan Del Castillo, the band included Tony Love on bass guitar, Henry O'Neil on keyboard, Danny Berglund on drums, and the incredible Miles Buckley on guitar.
Coming off their exciting 12-day tour from Greece to Jordan to Dubai, band members had the enthusiastic crowd screaming their heads off to music they loved.
Audience members clapped, waved, sang along, and danced in the aisles as the group sang hits that made Journey successful throughout the world.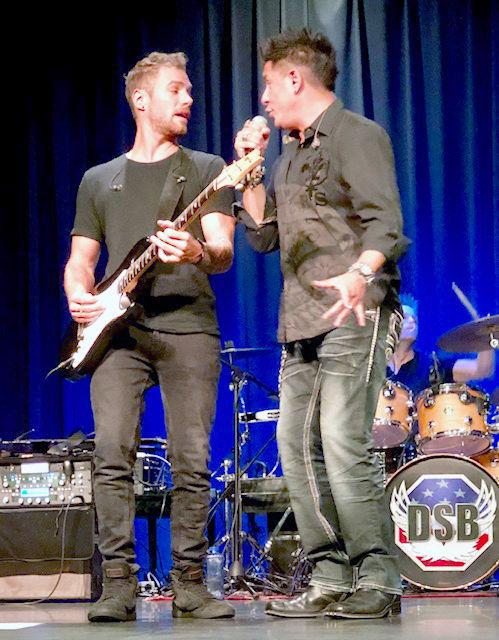 With his beaming smile and great voice, Del Castillo rocked and rolled across the stage in his iconic outfit that included boots, chains, earrings, bracelets, and jeans.
Buckley's fingers flew across his guitar as he was featured over and over again on the familiar repertoire of songs.
Love also played his bass guitar with gusto, and the audience rewarded them all with standing ovations. O'Neil and Burglund also rocked the room with abandon.
The band was formed in 2009 by Del Castillo and Love, and was celebrating its 10th anniversary.
About 20 dancing fans rushed the stage during the performance, some of them in stocking feet.
The entire show was dynamic, animated and energetic. Kudos to the Recreation Department for bringing yet another spectacular show to Sun Lakes.