BEAUMONT 28, BANNING 20: Late first half sub throws for 297, three touchdowns … Ross returns interception, scores on 82-yarder … Beaumont won yardage war, 364-363 … Madison, Galloway combine for 63 touches.
Jeff Steinberg has himself a shooter. Beaumont High quarterback Eddie McCulloch could legitimately be referred to as a high school assassin, especially the way he shot down Banning in a 28-20 rivalry game known as the War of the Wheel last Friday night.
Fifteen passes, 10 completions, 297 yards, touchdown strikes of 86, 32 and 82 yards to three different receivers. All as a late-game substitute.
There were four quarterbacks, six turnovers, just one quarterback sack, 49 passes thrown and each team had a goal line stand.
It was a rivalry showdown to be proud of, especially with America's Great Rivalry Series on hand to showcase this matchup that started back in the 1920s.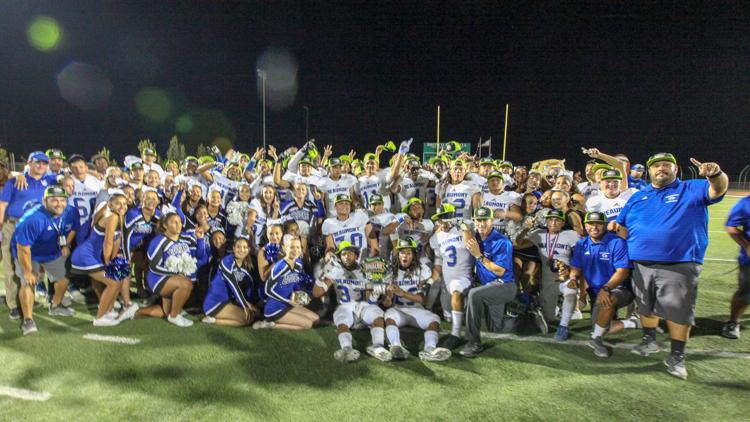 Lost beneath the glamor and hype of McCulloch's performance, Beaumont's defense came up with as many big plays in holding off a hard-hitting Banning attack.
Cougars' defensive tackle Logan Perez stopped Taron Madison on a 4th-and-goal power run from the 3. The six-foot, 204-pounder had help.
Former Banning player Billye Johnson was active. So was Elijah East and Mark Vander Woude, plus Wayne Smith, Josh Dominguez and Jonah Glasgow trying to wall off Madison's power running.
When safety Kamari Ross came up with an interception and 39-yard return for a touchdown, Banning's 20-point lead had suddenly shrunk to 20-14. Cole Webb had struck first for Beaumont when McCulloch hit him on an 86-yard touchdown strike.
The Broncos had the Cougars completely beat late in the third quarter. Not only did Banning, leading 20-0, take the second half kickoff; they kept the ball for 17 clock-killing plays, running 10:05 off the clock.
In other words, Beaumont only had 13:55 to score 21 points. They did it in 2:46. The Cougars threw in another touchdwon for good measure.
"This one hurts," Banning coach Qua'sand Lewis, Jr. said later that night.
If there any naysayers out there against Banning's 0-3 start, consider that the Broncos have played No. 1-ranked Indio Shadow Hills, No. 5 Hemet and No. 6 Beaumont in their three losses.
In other words, they're not playing cream puffs.
"I'm trying to get my team ready," Lewis said. "You don't get your team ready by playing weak teams. I believe in my team. I know they can handle a tough schedule."
When Banning grabbed a 20-point lead in the opening half, his playmakers Madison and D'Anthony Galloway had control of the football. Brandon Ceja and Donald Wayman recovered fumbles. Franklin Bo Thompson, who had the game's only quarterback sack, scored on a 20-yard pass from Galloway.
It made Lewis' pre-season schedule look brilliant.
Nothing was going right for Beaumont.
Banning was sticking it to their westbound neighbors.
Enter McCulloch. This 5-foot, 6-inch, 140-pounder is what small-town high school football's all about. Rivalry game. Big crowds. Lots of emotion. Two teams ready to play. An unexpected hero.
Well, not totally unexpected. He threw for over 200 yards in Beaumont's previous three games. He was three yards short of a 300-yard effort against Banning.
"We're looking for the open spots on the grass," said McCulloch, reflecting the views of his play-calling boss, Steinberg.
He wasn't on the field, though, while Banning was trying to drive for a game-winning score. Trailing 21-20, the Broncos had a good chance. A Galloway-to-Cory Brown 37-yarder may have set up the winning score with time running out.
It was first down from Beaumont's 20.
Lewis stopped Madison after a 3-yard gain.
Galloway was hurried into an incomplete pass.
On third down, Madison fumbled, but recovered for no gain.
With everything on the line, Galloway took Banning's final snap, rolled left, chased by East and Dominguez and was forced to hurl a ball at Lamese Patterson's feet.
Too low. Incomplete. Beaumont ball.
Expected to run out the final 2:08, Steinberg saw open grass, alerted McCulloch, who called the play and found Ross. Open on the left. Single coverage. Beaumont High's spring season hurdler covered 82 yards on the game-clinching touchdown.
If anyone were listening to Steinberg's halftime plea to a lackluster group of Cougars, consider there was at least one guy listening.
"Every time coach speaks," said McCulloch, "it gives me chills."
All Steinberg was seeking was effort, "team spirit, which we didn't have."
In past seasons, Beaumont's had difficulty showing heart in tough games. When Steinberg called their effort was "unacceptable," things changed drastically.
Joked Steinberg: "We needed the coroner."
It was dead-even, Ross' interception touchdown return marked the game's biggest difference.
Total yards: Beaumont 364, Banning 363.
Rematch: At Beaumont. Next September.