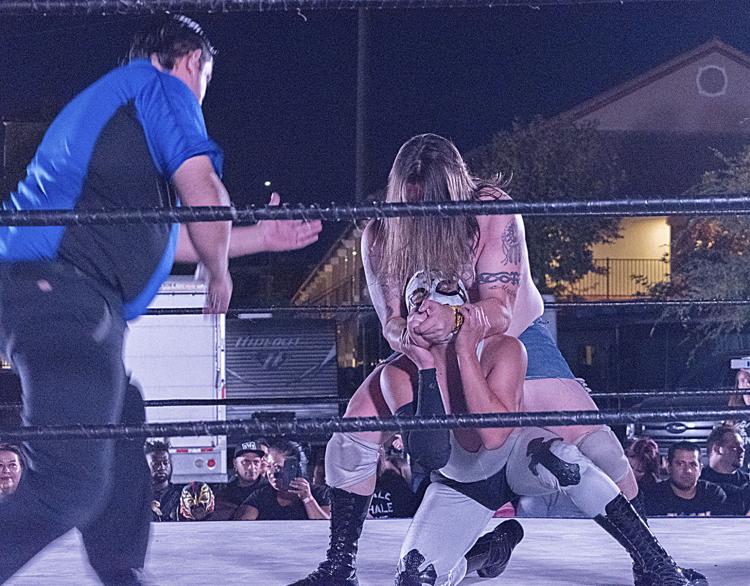 For Saturday evening, the adrenaline coursing through Brandon Gatson kept the pro wrestler at a high.
By morning, as the 35-year-old audio engineer made a five-hour drive to Las Vegas for work, he knew he would dread every moment of it, being sore from head to foot.
But the impending pain was for a good cause.
Gatson was among a dozen wrestlers to hit the mat during the Empire Wrestling Federation's Luche Libre (translates essentially to "free-style fighting") show held on the sprawling back patio of the Redlands Elks Lodge, helping to raise more than $1,500 towards veterans' causes in the Inland Empire.
The Trailer King Joe Matthews, 40, of Beaumont, who is a Navy veteran, was excited to be among the wrestlers.
"There's a lot of showmanship," he says, "but you definitely need a level of athleticism, or someone could get hurt."
As for the spectators, "You want to rile up the crowd," he says. As a villain, The Trailer King is supposed to lose. "I have to look like I'm losing. The crowd needs to dislike me — to get that 'roar'" of disapproval is a "labor of love."
Kids — and certainly some adults — really get into the show.
Matthew Baldwin, 8, of Redlands, wore a red and green superhero mask with a kind of knights of shining armor-type cross on the forehead.
He was accompanied by his grandmother Cristina Cabral of Redlands and cousin Delilah Cabral of Redlands.
"I don't know all their names, but I was hoping to see the Boogeyman" (who did make an appearance) "for sure. I just like watching them fighting and stuff."
It was the Redlands Elks Lodge's third year hosting a professional wrestling event, which has been used to raise funds for veterans and the Redlands Skate Park in the past.
"Elks Lodges have a philosophy that includes helping vets," says Frank Mott of Banning, a commissioner with the EWF. "This is extremely important that they understand that people will come out to support something like this. The Banning-Beaumont Elks Lodge had one similar pro-wrestling fundraiser a couple of years ago."
More than 200 visitors watched characters such as Johnny Starr take down Romeo Cruz, or James Storm dominate Raunchy Rico, or, in Gatson's case, SoCal Crazy and Brandon Gatson beat up on The Millennia.
Gatson and SoCal Crazy drummed up support from the audience, particularly getting younger spectators to taunt their opponents by chanting "snow flakes."
Cailyn Langley, 8, of Riverside, whose parents are members of the Redlands Elks Lodge, thought the matches were "Amazing."
"I love that Johnny Star won," she said. Her only regret: "I was sad that nobody used a chair to beat up the other guy."
That probably was a welcome development for Gatson, who drove out from Rancho Cucamonga to participate.
The mats atop a wooden floor of the ring are barely 3 inches thick.
"You feel everything" when you hit the mat, Golden Boy J. Clearwater said.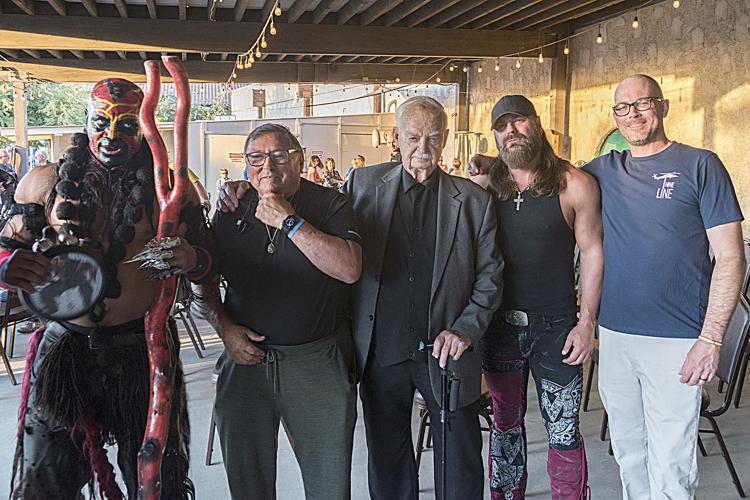 And when a wrestler gets flung into the corner?
"All that's between you and the pole is that little bag" Gatson points out.
But he loves these events, even if the pay (which was not disclosed) is minimal — hence his real job working graveyard shifts for Sony Pictures.
Gatson's career spanned dance (he was a junior champion on "Star Search"), and he along with his father and his brother Jason Gatson (the American gymnast who won the Silver medal in the 2004 Olympic Games) would regularly attend wrestling events.
He was trained at the School of Hard Knocks in San Bernardino.
"I enjoy getting hit, getting smashed and I'm smiling constantly, because I'm living the dream," he says. "Every time I step away from the ring" to try and retire, "I get pulled back in."
An event that probably caters to younger families to raise funds for veterans was not an unusual effort, according to Eric Anderson, 49, a member of the Redlands Elks Lodge who refereed the event — was a professional wrestler for years and competed at the Lucha Libre event in the past.
"I think it's a great event for raising funds for veterans," says Anderson, whose parents are veterans. "EWF runs a family friendly product, and every year the crowd enjoys it more. I think we actually pay a lot of attention to veterans in this country, though we don't do nearly enough regarding their issues. We celebrate vets, we cheer them, we give them discounts, but we don't do enough of recognizing that each generation of veterans has their own issues and goals.
"Anything that helps put a spotlight on different veterans and gets them talking to people who would not usually talk to veterans, I think is a good thing," he said.
Being a ref in a ring requires as much endurance as the guys jumping and falling around him.
"As a referee, it's different than being in that ring as a wrestler: there really is a different skill set involved, and the conditioning of the refs on the scene today is amazing — I'm just glad I could make a count and get up fast enough to react to whatever Super Beetle and Honest John did next."
The wrestlers do not make much for their appearances, despite being tossed around and constantly hitting the mat.
"It depends on who you are, but the newer guys are basically making enough for gas and a burger," Anderson says.
Among those checking out the event was Greg Godwin, owner of IE Toys in Redlands, who sponsored James Storm's appearance at the match.
The Army veteran occasionally invites wrestlers to do meet and greets at his store.
"Anything we can do to support our veterans is worth supporting," Godwin says. "We can never do enough."
Events such as the Lucha Libre show "allows me to create a platform for my students," says Jesse Hernandez, owner of the School of Hard Knocks, which had a handful of alumni in the ring Saturday.
He explains that, while it looks fun, "It's a lot harder than it appears," and there is a constant series of events: the Perris Fairgrounds is in a few days, and on Nov. 2 is the Upcoming Riverside Day of the Dead, followed immediately by the San Bernardino International Airport's SBD Fest air show and car show in Nov. 3. A couple more Lucha Libre events are planned in Covina and San Bernardino on Nov. 8 and Dec. 7.
Staff Writer David James Heiss is a member of the Redlands Elks Lodge and may be reached at dheiss@recordgazette.net .