Brevon Valdivia has put Beaumont on the map with his precision underhand: those tosses of 16-ounce bean bags into a carved out hole on a cornhole board 27 feet away landed him and his partner Tyler Parent of San Diego in second place at the Phoenix Pro Invitational Qualifier last weekend.
Valdivia, 20, has made a name for himself in less than a couple of years as a professional cornhole player, and moves on to a the 2020 ACL (That's American Cornhole League) Pro Invitational Qualifer doubles rounders at The Westin Las Vegas Hotel & Spa on May 29.
Valdivia, is the second-oldest of seven children, and started playing in cornhole games when he was 6, according to his family.
His grandfather — a legendary figure in Beaumont's history, though not because of cornhole playing — Sal Valdivia Jr. made the boards Brevon and his brothers would play on.
At Beaumont High School Valdivia also participated in water polo, and was a cornerback for the football team.
And like his partner Parent, played on his high school's baseball team.
His younger brothers Ezekiel and Eli have both competed with him in tournaments, and Eli was a steady partner in doubles tournaments until Brevon advanced beyond his reach.
According to Ezekiel, "Eli focused more on work, and Brevon would go out and practice every day."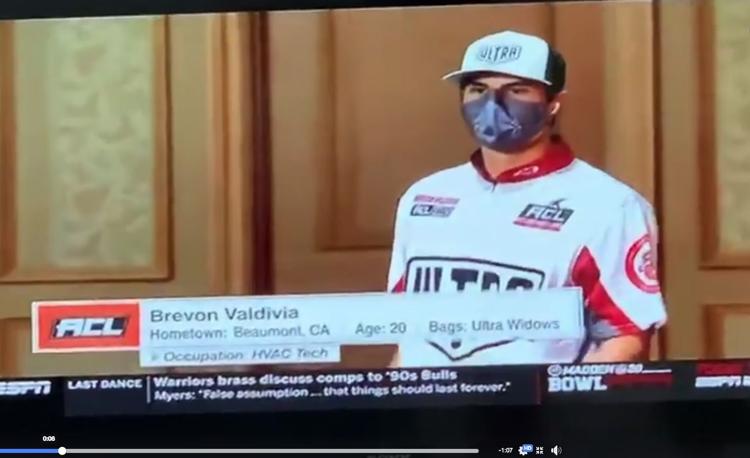 Valdivia notes "It's always been a backyard game" for most family members, "but it's been almost two years that I've been playing competitively. My step-uncle (Jacob Reyes) mentioned that there was a tournament nearby, so we checked it out. I met a couple people there who helped me network" down in San Diego when Valdivia was 18 and Elija was 17, competing in the "social" division, where they took second place and banked $150 each in winnings.
"I fell in love" with that competition, Valdivia says.
Tossing bean bags is serious business: according to Valdivia, prize money at the national tournaments could reach upwards of $20,000.
At his professional level, to participate in national competition with the American Cornhole League, players are invited to compete.
They pay entry fees, and "95 percent of winnings" for most competitions comprise the prize pools, Valdivia says.
At smaller tournaments, players might be provided with cornhole bags.
"There are all kinds of bags," Valdivia explains. "Some have cloth that make them faster or slower on one side, and they're made of different fabrics."
At Valdivia's level, he has sponsors, and brings with him his coveted Ultra-sponsored "Widows."
Usually in tournaments, a player tosses one set of bags, then someone from the other team tosses a set (of two), or four bags per team.
Due to the COVID-19 crisis, players wear face masks and "only have 10 rounds" to finish. "Normally it's the first to 21 points with no round limits; now it's whoever has the most points in 10 rounds wins. It forces you to throw more aggressively," which he knows unnerves his partner, as "every shot matters."
Staff Writer David James Heiss may be reached at dheiss@recordgazette.net , or by calling (951) 849-4586 x114.