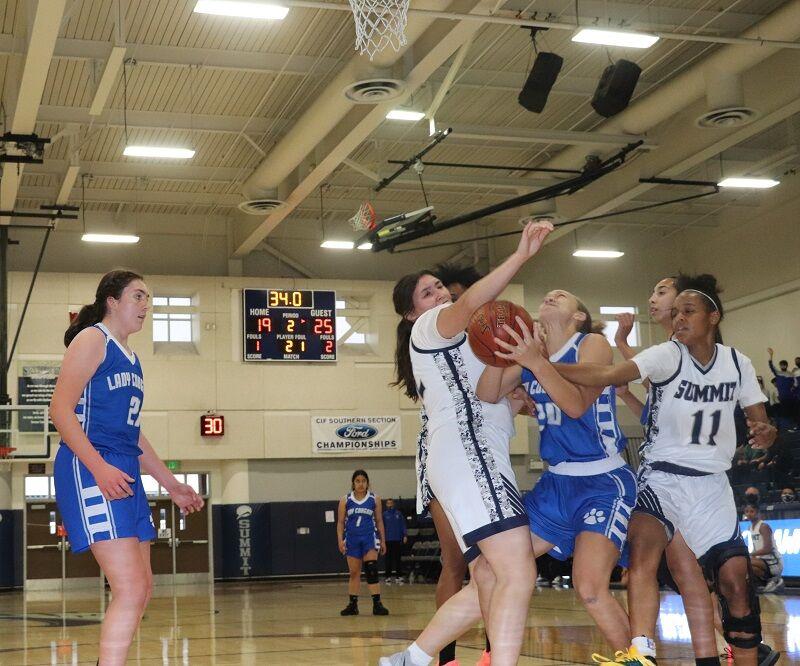 BY JOHN MURPHY
Record Gazette
The Beaumont High girls' basketball team made the key plays at the end on Wednesday, April 21 in a 59-56 nonleague victory against host Summit.
"It felt really good," said Beaumont 6-foot-1 freshman forward Grace Lee who led the Cougars with 24 points. "We had a lot of good teamwork and a lot of passing."
"We played hard on defense, we were talking, and we made a bunch of steals," offered junior 6-0 forward Jana Roman. "On offense, we just looked for the open man."
Tied 56-56 with 1:19 left, Beaumont got a free throw from Janelle Pilao to take the lead and then a basket from Lee with 27 seconds left to increase the margin to three points. Pilao's steal at the end
secured the victory.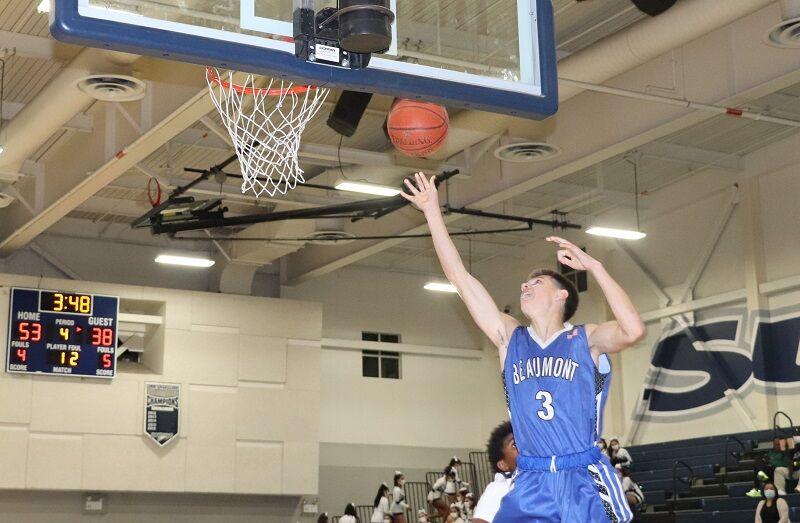 "We just panic in certain situations," Beaumont coach Peter Carr said of an early rash of turnovers. "We just need to move the ball. We're young. We only have two seniors."
Beaumont led 27-19 at the half and then outscored Summit 17-12 in the third quarter before hanging on to win. Besides Lee's 24 points, Roman and Pilao both had 12 points and Kiya Waters six. Pilao is a sophomore 5-8 forward and Waters a freshman 5-11 forward.
"It's about us playing together, learning about each other, and getting ready to roll into league," Carr said.
The Cougars (2-1) opened Citrus Belt League play Tuesday, April 27 against Yucaipa and then met Citrus Valley two days later (both too late for publication). Beaumont travels to meet Redlands East Valley on Tuesday, May 5 and Redlands on Thursday, May 7 as it gets its first taste of CBL competition.
Summit rolls past Beaumont boys
Host Summit's tough man defense and strong outside shooting was too much for Beaumont in a nonleague game on Wednesday, April 21.
The Cougars trailed 31-24 at the half and then got outscored by the SkyHawks 12-7 in the third quarter.
It was a good test for the Cougars (0-3) against a perennially powerful Summit program that has been to a state championship game and is well-coached under Redlands resident John Romagnoli.
"Romagnoli is a really good friend of mine and he texted me and wanted to get the game in and I knew his guys would play hard and execute," Beaumont coach Jon Florence said. "We have a tough league in the CBL, and we know what we have to work on."
Caden Stines led Beaumont against Summit with 17 points, Stephen Morgan had 12 and Isaiah Espinoza 10.
Beaumont opened CBL play this week (too late for publication) with games against Yucaipa and Redlands East Valley before hosting Redlands East Valley at 6 p.m. Tuesday, May 4 and Redlands two days later.
John Murphy may be reached at jmurphy@redlandscommunitynews.com .