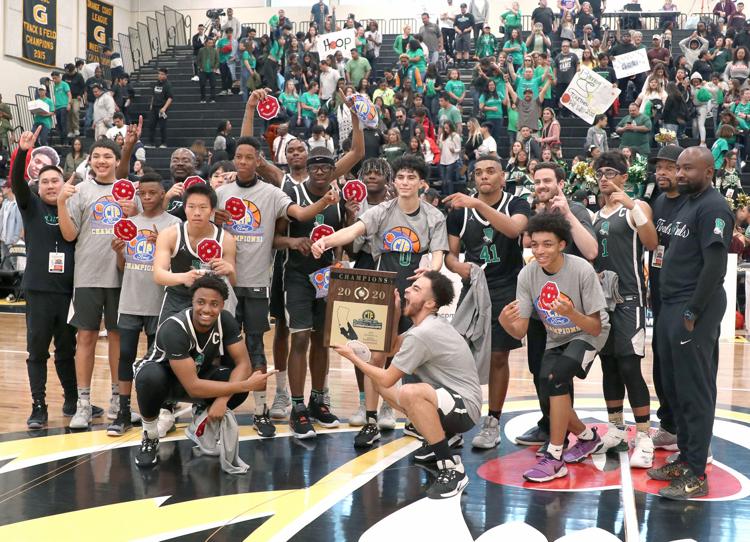 The day of redemption arrived for the Banning boys basketball team last Saturday afternoon.
Would their hard work and determination pay off?
Throughout the season Banning was considered least likely to succeed in their division. They were winless just two years ago, after all.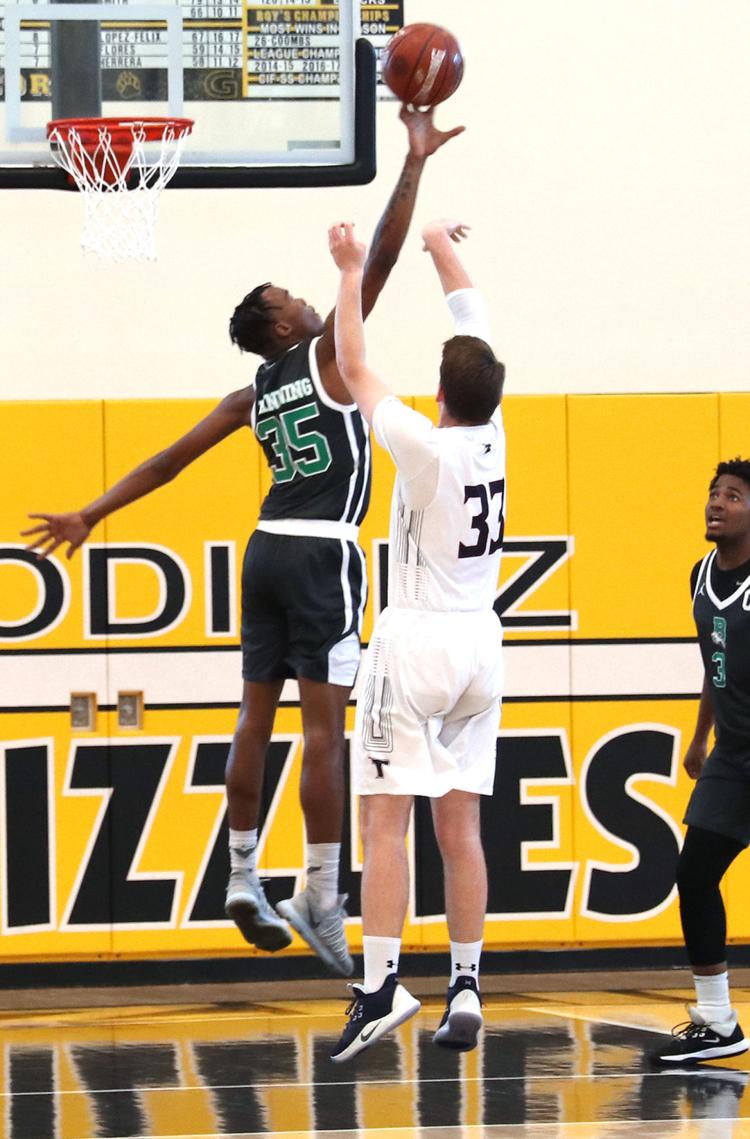 Each win for the Broncos became a stepping stone that culminated in the championship title game for Division 5 against the Knights of Trinity Classical Academy of Valencia at Godinez High School in Santa Ana.
The afternoon belonged to the Broncos. Banning won the championship with a score of 48 to 43.
Defense was the name of the game once the first second ticked on the game clock.
The Broncos were full press the entire game.
They had man-to-man coverage preventing TCA from seizing any advantages to score.
The end of the first quarter ended in single digits.
Banning was up by one point-7 to 6.
Jittery shots were intercepted or tapped away by both teams.
Samuel Scott of Banning sank a 3-point shot with less than five minutes in the first quarter.
When covering his opponent, Scott would shout at the player to distract him. This seemed to be effective.
Bronco Aaron Howard was the target of several fouls. He managed to complete two of his free throws.
Banning freshman Leonard Jackson came into the game late in the first half.
He made an entrance.
At one point, Jackson jumped high and smacked a potential basket by TCA, as if to say, "Not in my house."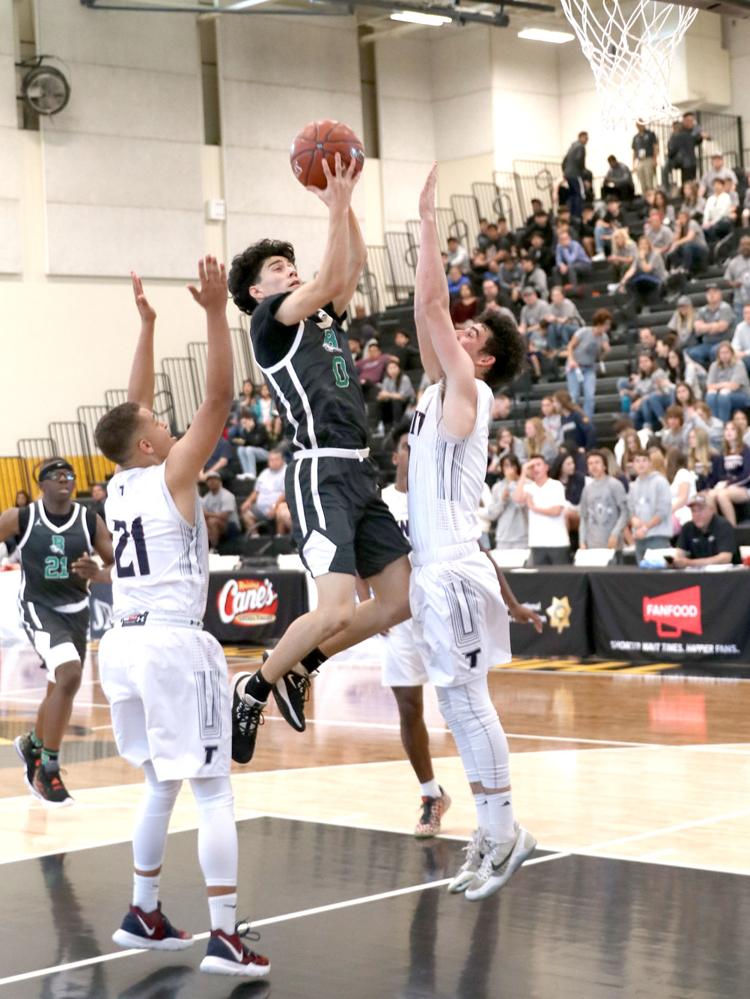 Throughout the game, Keon Mitchell of Banning delivered the goods.
He consistently blocked attempts at the basket and yanked rebounds.
By the end of the third quarter, Banning had a 15-point lead with a score of 37-22.
As the battle for the title pounded on the floor, Banning's marching band, cheer squad and families provided an exorbitant amount of noise over the chants of the supporters for TCA.
TCA attempted a comeback by decreasing their deficit to two points, with Banning at 45 to TCA's 42 points with 27 seconds left in the game.
Looking confident, the Broncos finished the game with the same intensity that they started by winning the game 48-43.
In the end the Broncos bested the No. 1 and 2 seed basketball teams.
Some of the Banning players believed that an adjustment in the ranking was in order.
This is a milestone for Banning High School.
It is the for first CIF-SS title for the school since 1988.
"It was great," said Banning's Aaron Howard.
"We played hard. They were coming back at the end, but we still pulled it off.
Howard believes that the Broncos had a better advantage when the Broncos shut down TCA's Kyle Fields, their top three-point shooter.
"When we stopped number 21, they couldn't do anything," said Howard. "Once we took our number 21, we knew that no one else would shoot."
Banning's Amari Callender silenced the doubters."It was a long season," said Callender.
"No one ever expected that we would go this far. Tonight, we put it all on the floor and we did it."
Callender said they win games in the fourth quarter.
"We knew that the fourth quarter is always our quarter. We had to hold them. We had to lock down their shooter and we did that."
Banning's short forward and shooting guard Samuel Scott was animated about the Bronco's win.
He did not appreciate the ill comments made by TCA days before the game.
"They said that they weren't worried about our defense," said Scott. "We held them to 8 or 6 points in the first quarter. They needed to be worried about our defense because they couldn't score."
Scott continued, "What kept us in the game was that they weren't ready for our defense. They weren't ready for our offense too. We don't just have Amari. We have every other player that can score."
Scott had praise for teammate Keon Mitchell.
"Keon did a great job tonight," said Scott. "He hustled. He got boards. He blocked. Keon did a great job stepping up."
Regarding rankings, Scott had something to say. "Our ranking should be number one."
"We beat the number one and number two seed. We should be number one."
"I don't believe that the game was ever in jeopardy," said Banning head coach Cory Cornelius. "We had confidence going into the game. Teams haven't seen a defensive team like ours before."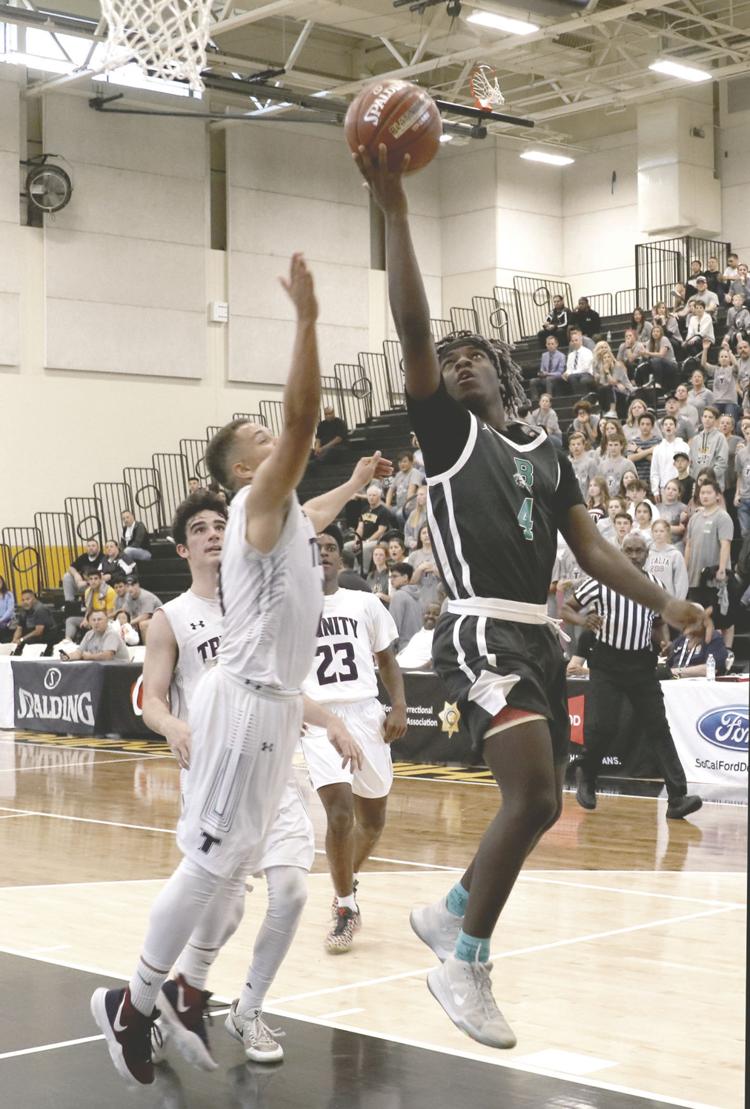 Cornelius believed that it took perseverance, a plan and support from the entire team and coaches to achieve this victory.
He commented that the team has put Banning on the map as a competitive contender.
"You did it together," said Cornelius told the team.
"Each of you guys accomplished this. This is your championship."
Richard Espinoza, Keon Mitchell and Amari Callender amassed 50 percent of the points for the Broncos collectively.
Each of those players scored eight points each.
Dominick McClure provided six points including a three-point shot in the third quarter. Samuel Scott put gave Banning five points for the game. Semaj Miles added three points for his team.
Other contributing players were Lamese Patterson, AJ Anderson and Aaron Howard
Against all odds, the Broncos of Banning remained steadfast in their quest to be No. 1 and they have earned privilege to carry the banner of being the CIF-SS Division 5 Champions.
Next up: state championships. At the time of print, Banning won their first round matchup against Valley Torah High School in Burbank 58-42. The Broncos journey continues in round two Thursday, March 5, at 7 p.m. at Eastside High School in Lancaster.