The city has posted a video about taking control of the Banning Business Center, the long-abandoned complex on Lincoln Street that has been plagued by homeless transients and fires for a decade.
Riverside County Superior Court Judge Irma Poole Asberry last month appointed Richard "Red" Griswold, a Solana Beach attorney, as the receiver.
Griswold's job is to secure the center and find buyers to rehabilitate the property. The courts will cover the cost of the receivership.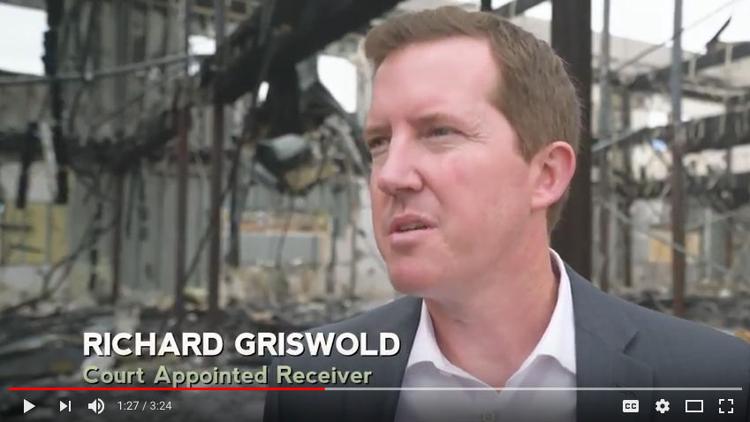 There will be no cost to the city, the 3:24-minute video says. The courts will be reimbursed after the sale of the property.
The video shows Griswold joining Mayor George Moyer, Police Chief and interim City Manager Alex Diaz, and other city officials touring the burned-out buildings.
"Today is my first initial inspection," Griswold says. "I brought along with me the security team and they have started their patrol services, effective now.
"I have a contractor with me now. He's also walking the site to get a sense of existing conditions of the property as well as putting together our plans for additional security measures."
His security team will work with the Police Department if any issues arise, he said.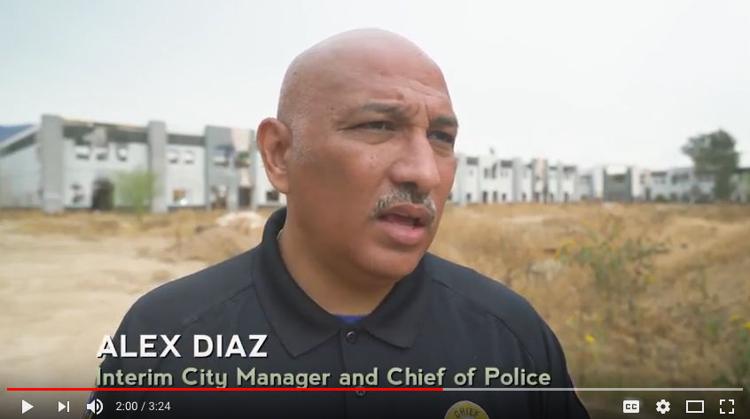 "We've been dealing with this issue for approximately 7½ years," Diaz says. "It's been a challenge because it's been a safety issue for my office, it's been a safety issues for personnel from city that have to come in here and shut off certain things."
Primarily, it has been a safety issue for our firefighters who have had to come out here I believe over 25 times dealing with fires ever since the project was abandoned, he said.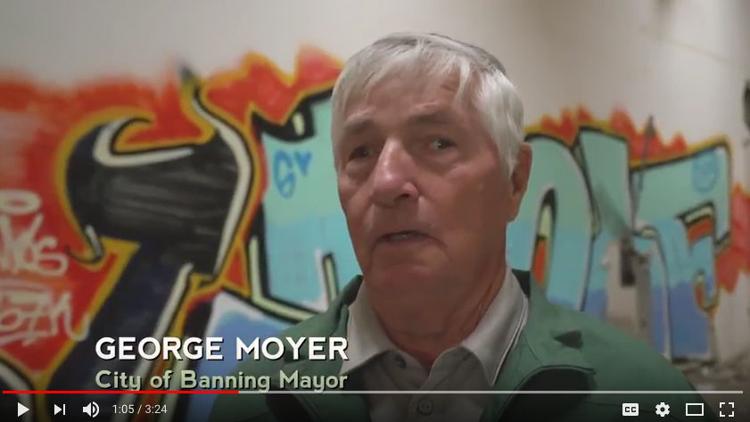 "Selling the property to someone who is really going to come in here to invest and build the project that's going to benefit not only the investors but also the community," Diaz says.
Mayor Moyer called the receivership a godsend.
The center has cost the city hundreds of thousands of dollars because of police and fire responses. It has taken the city more than 18 months to complete the receivership process.
"But because of 12 owners no agreeing and so forth, it's taken us that long to finally get the receiver in here," Moyer says.
"It will help us clean up this blight," he adds. "It'll show the residents of the city that we are trying to do something about it. And it will give us an opportunity to really get a responsible and reliable contractor to come here and put a business or businesses in here that will bring us jobs and commerce for the city of Banning."
 The video was produced by Multimedia Specialist Jonathen Davis and city spokesman Phil Southard. The background music is "Grey" by Valdi Sabev, an electronic musician based in Bulgaria.
 Staff Writer James Folmer may be reached at jfolmer@recordgazette.net or at (951) 849-4586, ext. 117.