Beaumont received an obligatory update on regional plans for a renewed interchange for Cherry Valley Boulevard as it concludes at the I-10 freeway in Calimesa during a presentation at the Nov. 17 city council meeting.
As part of an April 2017 settlement and release from litigation between Beaumont and the Western Regional Council of Governments (WRCOG), Beaumont committed up to $2.1 million in funding towards the design of the I-10 interchange, which sits in a WRCOG account.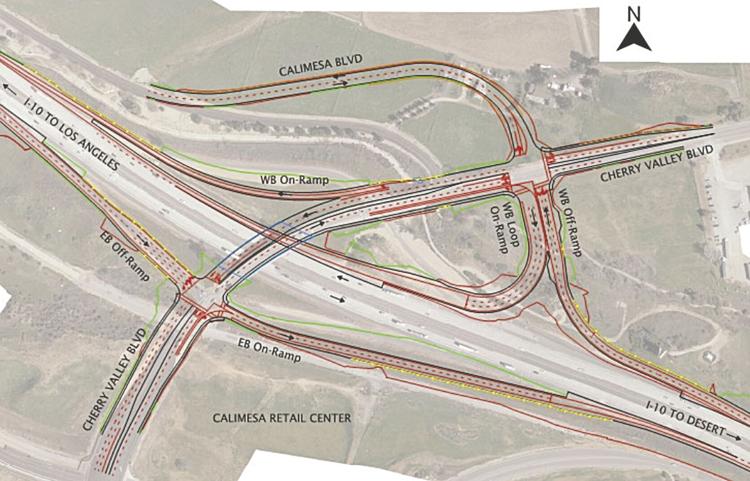 For several years the city of Beaumont was misled by a cabal of corrupt city officials who fraudulently claimed that development fees were not being collected and delivered to WRCOG, when in fact they were embezzling intended Transportation Uniform Mitigation Fees (TUMF) for personal gain.
WRCOG initially was slated to get back nearly $43 million, though through appeals, the city was able to get that figure whittled down.
The terms of that agreement require Beaumont to invest the one-time monies into TUMF regional transportation facilities that benefit neighboring cities, the region and Beaumont residents, such as Highland Springs Avenue, Pennsylvania Avenue, Oak Valley Parkway and Cherry Valley Boulevard, primarily to be funded by city transportation fees collected from developers to pay for growth, according to terms of the settlement.
WRCOG is required to give the city updates regarding the designs of the project, as well as allocation of funding, to the city.
Calimesa has contracted with the county to oversee the project's planning and environmental planning phase, which precludes development designs and eventual construction.
"It's critical to us because it's a primary gateway and entry point that serves development in Calimesa and the city of Beaumont," Beaumont's City Manager Todd Parton said at their Nov. 17 city council meeting, noting that that segment of the I-10 corridor between Oak Valley Parkway and Cherry Valley Boulevard is instrumental "for the quality of life and success of both of our communities."
Brandon Reyes, design project manager at Michael Baker International Consulting Firm, which has a regional office in Ontario, explained that the the project's team is still narrowing down design options, and mentioned that a couple of roundabouts, or traffic rotaries, were eliminated as part of the preliminary design process. WRCOG and the county are leaning towards incorporating a "divergent diamond" or "partial cloverleaf" matrix of road and bridge to provide for optimum traffic flow over and adjacent to the freeway. The divergent diamond interchange, simply referred to as DDI, is common in other areas of the country, but less familiar to commuters in California, Reyes explained.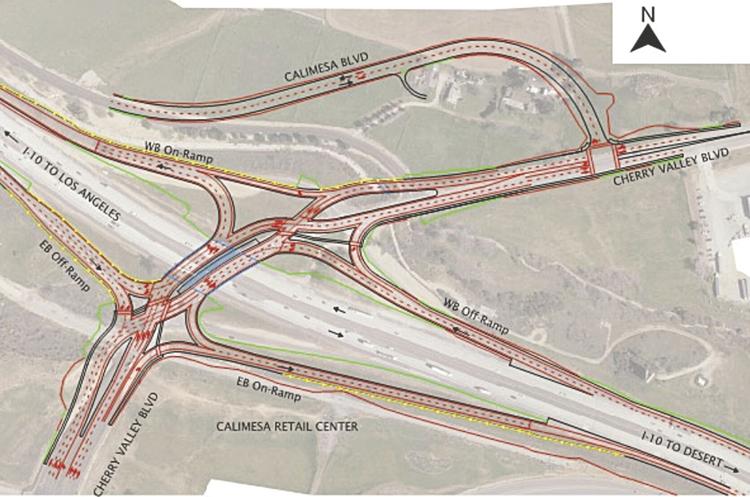 The closest example is in the works near California State University, San Bernardino.
"It's not just popular because it looks different," Reyes said, rather, "It's popular because it works very well."
The video presentation may be viewed here: https://www.youtube.com/watch?v=kG2HYyBjGXE&feature=share
The designs help remove "conflicted" signalized left turns onto the freeway from the right side of the road.
Calimesa Boulevard will be realigned, and bicycle and pedestrian access is all part of the design.
"Operationally, these are very effective," Reyes said. "The S curves intentionally slows down traffic" making it safer than traditional traffic patterns, and DDI designs "are arguably safer than partial clover leaf" ones, he said.
Construction for a DDI alternative would run roughly $42.6 million, whereas the partial cloverleaf design would cost approximately $38.6 million to build. Construction timelines for either concept are similar, according to Reyes. Physical lifetime for the designs should last at least 20 years; renovating a DDI would be more complex to do than a partial cloverleaf, Reyes said, but noted that the project is constructing the "ultimate four-lane facility," and that there are no long-term plans to widen the roads further.
Bidding for development is at least three years away, with design phases expected to be concluded by 2023.
Councilwoman Nancy Carroll wanted to know what happens if a driver misses a turnoff while driving in a DDI. She also wanted to know how safe these designs are.
Reyes explained that "It's fully signalized" rather than stop sign-controlled, and angles and signage aids drivers. There are no u-turns, and Reyes conceded that drivers missing a turnoff point would have to drive up a ways along the boulevard to find a point to turn around and try again.
"None of these are 100 percent foolproof," Reyes said.
According to county Transportation Department Director Patricia Romo, "These are designed in a way like you are in a tunnel," just concentrating on going forward; "The bridges are very separate. If the lanes are right next to each other and you saw that opposing traffic, you would feel like you're on the wrong side of the road" in this design, "but these are designed in a way so that when you drive through it you don't realize you're on the other side of the road," similar to as if one were driving around London on the opposite side of how one usually drives in America, which Reyes had explained previously. "They're actually safer than traditional" means of traffic flow, Romo said.
"The cheating lefts" that result in T-bone collisions at intersections doesn't happen here" in this scenario, Reyes said.