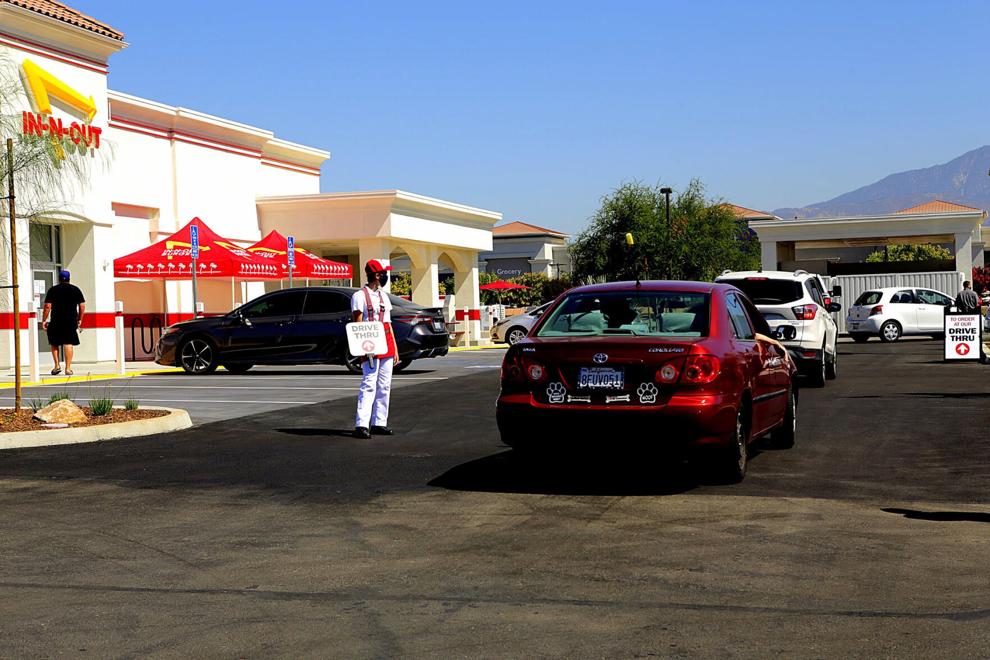 BY DAVID JAMES HEISS
Record Gazette
If you're one of the visitors to the Tri-City Shopping Center in San Bernardino, chances are you have a good chance of running into someone from Beaumont.
Based on data from The Retail Coach, 41.27 percent of visitors there are Beaumont consumers.
Tri-City has some amenities that are available locally, such as Aldi and The Home Depot, but it also offers a couple of other anchor chains like LA Fitness and Office Depot.
Beaumont did have a Staples office supply store for six years until it closed in 2014, after being one of the original anchor stores for the Beaumont Marketplace commercial center on 2nd Street, which has a Best Buy and a Bed, Bath & Beyond.
Staples was replaced by Aldi.
During a Jan. 27 hourlong webinar, Austin Farmer, a project developer for Austin, Texas-based The Retail Coach, offered more than 20 viewers insight as to the analytical data his company can provide Beaumont's businesses and future entrepreneurs seeking to get a foothold in the city.
Beaumont's $111,500 three-year contract with The Retail Coach offers all of the city's businesses the consulting service for free as Beaumont rolls out its Economic Development Strategic Plan.
The idea was to "better understand the Beaumont consumer: where they're buying things, and where they go elsewhere — in order to better meet the needs in the city," Farmer said. The city has no interest in replacing existing business; rather, it can help standing businesses figure out how to draw additional consumers to their locations.
The Retail Coach has a Big Brother capability to glean consumer habits based largely on GPS data from cell phones: where people go, when they go, and how frequently.
It can determine "retail leakage," pointing out where Beaumont's consumers go if they can't find what they're looking for in Beaumont.
Farmer's company believes that Beaumont's trade area stretches from the outskirts of Redlands to the far reaches of Cabazon, encompassing 155,989 potential shoppers with an average household income of $92,157, or a median household income of $68,512.
The information was plotted based on what the company says are the top 15 retail draws where people shop and eat.
Where they come from
Beaumont's Economic Development Manager Kyle Warsinski was initially surprised to see visitors from eastern portions of Redlands and parts of the Coachella Valley as being among the top visitors to Beaumont Marketplace, since there are retail draws similar to ones in in those areas, too.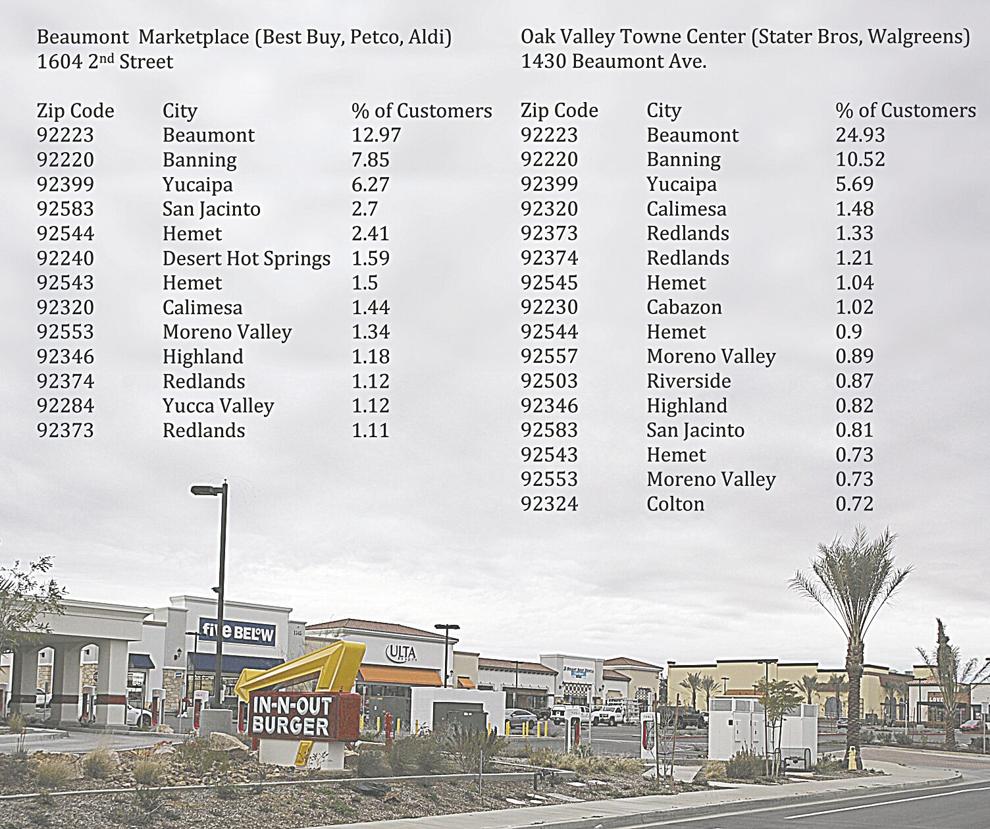 Project developer Farmer's data indicates that 1.5 percent of traffic to Beaumont Marketplace are coming from Desert Hot Springs.
"It makes sense," according to Warsinski. "You have people driving to Riverside or commuting to work who may be stopping on their way home to grab something," who might not be as excited to drive further east into the Coachella Valley to hit box stores and popular services that could be hit on their way home.
Of course, they must endure the traffic associated with Highland Springs Avenue.
According to Warsinski, when "Beaumont Marketplace was built in 2008, it was one of the first power centers beyond Home Depot and Walmart" for retail within the Pass area. "At the time, the city was unsure what the regional draw would be for a retail center like that. The question back then for the developer and incoming businesses, was whether it was too risky of a bet: would people who never had these services before going to shop there?"
They would soon discover that "Not only people within the area are shopping there, but we're getting people far outside city limits going through here, primarily people going to and from work. We understand a tremendous amount of people drive along that freeway. They're going to and from work towards the west and know Beaumont has this center. They know the stores are good; it's easier for them in Desert Hot Springs to swing by the Beaumont shopping center than it is to go further into the Coachella Valley to Palm Desert, Cathedral City, Rancho Mirage and the like," Warsinksi said.
According to The Retail Coach's data, the majority of consumers at Beaumont's businesses are from Beaumont and Banning, though Walmart draws slightly more visitors from Yucaipa than Banning: 13.1 percent of Walmart's customers in Beaumont are from Beaumont; 9.56 percent are from Yucaipa, and 8.94 percent are from Banning, followed closely by Hemet (nearly 3 percent) Desert Hot Springs (2.51 percent), San Jacinto (2.17 percent); 1.85 percent are drawn from Calimesa, and 1.62 percent from Redlands, which has its own Walmart.
At Kohl's and The Home Depot, the top three draws are Beaumont, Banning and Yucaipa, in that order.
The draws are similar for Panera Bread and Chili's, with Beaumont, Banning and Yucaipa consumers being the top customers: 25.56 percent of Panera's customers are from Beaumont; 17.43 percent from Banning; and 7.32 percent from Yucaipa.
At Raising Cane's Chicken Fingers, which is newer, Cathedral City consumers edge out Yucaipa: 17.66 percent of Raising Cane's customers are from Beaumont; 10.16 percent from Banning; 6.59 percent Cathedral City and 4.71 percent from Indio. Yucaipa contributes 3.2 percent of their business.
If not Beaumont, where do they go?
Analytics can help a business determine "the customer journey" of where else visitors went before and after arriving at a specific vendor: while some people going to the Craft Lounge in Beaumont headed there from home, others were out shopping nearby beforehand, with Domenico's and Marla's restaurants among those prior spots, according to The Retail Coach's data.
"Part of The Retail Coach's goal is to help Beaumont businesses help capture that traffic that's leaving the market. We want people to be able to buy everything they can in the community, and be able to stay here" where they can spend their money without having to drive great distances, Farmer said.
While there are a lot of larger, chain businesses, The Retail Coach is able to help the mom and pop shops of Beaumont determine where leakage from their particular industries are going, and help devise strategies to capture that.
An example of business that The Retail Coach "geofenced" data included The Craft Lounge Tap Room and Bottleshop at 690 Beaumont Ave.
Based on analytics tailored to the Craft Lounge, 58.1 percent of customers come straight from home; 5.5 percent from work; and 1 percent hopped over from the Player's Lounge, another Beaumont bar.
Similarly, after visiting The Craft Lounge-Taproom & Bottleshop, data shows that 66.7 percent of customers headed home; 3.6 percent bar hopped to The Player's Lounge, and 1.4 percent went to Oak Valley Towne Center, home of Domenico's Italian restaurant and The Sand Trap, a bar where food is served.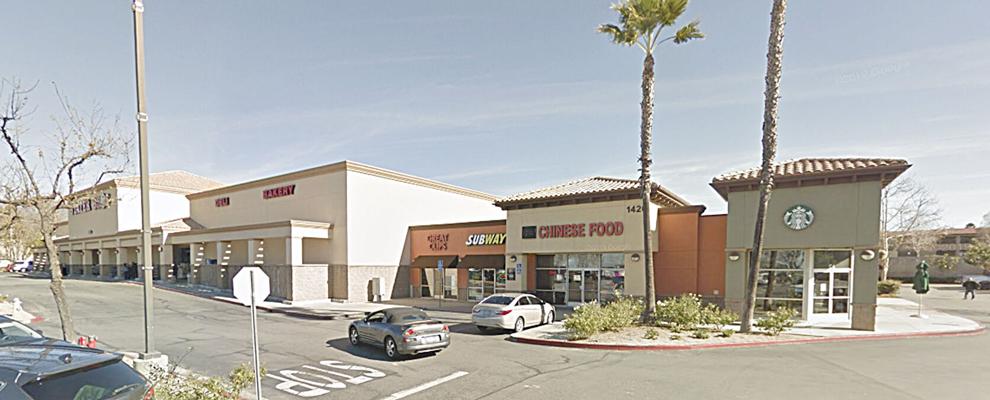 Based on The Retail Coach's consultation, Beaumont realizes that a lot of its residents are going out of the area to take advantage of sporting goods stores, which offer a $2.3 million growth potential; and pet and pet supply stores where there is a $1.4 million in demand growth.
According to Farmer, there will be a 3 to 5 percent annual growth in food and drinking venues, with $20 million in demand growth for dine-in restaurants over the next five years for not just Beaumont, but the entire retail trade area between Redlands and the outer reaches of Cabazon.
"If you're a local business owner and want to expand — maybe you're a bar, and you're thinking about 'Hey, could we support a restaurant, or could we sell food as well as the alcohol' — there's certainly opportunities for that. We feel the data supports that," Farmer said.
That type of growth is considered "really strong" potential, according to Farmer, who explained that that is the target growth potential big box stores look for when considering opening a location.
Based on The Retail Coach data, Beaumont residents are attracted to other regional shopping meccas: Citrus Plaza in Redlands, which like Beaumont has a Bed, Bath & Beyond, as well as Target and Barnes & Noble, is a popular destination: 35.25 percent of visitors there are from Beaumont; next door at Mountain Grove, which is home to Harkins Theatres, 24 Hour Fitness, Hobby Lobby and Ross (both available in Banning) and Nordstrom Rack, attracts 32.43 percent of its consumers from Beaumont.
Desert Hills Premium Outlets in Cabazon sees 31.62 percent of its customers come from Beaumont; and Victoria Gardens in Rancho Cucamonga attracts 21.16 percent; The Galleria at Tyler mall in Riverside takes another 19.8 percent of its visitors from Beaumont. Thirty-six percent of Sun Lakes Village's consumers across the way in Banning, where Big 5 sporting goods, Hobby Lobby and Albertson's grocery store is, come from Beaumont.
When it comes to restaurants, 14.93 percent of guests at Corky's Kitchen and Bakery in Yucaipa are guilty as Beaumont residents.
Red Robin Gourmet Burgers in Redlands welcomes 10.7 percent of its visitors from here, and Olive Garden in San Bernardino sees 7.96 percent of its customers make the drive for specialized cuisine.
Beaumont has been listening: after years of residents encouraging the city to get a movie theater and an In & Out Burger, they finally have those here, though Cinema West's opening has been delayed during the pandemic.
Room for regional growth, and some business advice
During the presentation a participant inquired as to whether use of The Retail Coach's services are free.
They are, if the business is based in Beaumont.
"We hope that you'll utilize these services to hopefully secure some of this growth percent in Beaumont. Growth is out there through 2026," economic development manager Warsinksi said, pointing out that "If surrounding communities are able to recruit the types of businesses Beaumont consumers could benefit from having here, it could limit some of the potential that could be retained within the city."
Farmer added, "A lot of retail businesses are trending towards curbside pickup and delivery," and encouraged business owners to encourage setting aside dedicated parking spots for pickup as online ordering becomes more popular — trends that started prior to the pandemic. "The more you're positioned for that, the more successful you'll be," Farmer said.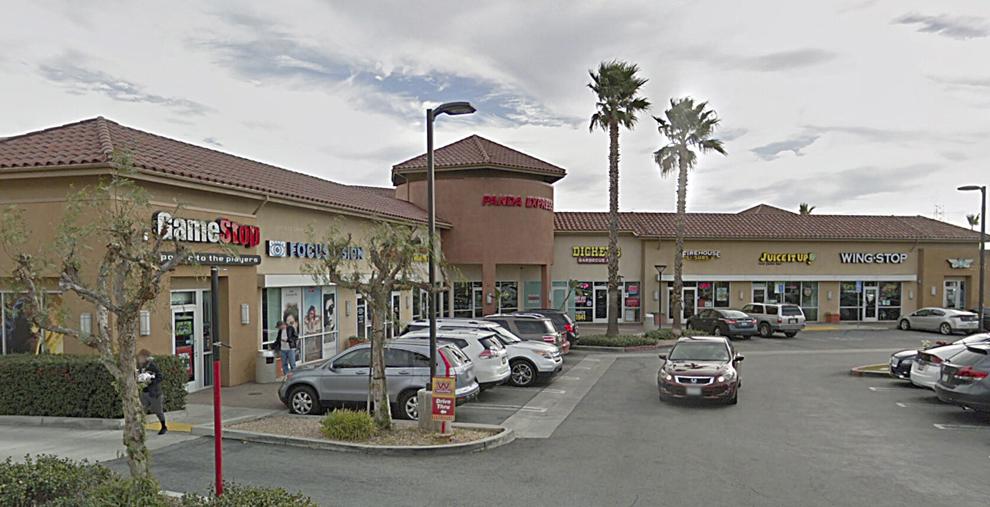 Also, "Be open when people are actually shopping. Most retail purchases occur after 4 p.m. — 80 percent of purchases" occur after 4 p.m., Farmer pointed out, "so if you're open 9 to 5 or 8 to 6, consider expanding hours and open from 10 to 6 or 10 to 7, because there are a lot of retail sales" that could be missed.
Farmer explained that there should be consistency of hours with surrounding enterprise.
Synergy of businesses is also important, he explained: if customers come "to your store or restaurant and you're the only one open, they may not return as frequently, as they might want to go out and walk around," which they cannot do if there are no other businesses to hop to.
One webinar participant was curious as to whether Beaumont considers Banning a "sister city, a partner, or a competitor?"
Warsinski replied "I really consider Banning to be a sister city and a partner. Through my entire career, Banning residents come over here, Beaumont residents go over there. We're in that one trade area together. Things that the city of Beaumont is doing helps Banning; aspects that Banning are doing helps Beaumont. As to competition; in my profession retail attraction is a competitive aspect" as cities rely on sales tax generation. While "I'd like to be able to land the best retail businesses in Beaumont — that is our goal, but when we have a business that reaches out to me, and we are unable to fulfill their needs" when it comes to space or logistics, "my next call is to my counterpart in the city of Banning or Calimesa providing them a free lead, if you will on a business we would rather see in this region. Although it can't be in Beaumont, I'd rather see it in a neighboring city" than in Riverside or Ontario.
Farmer agreed: "I think there's a lot of synergy and complementary aspect of that" as sister cities."
James Wurtz, Economic Development Manager for the city of Banning, watched the presentation, which is available to view for free on Beaumont's YouTube channel athttps://www.youtube.com/watch?v=TlMen_pVi5I&t=762s .
He agrees that Banning and Beaumont work well together.
"I have worked with The Retail Coach in the past during my time in Murrieta," Wurtz said. "The city of Banning will begin the process of a Comprehensive Economic Development Strategy later this year. That process will include a retail analysis similar to the one Beaumont is undertaking. We will always welcome the opportunity to leverage the strengths of both Banning and Beaumont with respect to attracting maintaining and expanding the business community. Retail is obviously one of the key pieces in our strategy. Kyle Warsinski and I have worked together on many projects in the area and I would expect that collaboration to continue going forward."
Beaumont's Economic Development Manager Kyle Warsinski may be reached at (951) 769-8527, and messages may be sent to kwarsinski@beaumontca.gov.
Staff Writer David James Heiss may be reached at dheiss@recordgazette.net , and messages may be left at (951) 849-4586 x114.