BY JULIE FARREN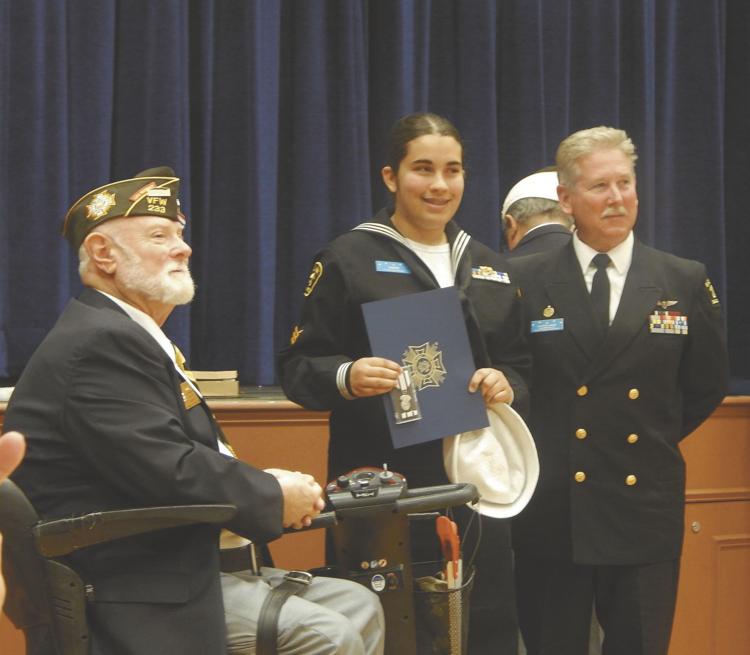 Record Gazette
VFW Desert Edge Post 233 in Beaumont honored law enforcement, students and community members for their work and their support of the Veterans of Foreign Wars during its annual Community Awards ceremony March 18 in the Sun Lakes ballroom.
Post Commander Bob Atwood thanked the audience at the beginning of the program. "Without your support, we would not be able to help the veterans in need," Atwood said.
Representatives for Congressman Raul Ruiz, Assemblyman Chad Mayes and Riverside County Supervisor Marion Ashley, along with Beaumont Mayor Nancy Carroll, Banning Mayor George Moyer and Banning Police Chief Alex Diaz were on hand to give certificates to each recipient.
Also presenting certificates were representatives from the Veterans of Foreign Wars and the Naval Sea Cadet Corps.
Post Adjutant Jerry Walker said that VFW Desert Edge Post 233 has 25 active members.
Beaumont Police Officer Jake Clark was unable to attend because he was participating in the Baker to Vegas Run this weekend. Beaumont Police Chief Sean Thuilliez also was supposed to be at the ceremony to present the award, but he too was participating in the Baker to Vegas event.
Officer Clark, who has worked for the department since 2016, received the award because "from the first day Clark started his FTO program, he hit the streets with a smile and never complained one time. All of his field training officers have nothing but good things to say about him. He is a fast learner and not afraid to ask questions when needing advice or assistance. Clark is a very active member of the department and if he is not assigned to a call, he is proactive while out on patrol."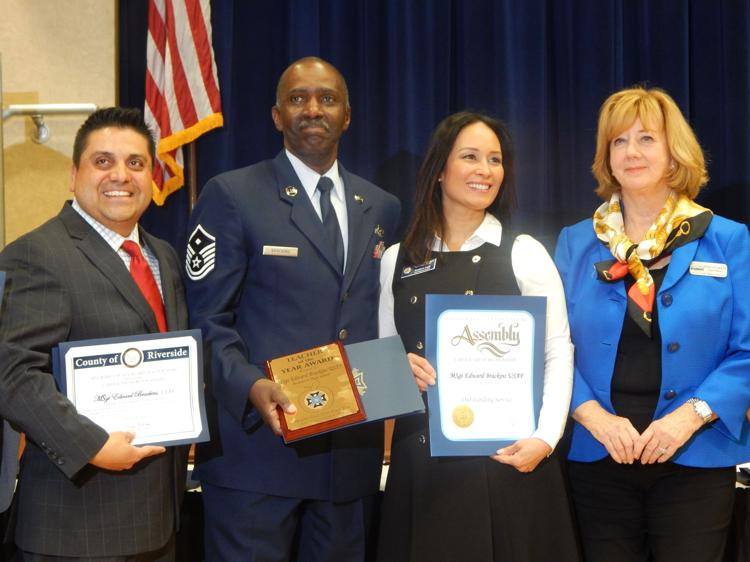 He received the DUI award six months ago for having the most DUI arrests for the department in 2016.
Banning Police Chief Alex Diaz introduced Detective Derek Thesier as Officer of the Year for his department.
Thesier has worked for the Banning Police Department for more than 15 years. He started as a patrol officer, then became a school resource officer. Thesier also has worked with the GREAT program and has been a patrol field training officer.
Since working as a detective, Thesier ensures that the officers are trained in the use of fire arms.
In 2017, Thesier was credited for saving the lives of two people in separate incidents.
The first was on June 25, 2017 when an infant fell into a backyard pool in Banning and wasn't breathing, Thesier performed CPR until the child spit out water.
The second incident was responding to a subject who had jumped from the over pass on the San Gorgonio Avenue bridge. The person had lost their pulse and Thesier performed CPR.
California Highway Patrol Office Theodora Blanco has been with CHP for nine years.
She left Bulgaria at 15 and joined the CHP at 21. Blanco is assigned to day watch and has made more than 60 arrests.
The Teacher of the Year was given to MSgt. Edward Brackins, U.S. Air Force, for leading Beaumont High School's JROTC.
Sun Lakes Country Club recreation director Jason Ewals received the Community Service Award and Stater Bros. Markets was given the Friends of the Veterans Award.
The VFW Auxiliary Volunteer Award was given to Florene Boyar, who launched a project in which the stars are cut from old flags before they are burned, and the stars are given as mementoes to those whose loved ones have passed away.
Sally Biby was presented with the VFW Auxiliary Special Award for making 3,000 valentine's and giving them out to veterans at the VA Medical Center, Loma Linda University Medical Center and 11 area health care facilities.
Naval Sea Cadet Corps Award went to Kristina Ujueta, who has pursued ranks in the program and is a member of the Moral Honor Detail at Riverside National Cemetery. She also is a member of the Girl Scouts and enjoys martial arts.
Post Service Recognition went to: Stater Bros., Oak Valley Parkway and Sixth Street locations in Beaumont; Albertsons in Banning and Redlands; Wal Mart Superstore, Beaumont; Patsy's, Banning; Sun Lakes Social Singles Club.
Post House Donors are: Sun Lakes Charitable Trust; Sun Lakes Women's Golf Club; Bank of Hemet; Cherry Valley Nursery; San Gorgonio Pass Rotary Club; Beaumont Chamber of Commerce; Banning Chamber of Commerce; Siri Nimitz; Little and Sons Insurance Company; Elks Lodge 1839; Weaver Mortuary.
Patriotic Citizen of the Year: Jim Smith
Service Veteran Award: Jim Anderson
District 3 Voice of Democracy Award went to Mayline Ortega and District 3 Patriotic Pen Award went to Jaylene Grimaldo. Each will receive $100 checks.
The Beaumont High School JROTC was recognized: Emma Aguilar, Scarlett Armienta, Dirk Aujero, Marcus Banks Jr., Izabelle Barrera, Ethan Baylon, Jorge Becerra, Kolby Camarena, Cassie Campos, Ali Darwish, Najeeb Darwish, Avidan Das, Haley Davis, AJ Downer, Jenayne Duncan, Heleena Fisher, Leanna Fisher, Melissa Flores, Anthony Fonzi, Donovan Gallegos, Grace Gillespie, Jose Gonzalez, Ray Loomis, Cody Martin, Isaac Mercado, James Minesinger, Alan Ortiz, Naytalia Perez, Octavio Perez, Jacquelin Ramirez, Jesse Rios, Ireland Romero, Christian Rudkin, Nicholas Schempp, David Silva, Ethan Storm, Anthony Vallez, Matthew Villasenor, Gregory Ward, Gene Wagner.
The California Highway Patrol Explorer Post 665 awards went to: Joshua Alvarez, Aadil Butt, Anna Mendez, Adrian Toquero, Jason Valdovinos..
The Patriotic Partner Award went to the Morongo Band of Mission Indians and Diamond Hills Chevrolet Buick GMC.
The Past Commander Recognition went to Seth Eberhardt.
The Commander's Award was given to: James H. Littlebridge.
The Buddy Poppy Award went to Jim and Sandy Bleier, Norton and Elaine Abrams, Beverly Casaga and Barbara Ely.
This award started in England after World War II. Nov. 11 was recognized as Veterans Day and the VFW began distributing poppies made by disabled veterans. In 2017, VFW Post 233 raised $18,500 and the money goes back to helping the veterans.
Walker said, "It's the people here. You make it possible."
It was also acknowledged that JROTC and the Explorers are financially supported by the VFW.