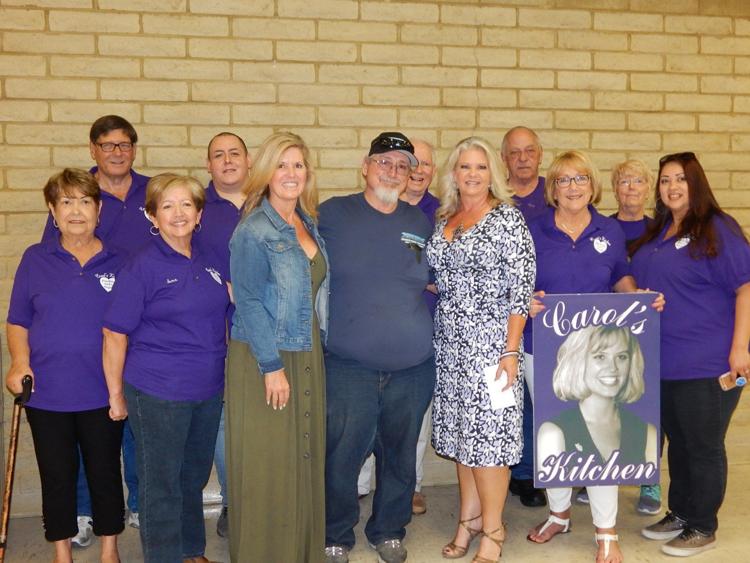 BY JULIE FARREN
Record Gazette
Sam Baldi was excited to present a check to Carol's Kitchen Monday morning that showed the generosity of the Pass Area community for the non-profit organization's mission to feed the hungry.
For the past seven years, Top-Line Industrial Supply in Beaumont has sponsored a Car and Bike Show, benefitting Carol's Kitchen.
Baldi, general manager of Top-Line since 2011, gave Carol's Kitchen a check for $13,200 from the one-day event held June 15 in Top-Line's parking lots.
That amount of money will provide Carol's Kitchen with at least six to nine months of food, said executive director Lance Sanchez.
It also will help with the cost of equipment as needed, he said.
Top-Line became involved with the non-profit organization after Baldi's son Pasquale met Arlene Ragan, co-founder of Carol's Kitchen with her husband, Jim, at another event.
Pasquale told his father that Carol's Kitchen was the community-based organization they were looking for.
"We wanted to benefit a charity,'' Sam Baldi said.
The first year, the car and bike show had 30 vehicles and raised $1,000.
Last year, the event raised $9,100.
This year's show featured 230 vehicles. Next year, Baldi said they will limit the number of cars and motorcycles to 250.
"We've grown every year," Baldi said.
The five-and-a-half hour event drew at least 2,000 people at any given time this year, Baldi said.
Raising $4,000 more this year was due to the number of entries, sponsorships, vendors and donations.
Baldi said the car show is the largest one-day event in Beaumont.
He said that entries come in from Arizona, Nevada and California, and that some entrants build vehicles specifically for the event.
He said that the big draw for the event is that it benefits Carol's Kitchen, but also that the entrants are shown respect for their cars and bikes and the winners get handmade trophies.
Baldi said that his wife, Dawndra, is a member of Head Turners, a female motorcycle riding club that donated $2,000 this year.
Head Turners founder Kristin Peterson also attended the check donation event.
Baldi received a plaque from founder Arlene Ragan and the board of directors of Carol's Kitchen, thanking him for his devotion, dedication and hard work in support of the non-profit's mission of feeding the hungry.
"It's humbling. It makes me very happy," Baldi said.
Carol's Kitchen executive director Lance Sanchez joined the non-profit organization a year ago.
Sanchez, who previously worked as a training manager for a retail coffee chain, said working for Carol's Kitchen is a perfect fit for him.
Sanchez, 36, remembers his late grandmother, Ruth Cutter, taking him around to food banks in Redlands, San Bernardino and Mentone from the ages of 5 to 12.
Sanchez said those trips left an indelible impression on him. "It was really a passion with me," he said.
Connecting with Carol's Kitchen felt like destiny for Sanchez.
The non-profit has three locations, in Banning, Beaumont and Cabazon, and operates four days a week, Monday, Tuesday, Thursday and Friday, with each location serving two days a week at its site.
Alex Tompkins served as executive director up until a year ago and now serves on the board of directors.
She said that people still are not sure about if they qualify for a meal. They wonder if they have to bring paperwork to prove their eligibility.
"No. They just have to be hungry," Tompkins said.
Overall, Sanchez said that Carol's Kitchen serves 3,000 meals a month.
Being part of an organization that feeds the hungry fills a purpose for Sanchez.
"I can't walk past anyone who's hungry," Sanchez said. "It's an empty, hollow feeling in me."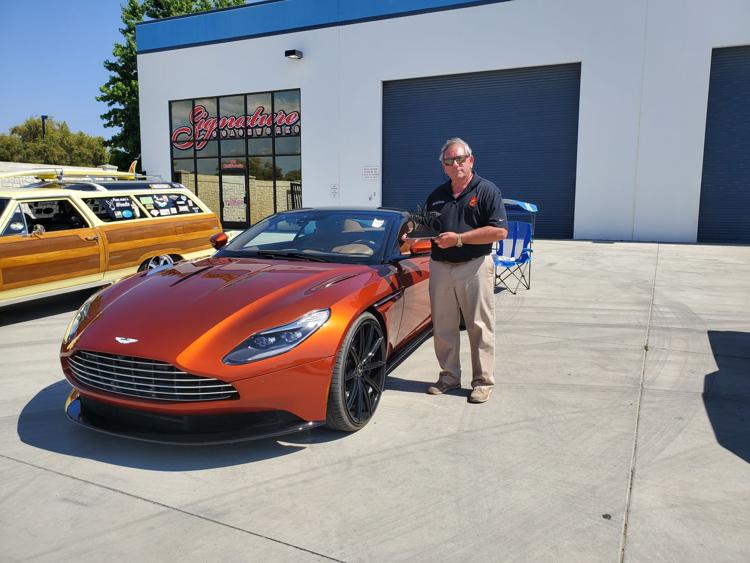 Carol's Kitchen has been working on its marketing campaign, trying to get the word out in the San Gorgonio Pass area.
Sanchez said they have been attending chamber mixers and breakfasts, the Cherry Festival and Stagecoach Days.
Tompkins has attended the car show for two years and loves seeing the response from the community.
She said that this year's event had car entrants lined up along California Avenue hours before the show started at 9:30 a.m.
Tompkins said that Top-Line's family and employees work hard every year and invest in the show to make it a success.
"It's a family-oriented car show," she said.
Sanchez and Tompkins said that because the organization is privately funded, Carol's Kitchen still needs funds to operate and there are ways that the public can help.
The 9th annual bowling tournament will be held Aug. 24 at Canyon Lanes at Morongo Casino. Bowling starts at 10 a.m. at $35 per person. There also will be raffles for baskets and cash.
Private donations are welcome and if someone wants to make a donation in person, they can stop by a Carol's Kitchen location and ask to speak to a manager.
The mailing address also is on the Carol's Kitchen website.
At the June 15 Top Line Industrial Supply charity car and bike show in Beaumont, 216 vehicles came out to exhibit their vehicles in the company's parking lot.