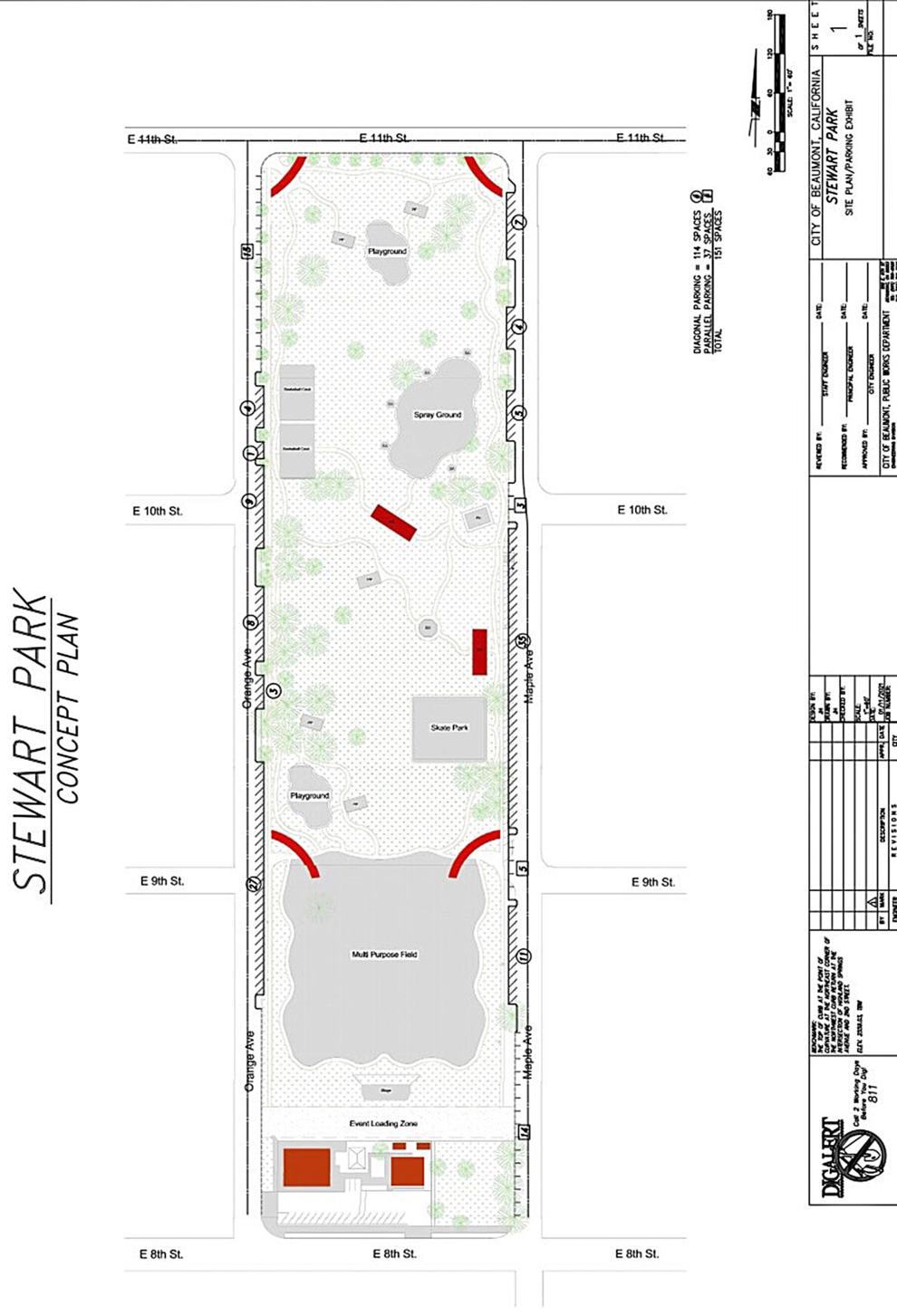 The Cherry Festival, assuming it is held this year, will have to be held somewhere other than Stewart Park — most likely to be hosted by the Beaumont-Cherry Valley Recreation and Park District.
Tenth Street (as it intersects Stewart Park) will soon be closed off. Permanently.
Two of Stewart Park's biggest amenities are destined for demolition.
The Beaumont Plunge will be removed and replaced with a splash park.
The pavilion, which has been graced by the likes of The Bangles, The Eagles, Air Supply, Eddie Money and Starship, will be torn down.
It will be substituted by a modern band shell and stage, replete with contemporary sound and lighting amenities, closer to 8th Street, flanked by a multipurpose field that can accommodate fans
Residents will notice the 11-acre park's closure effective promptly, as the city gears up to give it a $3,395,000 overhaul that was approved by its city council at their Jan. 18 meeting, paid for by capital improvement funds.
Stewart Park spans three blocks, presently interrupted by two streets that are gated off. It has a playground, a ball field that lacks bases (but has dugouts for "Home" and "Visitors"), a basketball court and a skate park, and a third of the park doubles as a detention basin for storm runoff during wet years.
Here is a rundown of what can be expected over the next year-and-a-half as Beaumont kicks off its aggressive agenda to improve Stewart and make it a community destination, as outlined by the city.
Pool facility
The Beaumont Plunge, for better or worse, was probably the most costly factor.
The 3,981 square-foot community pool and adjacent 500 square-foot children's pool opened in 1963. Prior to being drained, it was plagued by three leaks. The pool deck suffered cracks, some spanning longer than 10 feet.
The pool's depth and slope of the deep end does not meet minimum requirements to justify a one-meter diving board.
The children's pool does not meet the 2010 Americans with Disabilities Act standards, nor does it fulfill the Model Aquatic Health Code standards.
There is "significant corrosion" in the pool's mechanical room.
The city is not happy with a diminished attendance over the years, despite an increase in the costs of keeping the pool open.
The shallow end is too deep for young children, making it unsuitable to teach beginning swim lessons.
It would cost the city an estimated $2,066,754 to renovate the pool as it is, and would require a full replacement of the children's pool, and upgrades to the mechanical system, and remodeling of the bathhouse.
A complete replacement of the Plunge would cost the city roughly $5.5 million, which would include complete demolition of the existing pool for replacement of a new one that would contain fitness lap lanes, waterslides, and an update to the existing bathhouse.
The city opted to instead spend $1,100,000 to build a "sprayground" closer to 10th Street, nearer to the planned playground, which would be comprised of a 17,000 square-foot splash pad.
The city anticipates a lower cost to run a splash pad, which would be ADA accessible and available year-round without a need to hire life guards, and practically eliminates the liability of drowning.
New gaga ball pit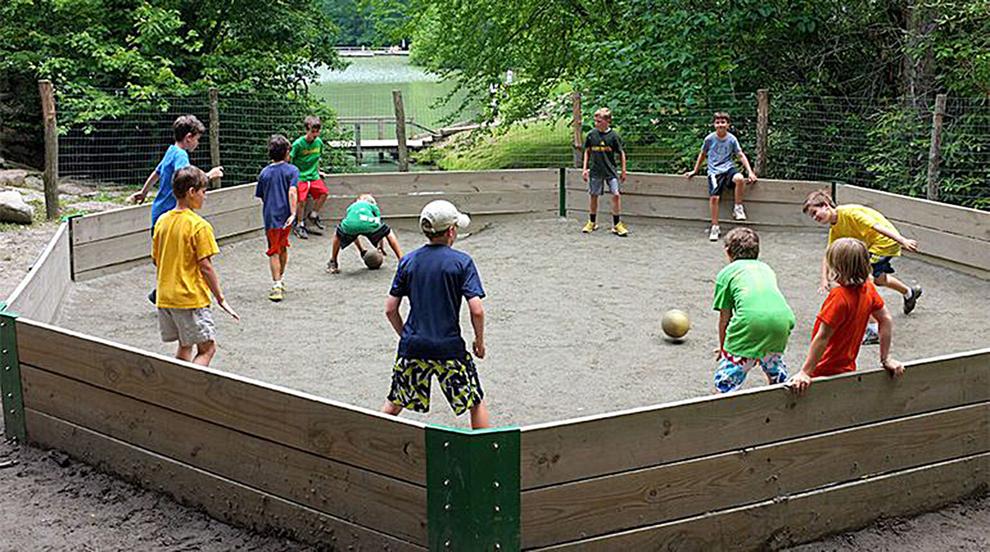 A gaga ball pit — similar to a dodge ball court, excepted that gaga ball courts are traditionally confined to an octagonally designed space, allowing participants to combine dodging, running, jumping and coordination skills, and does not require participants to be part of teams.
Pits can be placed in permanent locations, or they can be designed to be moved to other locations.
Playground replacements
The existing playgrounds include a 2,600 square-foot "tot lot," and a 6,200 square-foot youth lot. will be torn down to be replaced by two newer ones: one will be closer to 11th Street, and the other will be closer to 9th Street and Orange Avenue, across from the skate park (instead of being adjacent to an existing playground), which will be closer to 9th Street and Maple Avenue.
Playground equipment would be ADA accessible, and suitable "for children of all physical and cognitive abilities."
A popular component of modern playgrounds is the inclusion of "multigenerational swings and challenge courses," the city reports.
Dropping a band shell
Instead of the V-shaped roof that looms rather low over the existing pavilion, the city is pushing for erection of a band shell: a stage with a more spacious curved roof, where bands can entertain visitors at future Cherry Festivals, with plenty of space for fans to spread out.
It will be built at the south end of Stewart Park, facing north.
When concertgoers are not using the green space, it will be available as a multipurpose field to allow for a variety of recreational activities such as baseball, soccer, rugby and field hockey. 
Beaumont skate park
The 6,500 square-foot skate park lacks some of its original components, which were removed or damaged due to vandalism and other factors over the 15 years it has existed.
The city plans on completely rebuilding it, to be located across from one of the playgrounds.
Baseball field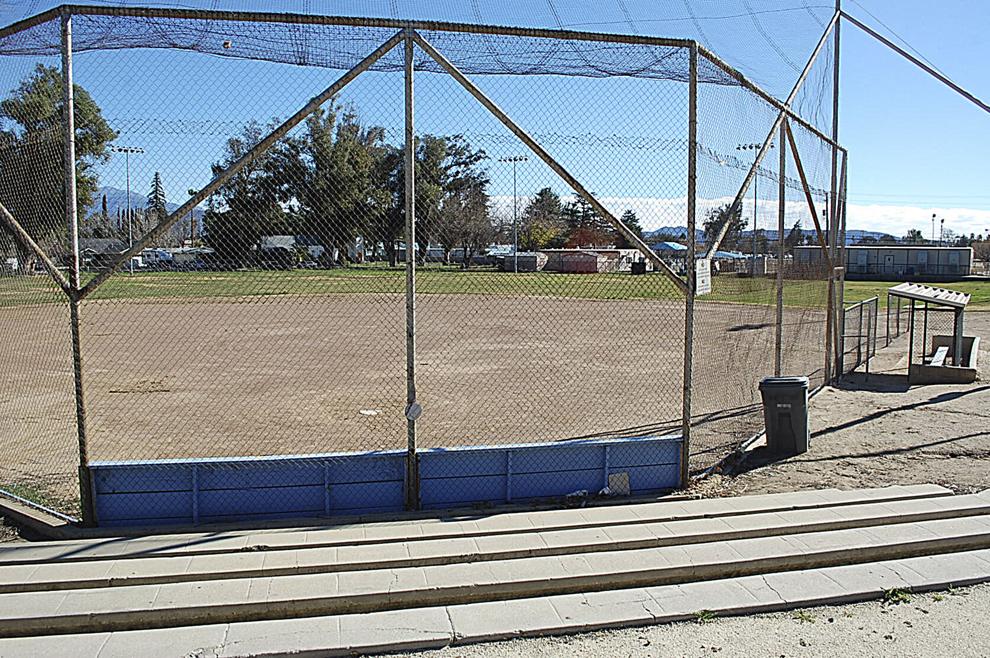 The ballfield is rated "fair to poor," suffers from poor drainage and subject to being overrun by weeds.
The city believes that the ballfield lighting is outdated, and its electrical panel inadequate; further, there is no ADA-accessible route to the spectator area.
It will be removed.
A multiuse field at the south end of Stewart Park is expected to provide an outlet for recreational sports.
Basketball courts
Two full-length basketball courts will remain relatively unscathed at their existing locations.
The city promises to put up new backboards, baskets, and refreshed court markings, and will add erosion control measures along the edges of the court.
Restroom and concession stand
This is the one edifice deemed to be in good standing.
With its solid brick exterior and relatively recently replaced roof, it will remain with no necessary changes. 
Street closures
Manual swing arm gates were installed to close off traffic through Stewart Park at 9th Street nearly 10 years ago.
The portion of 9th street, which technically still goes through the park, would be removed.
The city will soon close off the segment of 10th Street between Orange and Maple avenues, and remove replace it with park land.
Entryways to the four corners of the park will reflect a Spanish colonial revival theme, with red-tiled roofs and arched passageways, inspired by the likes of what can be found at the Mission Inn in Riverside.
The city is expected to approach the San Gorgonio Pass Historical Society for input on statuary that may be placed in the park.
The city's conceptual plan involves shade structures for playgrounds, additional spectator seating, scattered picnic pavilions, a c concrete walking trail throughout the length of the park, added parking facilities and enhanced landscaping.
Along the outer corridors will be 10-foot-wide sidewalks for food trucks during events.
The city sees the renaissance of Stewart Park as a vital piece of making its downtown specific area a city destination.
Staff Writer David James Heiss may be reached at dheiss@recordgazette.net , and messages may be left at (951) 849-4586 x114.