Keeping the world hydrated and healthy is a missive of the Nestle Waters North America Inc. corporation, messages the company hopes students at Cabazon Elementary School will carry with them through life.
Representatives of Nestle, parent company of Arrowhead Mountain Spring Water, which has operations in Cabazon, offered a few mini-lessons on germs, water conservation and recycling last Friday.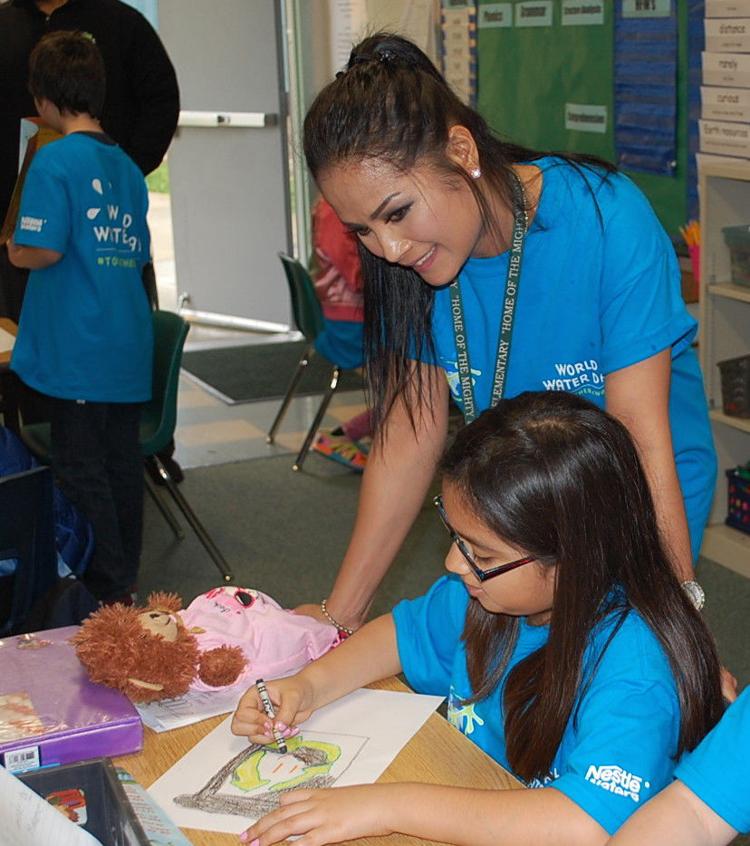 Two second-grade classrooms teamed up for a couple of class sessions to identify recycling bins, and design their own recycling logos to be used on such bins.
Kindergartners took turns passing around a glitter ball; the representative asked the students as the ball was retired, "Do you see anything on your hands that wasn't there before?"
She received gasps of surprise as kids discovered green glitter on their hands, representing germs left behind from handling something others have touched.
They then took turns practicing washing their hands with disinfectant.
A couple of fifth-graders described their experience of learning about water.
"Most of the world is water. Only a little bit is land," explained Anna Phillips. She was excited to learn "The world is like puzzle pieces — they all fit together," she said, explaining continental drift. "I was amazed."
Fellow fifth-grader Monique Pimintel said, "The whole world is made of salt water, except 1 percent." And, she learned, "Water is healthy for you. We talked about recycling water and the importance of using tap water" over purchasing bottled water.
It may sound counter-intuitive for a water bottling company to advocate reliance on tap water, but Nestle claims that health is of the utmost importance, regardless of where Cabazon's kids get their water from.
Anthony Kusich, a representative for Nestle Waters told the Record Gazette after the events, "We at Nestle Waters believe that choosing water of any kind over sugar-sweetened beverages is the healthiest choice. Americans have a growing preference for water: mineral, still, sparkling and flavored."
According to Kusich, last year "sales of single-serve bottled water surpassed sales of carbonated soft drinks for the first time ever. That's great news for the health of our country, as billions of calories are being taken out of the American diet. Bottled water plays an important role in helping Americans stay hydrated at a time when 70 percent of beverages are consumed away from home."
Staff Writer David James Heiss may be reached at dheiss@recordgazette.net, or by calling (951) 849-4586 x117.