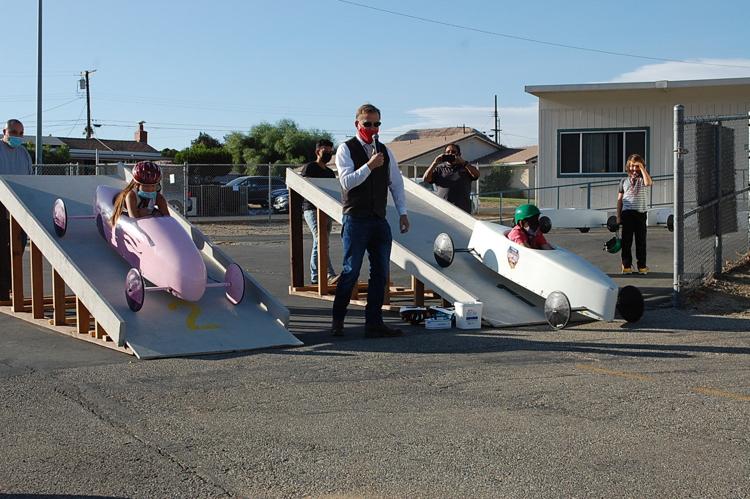 Usually Hoffer Elementary School in Banning has throngs of supporters lined up around the track — a strip of well-used asphalt leading to the playground, complete with a black-and-white checkered finish line — to witness the school's annual Race Against Drugs soap box cart competition.
If you don't have kids in school, you might have missed the fact that Red Ribbon Week occurred last month, since the traditional outlets for promoting its awareness have been somewhat restrained.
"We didn't want the students to miss it," Principal Matt Beilstein said, referring to the Race Against Drugs contest, which is usually held in concert with other competing schools.
It's always a big to-do, as all classrooms come out to watch, and teams involve pit crews for higher student participation, and there are usually scores of excited spectators.
This year, the event was far more subdued, but no less enthusiastic: students were socially distanced when not in carts, and each contestant disinfected their hands before situating themselves into their carts during races on Nov. 6.
Everything was live streamed, so all students got to watch the event in real time online.
Soap box cars are part of the school's STEAM (science, technology, engineering, arts and mathematics) program.
In each virtual classroom, students are divided into teams, and each team designates a couple of students to pick up the soap box kits and build the carts.
Other teammates are designated to assist as pit crew members, or in other aspects, or to be the designated racers.
Kits come with the shell and frame, and everything else — wheels, axles, brakes — have to be put together by students in the third- through fifth-grade classes.
The carts did not have motors or engines.
Beilstein explains that it is all a part of asynchronous learning.
Altogether, there were nine carts.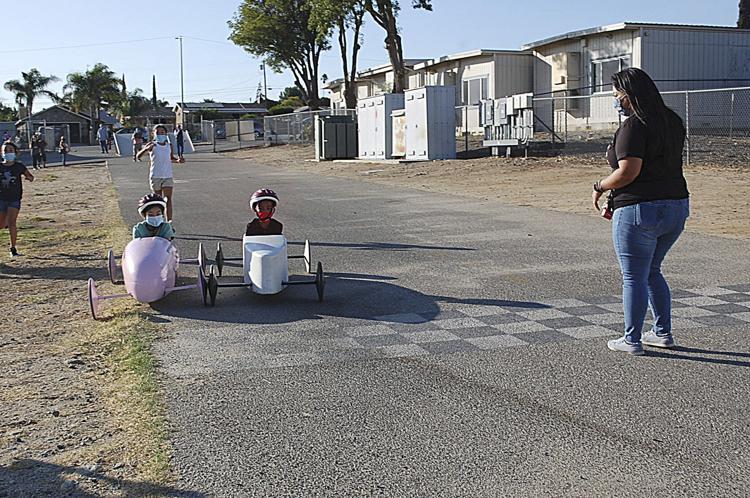 Some had some kinks that disqualified them for use; drivers had to select a working cart that appealed to them.
"It went really well. Parents came out and really had a good safe time; it was something that was needed and enjoyed it, and to have other students watch it virtually. it came together well," Beilstein said.
Troy Sheldon third-grade teacher, said that six students participated technically participated in building three carts, with each teams consisting of two students, but all students raced independently in shared cars.
"We encouraged parents with my class to be involved to make sure cars were built safely, assure they were operable and for accountability," Sheldon said.
It was not necessarily a task left entirely to students to do on their own without some kind of supervision.
One dad had two kids using the same car, he pointed out.
The situation was "Far from ideal, but definitely wanted to rewards students who logged in on time and were there from buzzer to buzzer," Sheldon said. "It was a fun, festive event. They all enjoyed it, even those who had difficulty getting down to the course."
Bee Yang, a second-grade teacher at Hoffer School whose daughter Rose Yang, a fifth-grader, won the overall race.
Each grade's contestants competed against each other; the winners from those competitions went on to the grand challenge.
The school had to replay the video to see that she had ever-so-narrowly defeated fellow fifth-grader Michelle Loera — their race was that close — to be the school's ultimate winner this year.
"Rose did not get any previous training to work on the cars," Mr. Yang said. "We just picked one that works; even though they're put together, like a real race, cars do break down, things come loose. We just happened to switch from car to car to find one that works."
Rose won a trophy — every participant got a trophy.
For that, Mr. Yang said, "I'm happy that everyone earned one; even though she won, I'm glad they were all winners."
Staff Writer David James Heiss may be reached at dheiss@recordgazette.net, or by calling (951) 849-4586 x114.