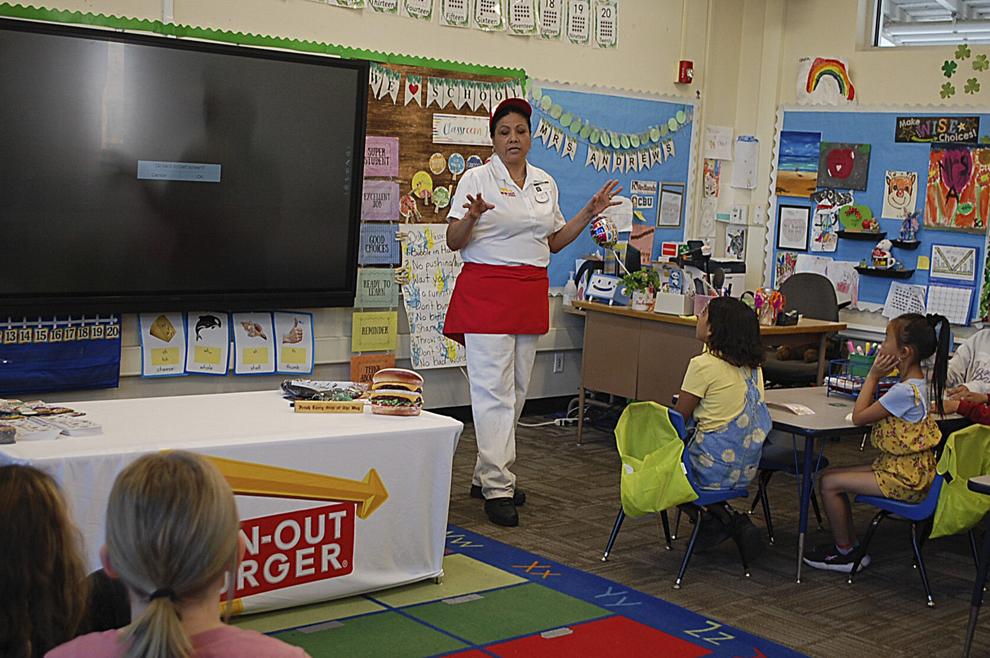 Evelyn Cervantes could talk lovingly all day about working for In & Out, the popular burger chain that is not only well-liked by customers, but appreciated genuinely by its employees.
Their associates start at $19 an hour, and there are all kinds of perks, she said.
There are gym memberships and cell phone discounts.
The company assists families with adoptions.
They host companywide picnics, bowling and softball tournaments. Free carnivals. Insurance for pets.
Managers make over $250,000 a year at some stores.
She flashed a jewel-laden ring given to her for 25 years of dedicated service to the company.
Cervantes has worked at In & Out for 34 years.
Some of the concepts she talked about might not have sunk in for the elementary students at Hoffer Elementary School in Banning last week, where she participated in the school's Career Day, but her career at a fast-food company certainly sounded appealing for those fortunate enough to land a job at In & Out.
"If you read five books, you can get a free burger," she told students in Lacey Andrews' kindergarten class.
Cervantes told them that she eats every day at In & Out. "I eat a double-double every day for free."
She asked them, "How many of you know about the secret menu?"
For those in the know, it can include grilled cheese sandwiches and protein shakes.
School resource officers from Banning Police Department, Sgt. Roberto Jauregui and Officer Alyssa Roebuck, fielded questions next to a patrol vehicle parked on the school's black top.
Kids peppered them with questions, such as "What happens when you get pepper sprayed" ("You work through it"), and "What happens if someone runs a red light?"
Jauregui replied, "We'll pull them over, probably give them a ticket, and ask why they ran it."
One student was concerned about their welfare, wondering, "Do you get lunch breaks?"
Jauregui explained, "There's no designated lunch break. We get 30 minutes for lunch, but it's a working lunch, so to speak," that might entail a drive-thru meal, eaten on the go.
In a nearby classroom Redlands artist and O'Flanary's Emporium business owner Judy Coates told students, "I never imagined I'd become an artist," and get paid for it.
Coates claims publication of six books that she has written, and designs patterns for the craft industry; she creates "whimsical" decorative paintings inspired by country folk art, and designs headdresses for ceremonial purposes.
She told students, "A lot of things you guys don't realize you're learning right now comes into play, from math to literature," such as routine reading of instructions to counting change from a cash register.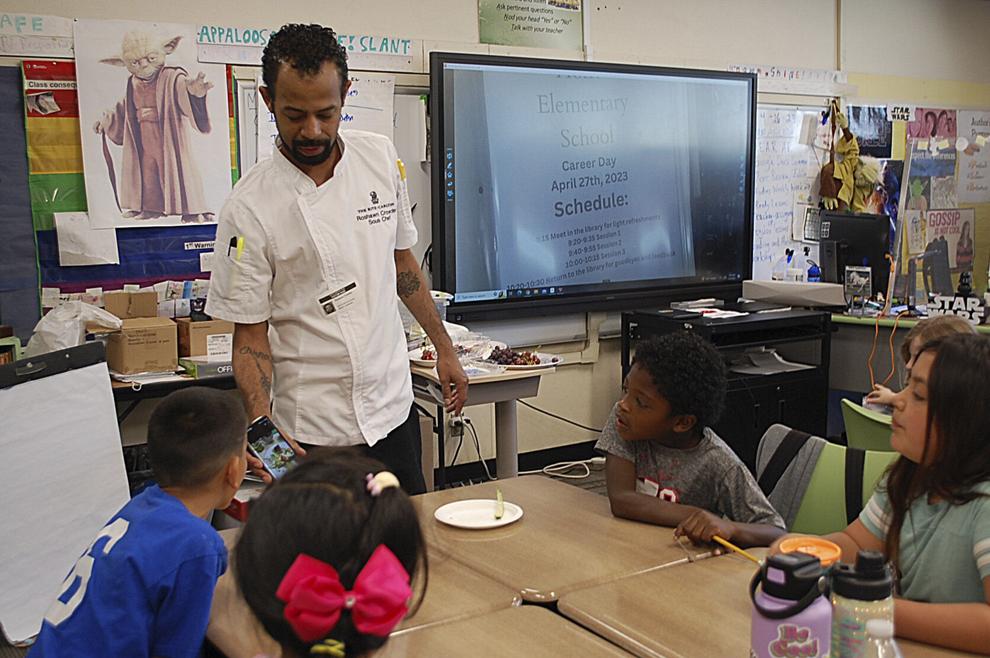 In another classroom, Roshawn Crowder, a sous chef for the Ritz-Carlton Hotel Company, told students, "I know how to make anything your heart desires," but he enjoys specializing in Mexican, Latin, Mediterranean, Deep South and Classical South dishes.
"I think about my loved ones when I cook," he said, "and how it's going to impact them. As long as you have perseverance, you can do just fine in any career."
Crowder showed cell phone pictures of some of his creations; unfortunately he did not perform any cooking demonstrations.
"I've been becoming more the teacher than the chef. I know lots of techniques," he said. "I like to play with my food. In a professional way."
Career Day helped expose students to professions that they may not have considered, or reaffirmed aspirations they already have.
Second-grader Skylynn Justice said that her "absolute favorite" speakers were wildlife "rehabbers" from Pond Digger Ranch Rehabilitation Foundation in Cherry Valley.
According to their biographs, they are "wildlife rescue rehabbers."
"Animals are my friends. I love animals," Skylynn insisted. "I don't need human friends. The speakers talked about how animals can need help sometimes, because they get let down by humans, until a good person comes along to help them."
Fourth-grader Harley Fontes is now interested in becoming a movie producer after listening to a couple of speakers last Thursday morning. He was excited after learning about what it takes to make some of the special effects in movies.
"I liked what some producers do to make unrealistic movies, to make people what they're not" by applying "pinballs on their body and a black suit to make them aliens," for instance.
Harley also heard from a speaker who represented the Army.
"Military people go to this camp for two weeks to be trained to be leaders, and be the best Army you can be, or they could die first," Harley recalled.
Of the speakers he heard that morning, the one that stood out inspired him to "want to become a film producer."
Staff Writer David James Heiss may be reached at dheiss@recordgazette.net, and messages may be left at (951) 849-4586 x114.