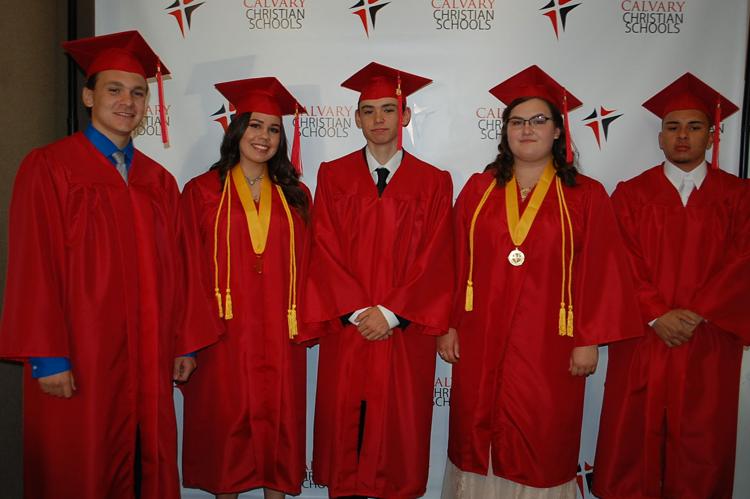 Calvary Christian School's former principal Phil Niederer left at the end of last year to take a job with a ministry in Grayling, Mich.
He graciously accepted the opportunity to come back and address the five seniors graduating with the Class of 2019.
Among the graduates was Esteban Bonilla, who will attend Riverside Community College next fall.
"It's been a good environment" to grow up in and attend school for most of his life, Bonilla said. "I'll miss the experience of meeting up with friends. There have been lots of one-on-one experiences" when it came to his education.
Kaleb Schofield transferred to Calvary Christian School from Redlands East Valley High School — a much larger public high school, to be closer to his girlfriend, Syerna Witte, a sophomore at Calvary Christian.
"Everyone here knows each other," Schofield said. "Teachers had more time to focus on students" compared to schools elsewhere. "It's been really nice."
Schofield will start college at Crafton Hills College before transferring to a four-year Bible school.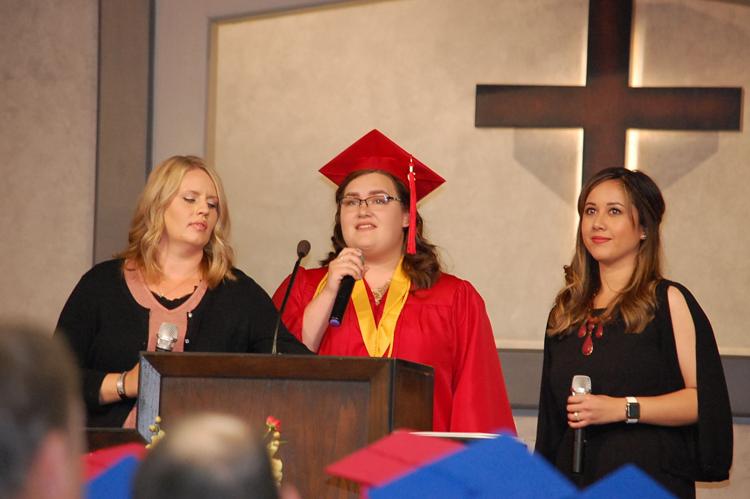 Others in the graduating class included Jacob Mabry, salutatorian Natalie Newbold and valedictorian Angeli Hernandez.
Hernandez and Newbold were the first recipients of $500 scholarships named in honor of the late Rebecca Szydlowski, who passed away last year, and was the wife of Richard Szydlowski, pastor of Mountain Avenue Baptist Church, which shares its campus with Calvary Christian School.
Pastor Niederer urged the graduating class, as well as the 21 sixth-graders who stepped up to become seventh-graders at the ceremony, "to run to obtain the prize."
He encouraged them to run the race "with purpose," to do so "with no regrets"; to "run with hope," and to "run to finish."
"Run with purpose to obtain the prize, as you begin another lap in life, look to Jesus" and "run with purpose," Niederer said. "Run well, and at the end of the race, do not look back and wish you didn't make that mistake."
He said, "No one runs with the hope of being a failure. Run to win. Graduates are facing a crowded field of people looking for success. Run to finish. Don't quit, don't give up. Too many people start out serving the Lord" only to abandon their mission at some point.
Valedictorian Angeli Hernandez, who will attend Riverside Community College before transferring to California Baptist University, took a moment during her address to thank her supporters, friends and family.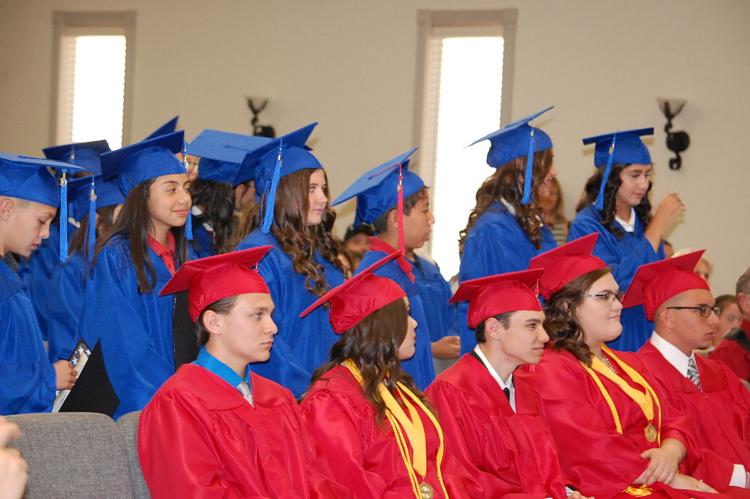 "These past years have been rough, but we survived them," said Hernandez, who had been part of Calvary Christian School for the past nine of her 12 years in school. "All of us have worked so hard to get where we are, and now it has paid off. If I can impart any kind of wisdom to our upcoming seniors and sixth-graders — now seventh-graders — it would be to 'do your best, and apply yourself, because you are capable of so much. Also, remember to show respect to each other, and your teachers. Above all else, remember to put God first."
That last bit of advice admittedly "has taken me a long time to understand, and something I still struggle with today," she said. "But God is the one who gave us our talents and brought us here."
Salutatorian Natalie Newbold intends to study nursing at California Baptist University. She told those assembled, "On this journey through high school, I found God. I recently got saved last year. I owe all my successes to God: without Him, I don't know where I'd be. God brought me to Calvary Christian my freshman year. I was hesitant coming to a new school, but since then I met so many wonderful people who helped me grow and mature … I will sincerely miss this school and my friends I'm leaving behind."
Commencement addresses from Angeli Hernandez and Natalie Newbold are online exclusively at www.recordgazette.net .
Staff Writer David James Heiss may be reached at dheiss@recordgazette.net .