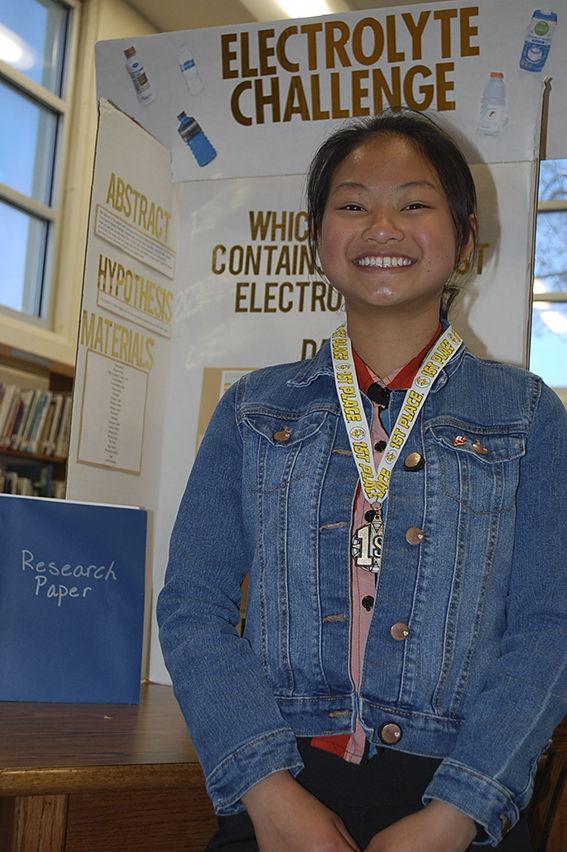 Since Lily Yang of Banning runs cross country and plays a lot of soccer, the Nicolet Middle School student wanted to know what substance would likely replenish her electrolytes most efficiently.
Electrolytes — essential minerals that transmit electric charges and regulate body fluids and pH and alkaline levels in the blood, among other functions — tend to be lost during episodes of high physical activity.
Her project "Electrolyte Challenge" required a didactic crash course of sorts in chemistry, studying various types of ions and learning about their physiology within the human body.
Listening to her talk passionately about her science project, which earned her a spot at the 2019 Riverside County Science and Engineering Fair last week, one would think they were listening to a Ph.D. candidate defend a thesis — not an eighth-grader who is simply curious as to what she should be consuming in order to stay at peak hydration after meets.
"I used a multimeter to measure conductance, or ohms," she explains. "So, ohms is conductance, and conductance is equal to electrolytes."
She used probes and straws dipped into various liquids she worked with to send data to the multimeter, pointing out that timing is everything, otherwise "Electrosis would appear, which is when you get the little bubbling on your wires."
From determining the best method of removing odors from sneakers to searching for the perfect popcorn kernel, several students took top honors during the 2019 science fair program through Banning Unified School District.
While dozens of students placed at the district's science fair, the Record Gazette met with the winners in each division.
Yang usually drinks Gatorade, orange juice or chocolate milk at meets.
For her project, she worked with purified water, tap water, Powerade and coconut water.
She anticipated that Kroger orange juice would provide the highest electrolyte replacement, "since it's high in vitamins," so she was curious to discover that the winner ended up being Simple Truth brand coconut water.
"I was very surprised that coconut water carries that much electrolytes," she said.
Her efforts garnered first place in the district's Junior Division Individual category.
Popping the questions
At Cabazon Elementary School, twin brothers Elijah and Dominik Jiminez took first place in the elementary group division with their "Triple Pop" project.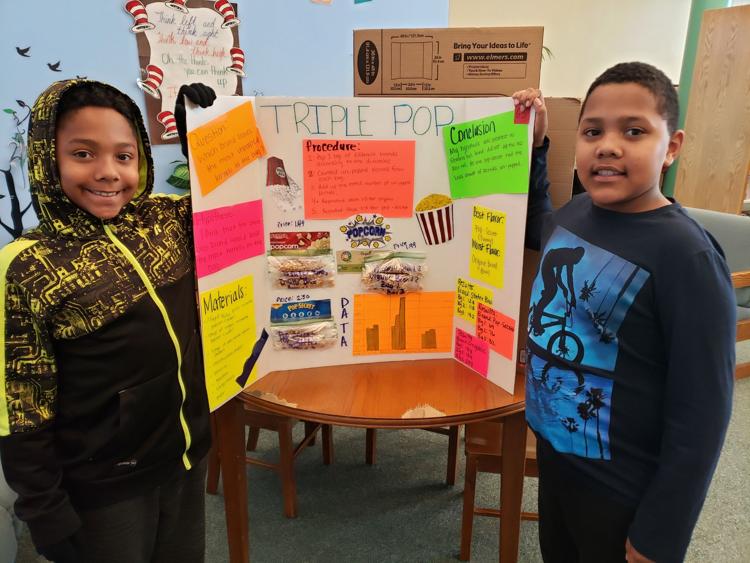 The fourth-grade duo did their best to track down the perfect popcorn: a brand that would not leave behind a lot of unpopped kernels.
They used three types of popcorn for their experiment: Pop Secret branded kernels, Stater Bros. generic popcorn, and "organic" popcorn.
Everything was popped initially for two minutes in a microwave, then the leftover unpopped kernels had to be individually counted.
According to Dominick, "Organic kernels were slightly larger, and Pop Secret kernels were smaller.
After two-minute popping sprees and counting leftover unpopped kernels, it was determined that Pop Secret maintained its commercial value, yet organic kernels were not as efficient, at least not if only left to pop for two minutes.
"We didn't want to cook the organic kernels longer to see if they'd pop more, because we were worried they might burn," Dominick recalled.
If they were to do the experiment again, he muses, they probably would go ahead and cook the organic kernels a minute longer to see if more of them would pop.
Candid observation of dehydration
Central Elementary School fourth-grader Ashley Davis was on a mission to find out which liquid evaporates faster: syrup, soda, water or vinegar.
Her father works for Arrowhead Mountain Spring Water in Cabazon and had previously shown Ashley the cool effects of smoky dry ice.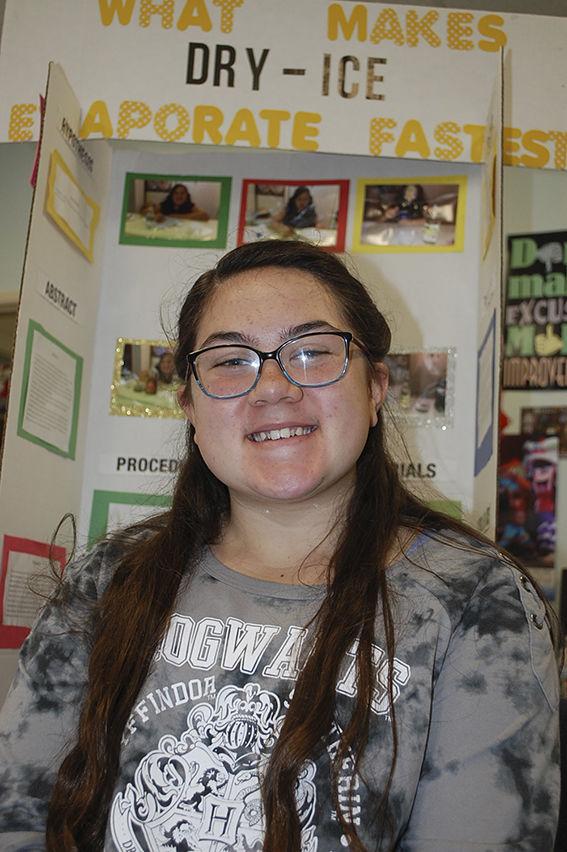 Now fascinated by frozen CO2, her observations led to her curiosity as to which substance, based on viscosity, might dry up faster than others when dry ice is applied to it.
She initially assumed that water would be her winner, but after giving it a shot — and simultaneously testing evaporation speediness of soda, water and syrup — vinegar did not evaporate faster when dry ice was applied to it.
She performed tests on samples of Dr. Pepper, Arrowhead water, generic white vinegar and Aunt Jemima's maple syrup.
Ashley, an aspiring scientist or future hip-hop artist, guessed that substances that were thicker would freeze faster.
Apparently Aunt Jemima's syrup did freeze faster than the other liquids, as she predicted (vinegar froze, and was slower to eventually evaporate).
Her experiments gave her a first place rating in the Elementary Individual division.
Apocalyptic fruit preservation
According to Nicolet Middle School eighth-grade Associated Student Body officers Cindel Ruiz and Adrien Castenada, the pair share more than a great friendship: their families have a common mentality when it comes to being prepared in the event of a disaster: they describe parents who stock up on supplies and food in case a debilitating earthquake or some other catastrophe strikes.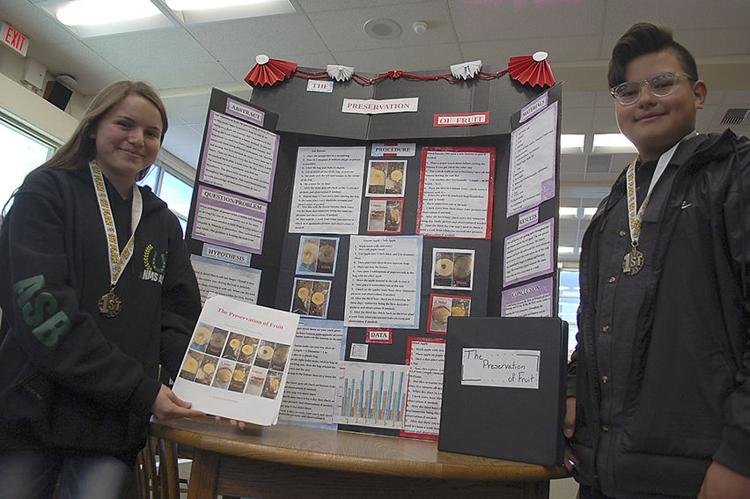 It led to Cindel's and Adrien's inspiration for their science project: "Preservation of Fruit," which garnered first place in the Junior Division.
"My father is into preparing for doomsday scenarios," Cindel says; and Adrien agrees: "My family is the same. We're ready for any natural disaster that could affect us."
The partner scientists wanted to know which fruits and seeds could be preserved for consumption in the event of a disaster.
"Fruits contain fiber and key nutrients," Adrien points out. "It's important to come up with a way to preserve them."
"We picked common fruits that you see in most grocery stores and in our school lunches," Cindel explains.
They, well, "picked" sliced apples and bananas for further scientific treatment.
They tried four forms of preservation: salting, freezing, dehydration and vacuum packaging.
"You always see freeze dried fruits as snacks, and thought that would be the best," Cindel initially predicted.
It would also be fruitful in the event that power is knocked out, and frozen foods might no longer be an option.
However, according to Adrien, "Drying was the best method. It still kept all the vitamins and fibers. It just didn't have any of the fluids, which normally retains bad stuff, like sugars" anyway.
They recorded observations after the first hour, second hour, third hour, first day, second day, and third day, and again at the end of a week.
Each performed the same experiments simultaneously at their own homes.
They discovered that salting "really messes up fruit," describing not-so-pleasant-looking results by week's end, with gelatinous gooey membranes remaining.
Stinky shoes solution
In the Senior Division, New Horizons High School junior Jadah Anderson took first place for enduring her investigation into "Smelly Shoes."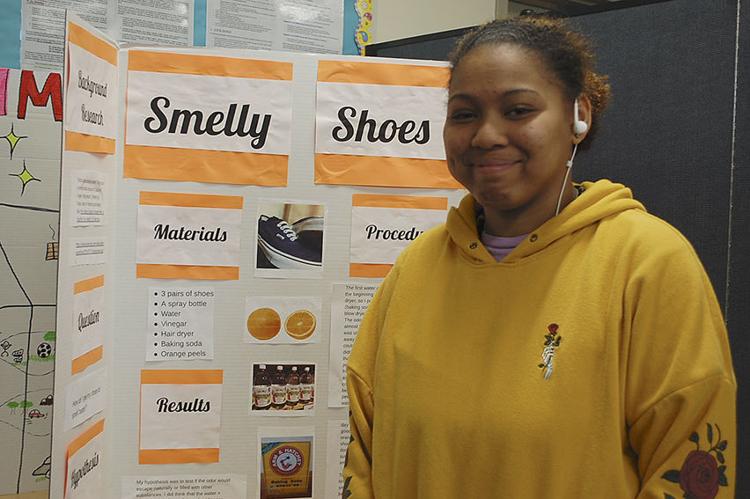 "I'm pretty active. I ride skateboards a lot, and play softball and basketball," Jadah explains. "I noticed my feet were smelling really bad, and was trying to figure out a way to get them to smell better."
More specifically, the devices that housed them: a few pairs of Vans sneakers.
"I had heard that green tea bags worked, so I used everything but those" in her experiment, she says.
She froze one pair, but that did not really work.
"They didn't smell as bad," but the two-day process only delayed the inevitable. "The odor came back after they thawed out," she says.
For another pair of Vans, she sprayed spritzers of a white vinegar and water solution, to no avail.
She tried baking soda.
And she even used a blow dryer, blasting the inside of the shoes with hot air that only blew back the stench — as she could only hold the shoe as far away as her arm would reach while she performed the task.
What seemed to work for her in the end, was citrus.
"I cut some orange peels" (three pieces in each shoe) "and let them sit and let the oils do their job, and they smelled really great," according to Jadah.
"Those worked."
Jadah says that, if she were to attempt the experiment again, she would consider adding green tea bags as a potential solution.
Staff Writer David James Heiss may be reached at dheiss@recordgazette.net .