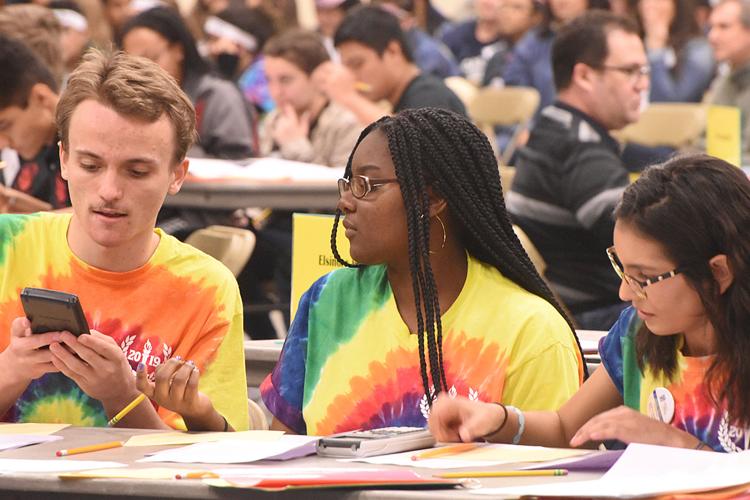 In a multiple guess question off of an Academic Decathlon practice test, students were asked to guess the composer who created a symphony based on the "Babi Yar" poems of Yevgeny Yevtushenko.
(The answer, out of five suggestions, was Dmitri Shostakovich).
If that stumps readers, perhaps they may know: "The idea that Kennedy could engage in low-level military operations wherever U.S.-friendly regimes seemed to be in danger was: A) flexible response; B) Vietnamization; C) containment; D) Geneva Treaty; or E) the Great Frontier.
The answer was C.
The 1960s were a bit before their time, but the group of mostly seniors who make up this year's Academic Decathlon team at Beaumont High School demonstrated impressive knowledge of the era: from the Beatles and Andy Warhol to the civil rights movement and the Vietnam War, students scored well in a series of tests and quizzes to have one of the high school's two participating teams place fifth at the event, held over the past two weekends at Vista del Lago High School in Moreno Valley.
The theme, "The 1960s: A Transformational Decade," involved essay writing, speeches, interviews, written tests in several subjects, and the only public program of the event, the Super Quiz.
The competition was won for a third straight year by Elsinore High School, which beat 17 other high school teams at the conclusion of the Academic Decathlon, and will represent Riverside County at the California Academic Decathlon next month in Sacramento.
Finishing behind Elsinore High was West Valley High School; Hemet High School took third; fourth place went to Corona High School and Beaumont High School's Blue team placed fifth.
"Fifth place may not sound that great, but it's really good, and I'm super proud of our team," said Chuck Rathfelder, coach for Beaumont High School's Academic Decathlon teams.
Considering that the top student scorer in the state (Maya Teitz of El Camino Real Charter High School) had an overall score of 9,424.4, Beaumont's students did well.
Rathfelder reports that Beaumont's highest scorer Katalina Peterson garnered the highest score Beaumont has seen since 2006 with an impressive 7,982.5, and had the third highest score in the county this year.
Other accolades from Beaumont: Remy Altuna, 6,869.5; Joseph Gutierrez, 6,665.1; and Shumirai Soda, 6,594.
Gutierrez also got a 971 out of 1,000 in math — the highest ever for Beaumont.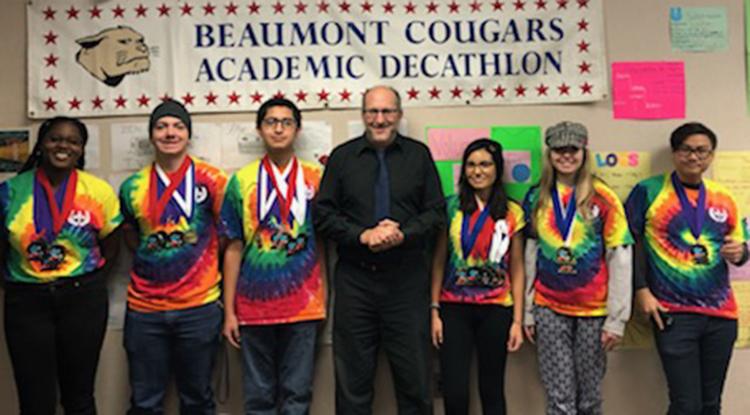 In the interview session, "Our students are remarkably mature and coherent and effective at communicating," Rathfelder said. "Kat and Remy both scored a perfect 1,000" (he points out that it was Peterson's second year in a row to get a perfect score in that category, which has not been accomplished by a Beaumont student before), followed by 990 for Skylar Shaver; 980 for Gutierrez; Soda 960; Valerie Duncan scored 955 and Natalie Day got 940.
Peterson scored 984 in essay, which is also a record high for Beaumont.
Others receiving medals were Helen Kouch in economics; Rebecca Capone and Kyle Bravo for being the top-scoring Scholastic and Honors students; Remy Altuna's overall 6,869.5 score was the highest score anyone from Beaumont has received in their first year of competing.
In the Honors division (students competing with GPAs of 3.75 or higher) were Peterson, Soda, Altuna, Day, and Kirsten Marsteller.
Possibly the end of an era
When it comes to a handful of Beaumont's top-scoring students, their records shine, and Coach Rathfelder knows how special they are.
"We won't have a group like this one ever again — definitely not soon," he said. A few of the students have participated all four years on the team during high school.
In Beaumont, the team is also a club, in addition to being an extracurricular class.
"This year's team has been a uniquely challenging one in several ways, but it is one of — if not the — most talented and hard-working and independent teams we've ever had," Rathfelder said. "They've done so much work on their own, and they support each other.
Shumirai Soda, as club president, is known to be an eloquent and articulate speaker plays varsity tennis and participates in track while holding down a job in Cabazon.
Remy Altuna is the club's vice president, who joined her senior year. She works at Denny's, served as an intern for Congressman Raul Ruiz, is a student representative to the San Gorgonio Pass Round Table, and serves on the board of the Pass Democratic Club.
Joseph Gutierrez, whose older brother participated in Academic Decathlon in the past, has been part of the program all four of his high school years, and almost scored a perfect score in math, missing just one problem, which Rathfelder points out is "unprecedented."
Katalina Peterson has been a top scorer since she began her freshman year. She teaches yoga, volunteers at the Edward-Dean Museum, plays varsity golf, and volunteers with the Beaumont Public Library; she also founded the high school's Environmental Science Club.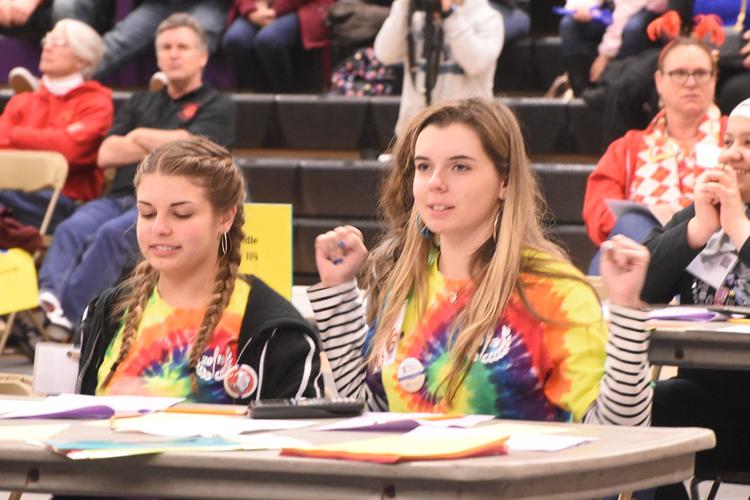 "Winning is not that high on my list of priorities," Rathfelder said. "Though it is nice for students to feel a sense of accomplishment, since they've worked really hard at something for a long time. To me, it's much more valuable that students learn useful study skills, discipline — things like that, lessons that will hopefully help them in college."
And, the Academic Decathlon team provides a venue for "like-minded people who are kind to each other" to "feel valued and part of a community."
Beaumont is one of just a handful of schools that dedicates resources to provide a competitive academic venue, according to Rathfelder.
"There were just 19 teams this year from 17 schools" (Beaumont and Hemet both fielded two teams) "and that's actually pretty sad," Rathfelder laments. "Lots of schools are discouraged by the level of the competition," noting that some schools might have a team for a year or two, then disband.
Banning, he said, hasn't had a team since 2004.
And other school districts also had teams in the recent past that did not participate this year, such as Temecula, Murrietta, Riverside Poly, Palm Springs and Tahquitz, according to Rathfelder.
"Whichever team wins, California wins the national competition every year. California is the best in academics in every way," Rathfelder said.
And Beaumont could be up there with the best of them, but, according to Rathfelder, "it's difficult to find students at the Scholastic and Varsity levels who are willing to spend hundreds of hours studying on their own, and that's the difference between us and the teams that beat us."
Students are placed in categories based on their grade point averages: the Honors division is for students with an unweighted grade-point average of 3.75 or higher; Scholastic (GPA of 3.0-3.75) and Varsity (below 3.0 GPA).
Senior Remy Altuna "felt very prepared going into competition because of the hours I spent taking notes on the guides in subjects like social studies from the 1960s; science focused on lasers; as well as my awesome speech I wrote on the harassment women face in politics," she said. "I crammed intensely for two months. Our team was super supportive and cheered each other on for every correct answer at Super Quiz."
Altuna calls Academic Decathlon her favorite class.
"It teaches great study habits and builds personal relationship skills due to the interview and speech portion."
Her only regret was that she did not participate in the program sooner.
"As a first and final year competitor, I made sure to make every moment count," she said.
Staff Writer David James Heiss is president of the San Gorgonio Pass Round Table. He may be reached at dheiss@recordgazette.net , or by calling (951) 849-4586 x114.