BY JULIE FARREN
Record Gazette
Jennifer Silverman and her husband Darren were waiting to see their son Troy graduate from Beaumont High School on the evening of June 6.
Joining them was grandmother Matilda Smith —Jennifer's mother — and his aunt, Kimberly Bullock.
Jennifer Silverman said her 18-year-old son was going to attend Northern Arizona University and study to be a physician's assistant.
He also might join the Army, his mother said.
His father was looking forward to the future.
"It's the start of a new chapter for him and us," Mr. Silverman said.
Troy was one of 620 Beaumont High School graduates who received their diplomas during a 35-minute ceremony.
The entire program concluded in just an hour and 20 minutes and included — you guessed it — beach balls bouncing back and forth between the soon-to-be grads.
There was a live stream of the ceremony.
In the audience, family and friends were gathered in the bleachers on either side of the stadium as well as bleachers set up inside the front gate.
There were flowers, necklaces filled with dollar bills, flower leis and balloons ready for the grads after the ceremony.
Some families had photos of their graduates displayed on T-shirts.
Suzy Orton and her husband Robert Orton were excited to see son Chase Collier, 18, graduate from Beaumont High School.
Chase's younger brother Devin, 14, was sitting with his parents in the bleachers.
Suzy Orton said that Chase plans to work with his father Keith Collier at his water pump business and also plans to attend Crafton Hills College.
Orton said her son is interested in painting and racing hot rods as well as photography.
Graduation night for Orton was filled with mixed emotions.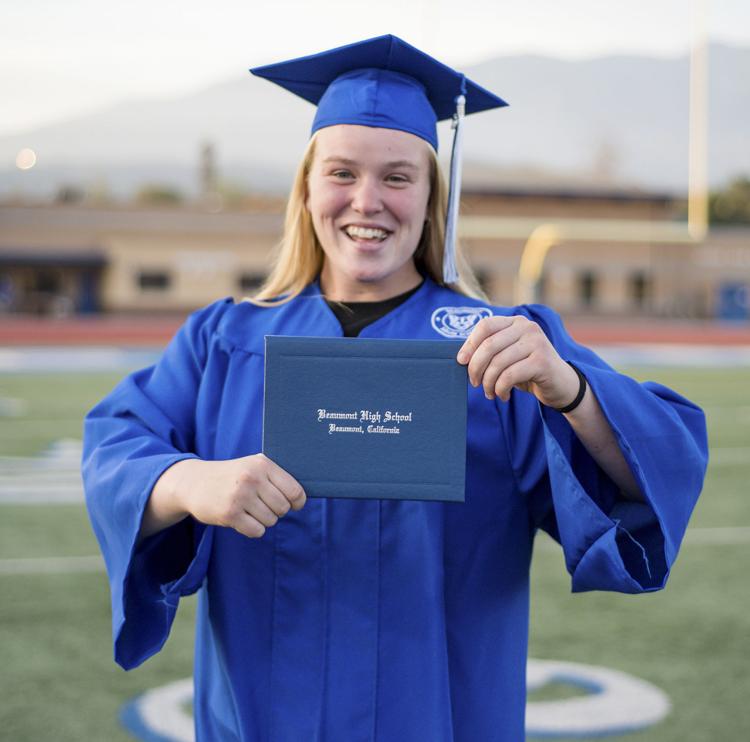 "I've been nervous," Orton said. "It seems like he was born yesterday and now we're here," she said.
Before the ceremony, the large video screen on the football field played humorous and sweet good-byes to the students.
Beaumont High School's staff recorded messages for the graduates, joking with them about how they were not going to be missed and to not return to campus.
There was video of the seniors at the elementary schools where they swiped hands with the children as they walked past them in line.
This is an annual tradition for the seniors and the elementary students.
Starlight Elementary Principal Lauren Kinney remembered a lot of her former Sundance Elementary students who were graduating this year in 2019.
Another video that was shown featured graduate Shaun Cannady, a member of the football team who is deaf and will be continuing onto college in the fall.
Beaumont High School Principal Jesus Jimenez welcomed the audience and said that the class of 2019 is his first graduating class.
Jimenez asked former Beaumont High School graduates, parents of graduates, siblings, family members and friends, staff and current graduates to stand and be acknowledged.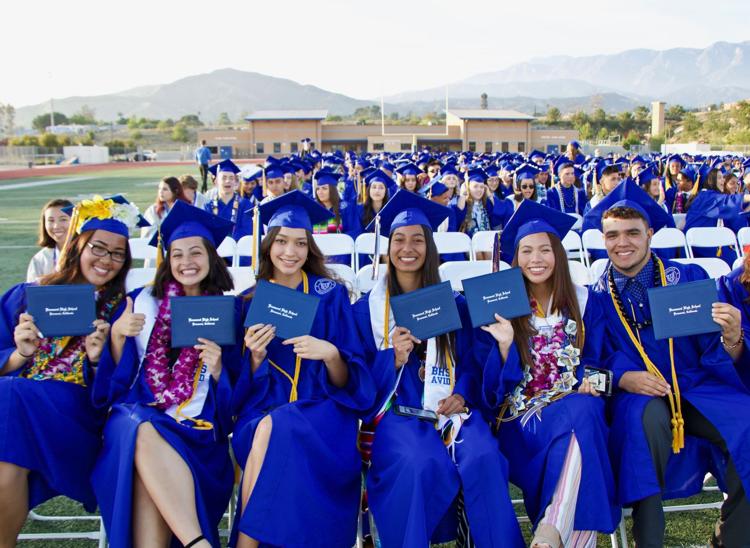 Beaumont Superintendent Terrence Davis also praised the 164 staff members of Beaumont High School for their hard work.
Davis told the graduates not to get caught up in comparing their lives with fellow classmates or people they will meet throughout their lives.
"It becomes very difficult not to compare ourselves with others," Davis said.
Roger Schultz, president of Mt. San Jacinto College, presented McKenna Watcher with her associates degrees in arts that she earned from the college while attending Beaumont High School.
Senior class president Anna Sepulveda Sanchez thanked her parents for their unselfishness,
"My parents gave up everything for my siblings and me to have a better life," she said.
Anna reminded her fellow grads of what they experienced in high school — school dances, proms and even, first love.
But she told them that high school was just the beginning of the rest of their lives.
"It's only given us a taste of what is to come," she said.
Valedictorian Megan Cao applauded her graduating class for their compassion toward their community of Beaumont.
"We're caring because we give back to those that give to us," Megan said. "We've done countless community service projects and thanked everyone who's ever helped us get this far today."
The presentation of the Gold "B" award was given to seniors Anna Sepulveda Sanchez and Hunter Heyman.
The award recognizes the students for their service to Beaumont High School.
After the graduates shook hands with the trustees and received their diplomas, they sat down and waited for the direction to turn their tassels to indicate they had officially graduated from Beaumont High School.
Then it was time to find family and friends for hugs and photos.
Larissa Medina was taking pictures with her loved ones.
The 18-year-old graduate plans to study chemistry and earn a degree in forensics toxicology from Crafton Hills College.
Larissa was happy to have her diploma.
"It's nice, to be independent and to be out of high school," she said.
Julian Martinez, 18, also plans to attend two semesters at Crafton Hills College, then transfer to the University of Redlands.
He plans to earn degrees in music education and classical performance, with a minor in business.
Julian wants to be a music teacher and would like to stay in a smaller town such as Beaumont, but would move to Los Angeles if a job presented itself.
"I really love music and I feel it's going to be an amazing experience being a teacher in that field," Julian said.
Commencement speechs are online at www.recordgazette.net .
Reach staff writer Julie Farren at jfarren@recordgazette.net or by calling (951) 849-4586.