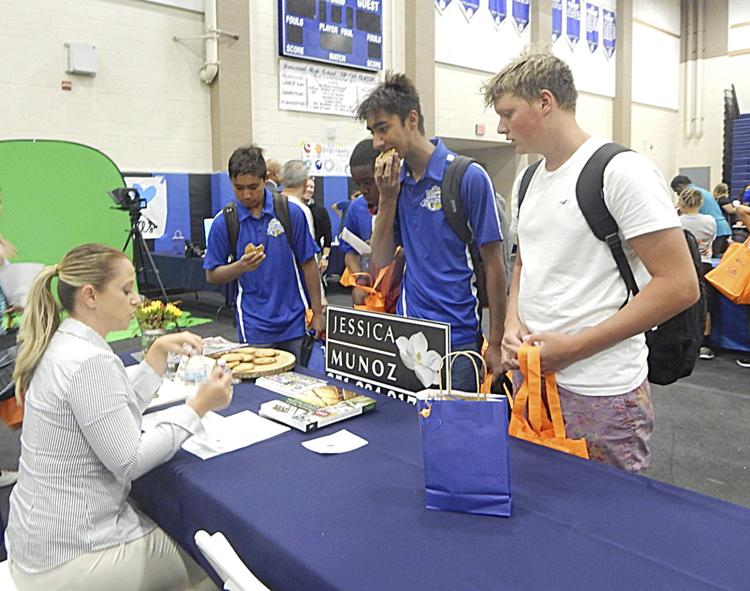 Hudson Myers walked around the Beaumont High School gymnasium the night of Oct. 17, talking to business and military representatives about different careers.
Accompanying Hudson, 17, was his father, Kory Myers, who was learning new things about his son, a Beaumont High School varsity baseball player.
Hudson was considering several options for his future.
"After high school, I'm going to college," said Hudson, a senior. "I want to play baseball. If that doesn't work out, I can go into the military."
That was news to Kory Myers, who was hearing the military news for the first time. "This has been a real eye-opener," he said.
They were among 800 to 1,000 people attending the Be Ready Beaumont College and Career Fair, where 64 vendors spent two-and-a-half hours talking with students and adults about college and career choices.
Carlos Bonilla works as Goodwill's Veterans Employment Program coordinator.
The program helps veterans in San Bernardino and Riverside counties with resume writing and mock interviews.
Bonilla has worked there 15 years and currently has 20 staff members.
The program has three locations and 25 to 30 people have been hired, said Bonilla, who lives in Beaumont.
Among the positions veterans and high school students are being hired for include law enforcement, security guards and warehouse positions, Bonilla said.
Referrals also come from the departments of Rehabilitation, Probation and Corrections.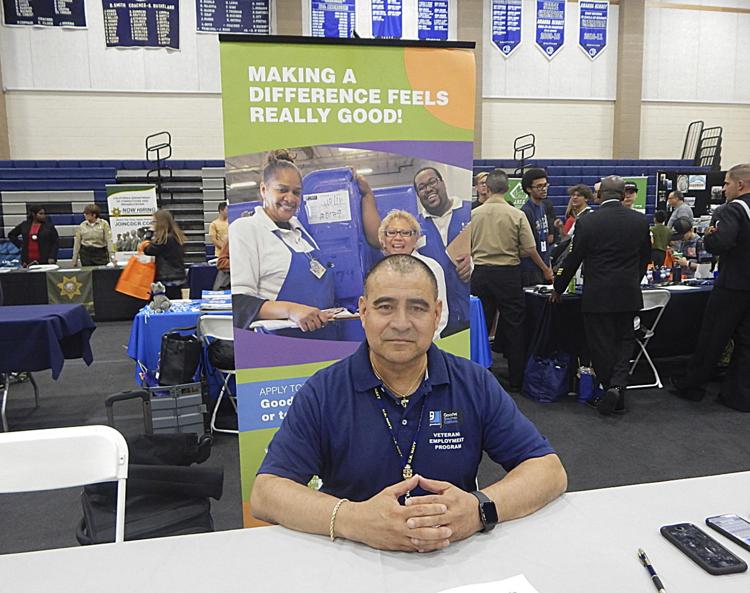 Bonilla said that he remembers helping a homeless veteran in his early 50s with no money and a family of four to support.
Goodwill helped the veteran find a job and temporary housing.
Stopping by the Goodwill table was Jenna Downs, 16, who is interested in a law enforcement career.
She said a career and college fair is a good way to explore a variety of opportunities.
"You're figuring out your life and thinking about what you want to do," said Jenna.
Her friend Asia-Lani Ekeroma, 16, said she is looking into business, possibly human resources or management.
"I really like working with people," said Asia-Lani, "people who have the same goals as me.''
Another friend, Hannah De Ocera, 16, wants to be a physicians assistant and continue the tradition of medical careers in her family.
Her choice would be less demanding than her parents' careers.
"Both of my parents are in the medical field and I grew up in that environment," said Hannah.
Maddy Bogh, field representative for Sen. Mike Morrell, is a 2015 Beaumont High School graduate.
Bogh said she does not remember the high school having a large college and career fair when she was in school.
She finished college in three and a half years, earning her bachelor of arts in public policy and a bachelor of arts in political science from the University of Redlands, and has been a field representative for Morrell since April 2019.
Morrell's term ends in December 2020.
Bogh was telling visitors to Morrell's table about the internship program, which is a 10-hour a week requirement for 10 weeks.
"We introduce them to the legislative process," Bogh said.
There's also a 50 states educational project, showing how policy has impacted each of the different states.
One of the more humorous booths was Sonic, which was handing out coupons for hot dogs and ice cream cones.
Liz Lozano, general manager of the Beaumont restaurant, and Alex Rodriguez, soon to be general manager of the Rialto Sonic, had a friend helping them out at the booth.
It was Tater Tot, dressed in yellow and taking selfies with kids and adults.
Staff Writer Julie Farren may be reached at jfarren@recordgazette.net.