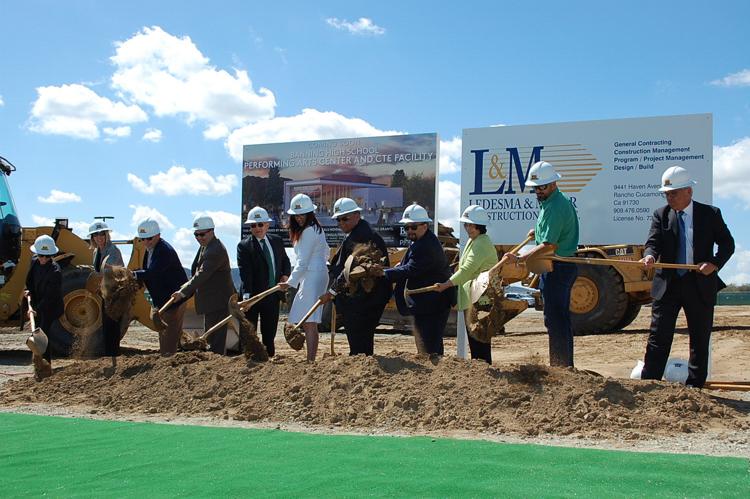 Banning High School Performing Arts Theater and Career Technical Education Construction Academy held its official groundbreaking ceremony at Banning High School.
The familiar Pass breeze waved the American flag gently above attendees at the March 28 ceremonial groundbreaking as colors were presented to an audience filled with prominent educational staff, council members, local businessmen, and representatives from the offices of Assemblyman Chad Mayes, Congressman Raul Ruiz, Laguna Hills-based PJHM Architects and Ledesma & Meyer Construction of Rancho Cucamonga.
Associated Student Body Vice President Rosie Lawyer lead the Pledge of Allegiance, followed by the singing of the national anthem by Giaa Hall shortly before brief introductions of key members in the audience were acknowledged by Banning High School Principal Matt Valdivia.
Valdivia expressed his enthusiasm for the future of Banning High School, and the Banning community at-large with the ceremonial groundbreaking of the project.
"Students will have a state-of-the-art-facility to explore and develop usable skills," Valdivia said, "No other facilities in the area will be quite like it."
He explained how all the pathways in their programs would be used to award students with certificates through apprenticeships that qualify them to join the working market with applicable skills giving them a unique competitive edge.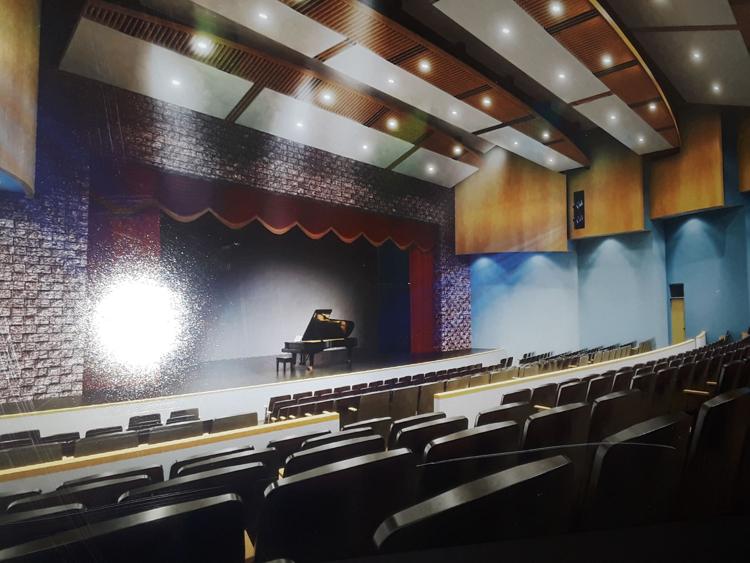 He stressed the importance of carpentry, plumbing, electrical, automotive and other trade careers as being a vital resource in a rapidly changing job market.
Valdivia, as many others do, feels the future of our country is dependent on the development of trade literate students hoping to begin their professional careers.
Valdivia said that he believes the introduction of these types of specialty trade programs at Banning High School is one of Banning High School's and the Banning community's greatest achievements and saying that presenting these types of opportunities to students will benefit the community at large long after project completion.
He finished by sharing his enormous thanks for the stakeholders, taxpayers and voters who saw and continue to see the value in this project and continue to support it.
"The possibilities to dream are now endless." Valdivia said.
Councilwoman Daniela Andrade spoke positively about her hopes for the future of this project as well, saying she's, "very excited to see this growth in Banning," and thinks, "this will provide opportunities for students to express themselves in new and exciting ways."
Funds were made available for the project after the Banning Unified School Distract Board of Trustees proposed their Measure M to voters in Nov. 2016 and were able to get it passed. This allowed for $25.5 million in general obligation bonds to be sold to start the construction of the Career Technical Education classrooms, Performing Arts building and security improvements to Banning High School.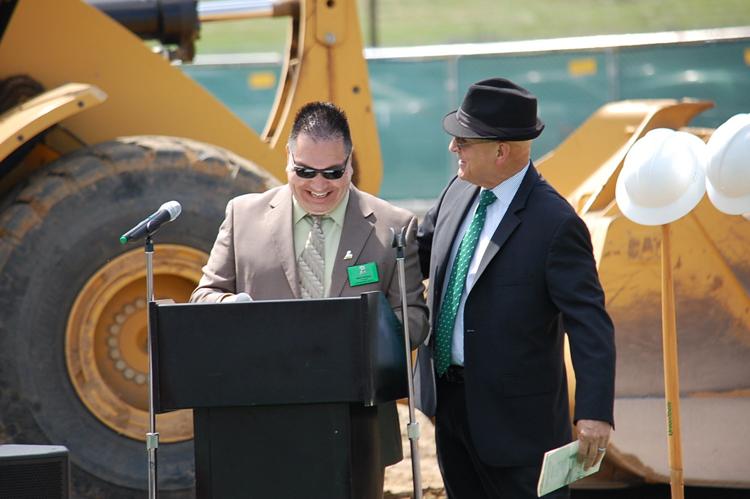 The Performing Arts Center's 27,000 square feet will have a 670-seat theater for students to perform at, making it the largest facility of its kind in the area.
The Career Technical Education facilities will have 11,968 square feet of under roof space containing classrooms and an indoor shop. The shop area will be 6,057 square feet and 8,423 square feet will be dedicated to an outside work yard. The building will be supplied with 132 power tools and 491 hand tools for students to use and will also have an auto-lift in the outside yard.
The construction of the project is projected to end in two years, which would allow students by the year 2021 to begin fully participating in the new programs.
The construction of both buildings and the processes along side them are currently being documented by enrolled students involved in video production at Banning High School.
Closing remarks were made by ASB President, Lizbeth Molina, who expressed the student body's eagerness and her own appreciation for the project saying she hopes to one day return and see the progress that has been made and thanked those involved for investing in their future.
Staff Writer Trevor Caddel may be reached at tcaddel@recordgazette.net , or by calling (951) 849-4586 x117.