There was no question in Ondi Simmons's mind as to whether or not she would take advantage of a COVID-19 vaccination shot at San Gorgonio Memorial Hospital, where she works as a registered nurse.
"I am like so many healthcare workers, who have the heart to help you," Simmons said in a message. "I couldn't wait for the vaccine. I'm literally watching people die every day at work."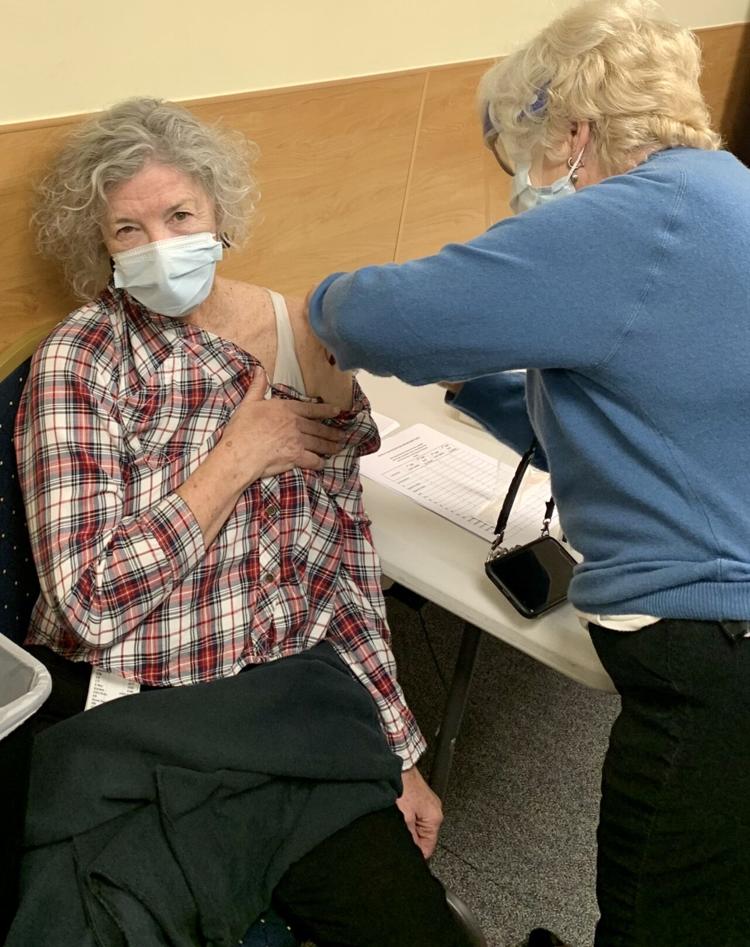 She was the first frontline worker at the hospital to receive a COVID-19 vaccination the morning of Dec. 29, a day after 500 doses of the Moderna mRNA vaccine arrived.
The first round for Tier I essential workers (those whose services are critical to clinical work, in this case) was finished up Tuesday.
According to the hospital, 217 associates have been vaccinated, along with 21 medical staff, and four contract employees.
The Moderna COVID-19 vaccine is "an unapproved vaccine that has been authorized for emergency use by the FDA for active immunization to prevent" the coronavirus in individuals 18 and older, as there is no federally approved cure or vaccine available for the coronavirus.
Moderna's technology has been developed since 2010 and is currently in a large Phase 3 trial, according to the company.
Storage is manageable for a smaller hospital like San Gorgonio Memorial, and can be stored between minus 13 degrees to 5 degrees Fahrenheit, and vials can be refrigerated in temperatures as low as 36 degrees to 46 degrees for up to 30 days prior to first use; instructions indicate that vaccines cannot be refrozen, and should not be stored in dry ice; and recommends letting vials stand at room temperature for 15 minutes before being administered.
The hospital reports that 78 employees have declined to receive the vaccination.
About the Moderna vaccine
Each vial holds 10 vials of 0.5 mL doses containing noninfectious viruses that cannot cause COVID-19.
Phase 3 trial included 28,207 participants who received two doses at 0 and 1 month of either Moderna's COVID-19 vaccination (14,134 people) or a placebo (14,073 people), who received follow-up observations for efficacy up to nine weeks after the second dose.
While Pfizer's vaccination was approved weeks earlier, that vaccine requires specialized refrigeration arrangements.
"We received 500 initial doses of Moderna, which can be stored in regular freezers and is much easier to handle," Barron told the Record Gazette. "Other vaccines might be available soon, but right now this is the only appropriate choice for a small hospital, and we did not want to wait."
The patient demographics for the study included 52.7 percent of trial participants were male, and 47.3 percent female, with a mean age of 52-years; 75.2 percent of participants were 18-64 years of age, and 24.8 participants were 65 or older.
Of the trial's participants, 20.5 percent were Hispanic or Latino; 79.2 percent were white; 10.2 percent Black; 4.6 percent Asian; 0.8 percent American Indian or Alaska Native; and 0.2 percent Native Hawaiian or Pacific Islander; and 2.1 percent identified as "other," and another 2.1 percent were multiracial.
Moderna reports a 94.1 percent efficacy rate (and a 95 percent "confidence interval of 89.3 percent to 96.8 percent). Among all participants in the per-protocal set analysis, no cases of severe COVID-19 were reported in the Moderna COVIC-19 Vaccine group compared with 30 cases reported in the placebo group, for an incident rate of 9.139 per 1,000 "person-years," Moderna reported.
The duration of protection against COVID-19 from Moderna's vaccine is unknown.
Not every healthcare worker wants inoculation
 According to registered nurse Simmons, "Doctors encourage us" to take the vaccine, though a couple of her coworkers were expressing concerns.
According to Simmons, they would ask "What if this happens, or that happens," and a pulmonologist emphatically responded rhetorically with, "What if you turn into an Avenger?", referring to the Marvel superheroes.
"I liked that" response, Simmons says. "Hell yeah — I'm an avenger."
First responders who are offered the opportunity to receive the vaccine fill out a checklist and consent form that asks several yes or no questions, such as "Are you feeling sick today?" or "Are you pregnant or breastfeeding?" Or, participants are asked whether they have previously tested positive for COVID-19, or if they are on blood thinners.
For those who decline to receive the vaccine, they too have a survey and checklist, ensuring they understand the known facts that could have "life-threatening consequences to my health, patients in this healthcare setting, my coworkers, my family and my community."
Those who decline are asked to check off reasons, which include "Fear of Side Effects," "Fear of Injections," to "Don't believe it's important."
Declination forms require signatures.
The LA Times reported in a story on Dec. 31, 2020 that 59 percent of frontline workers in Riverside County have refused the vaccine, spurring hospital and health officials to strategize as to how to distribute unused doses.
The Times report concludes that 29 percent of healthcare workers polled by the Kaiser Family Foundation were "vaccine hesitant," and that the biggest concerns for those who declined to receive the COVID-19 vaccines had to do with a lack of trust in the government to ensure safety; the potential for unknown side effects; and a belief that "dangers of COVID-19 had been exaggerated."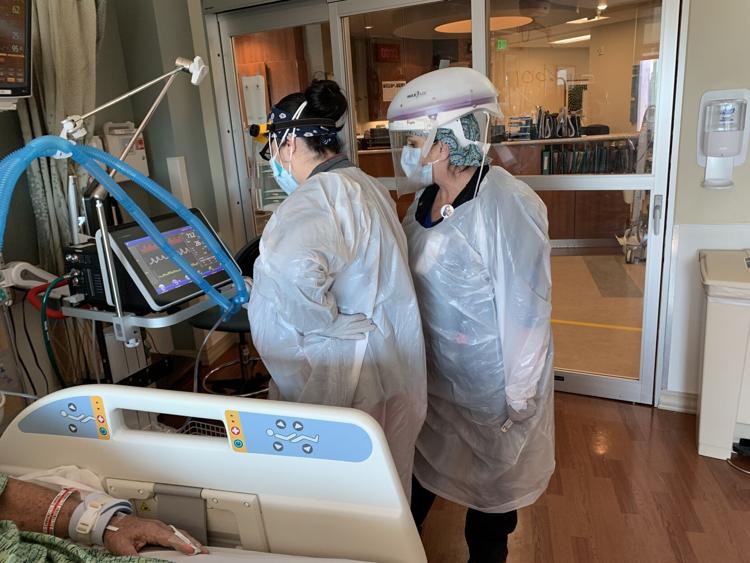 Forbes Magazine also referred to the Kaiser Family Foundation's survey, as well as the LA Times story, in a Jan. 3 report "Large Numbers of Health Care And Frontline Workers Are Refusing Covid-19 Vaccine."
According to Forbes, "Frontline workers in the United States are disproportionately Black and Hispanic. The pandemic has taken an 'outsized toll' on this segment of the population, which has reportedly accounted for 65% of fatalities in cases in which there are race and ethnicity data."
The Kaiser Family Foundation's survey, which can be explored at www.kff.org/coronovirus-covid-19/report/kff-covid-19-vaccine-monitor-december-2020/ , suggests "an increase in the share of the public saying they would definitely or probably get a vaccine for COVID-19 if it was determined to be safe by scientists and available for free to everyone who wanted it. This share now stands at 71%, up from 63% in a September survey conducted in partnership with ESPN's The Undefeated."
About 27 percent of the public remains vaccine-hesitant, the survey concludes, with 59 percent citing worries about side effects; 55 percent distrust the government's ability to ensure safety; and 53 percent are concerned that the vaccine is too new, and not enough is known about any long-term effects.
In its Dec. 30, 2020 issue, New York Times writer and pediatrician Aaron E. Carroll published an opinion piece noting that, while the press focused on a handful of incidents in which people experienced allergic reactions to COVID-19 vaccinations, Carroll surmises "Getting a vaccine appears to be orders of magnitude safer than getting infected with the virus," and with roughly 2.1 million people in the U.S. having received a dose of vaccine at that point, only 11 severe allergic reactions had been reported, representing one in 190,000 doses administered.
San Gorgonio Memorial Hospital CEO Steve Barron told his board during their Jan. 5 meeting that 78 associates at the hospital had indicated they would not take the vaccine.
"Some never return their forms," he said. For many who opt out, "We'll never know for sure" why they choose not to. "Maybe they got vaccinated somewhere else, or had COVID in the past 90 days. Some people are just anti-vaccination.
"But they can't be segregated, and we can't mandate them to take vaccines," Barron said, though assured his board that staff and patients have a remote chance of contracting it at their hospital, considering all the precautions employees take, and the personal protective equipment that is worn.
According to Barron, 75 staff members have survived contracting COVID-19, and all employees receive an antibody test weekly.
According to Barron, roughly 400 employees and doctors are considered Tier I workers, and 250 fall into Tier II — the next group of people expected to be offered vaccinations.
More doses are expected to arrive next week, Barron said.
Staff Writer David James Heiss may be reached at dheiss@recordgazette.net , or by calling (951) 849-4586 x114.