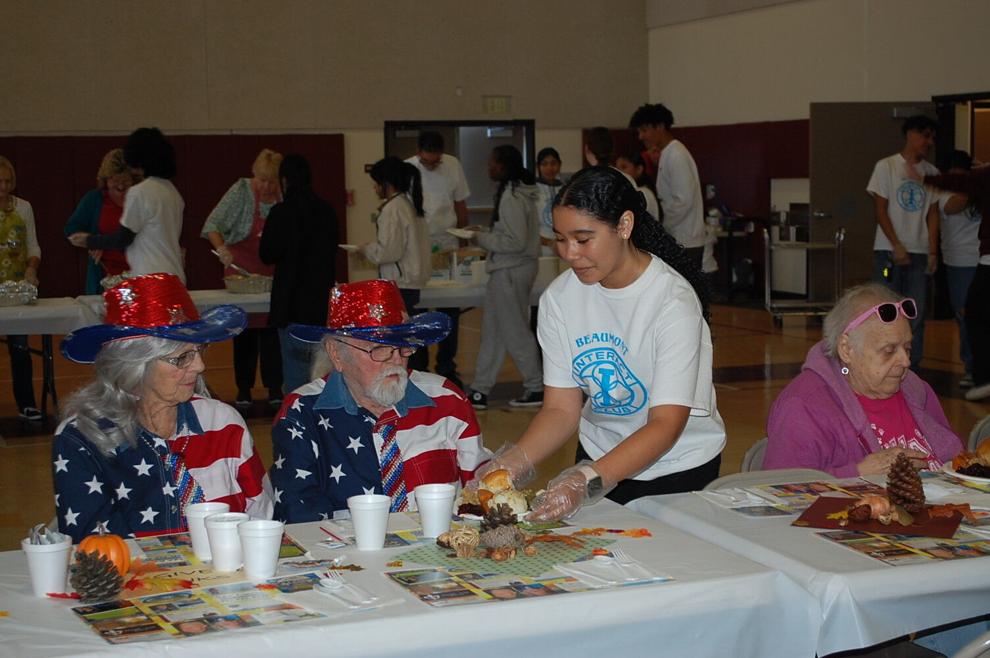 The annual Beaumont-Cherry Valley Rotary Club-sponsored Thanksgiving get-together is a chance for some who otherwise would be shut-ins to see those who they haven't seen since the last Thanksgiving event.
And for folks like Donna Lester, it's a good excuse for getting out of having to cook their own meal for an afternoon.
Lester was accompanied at the Nov. 12 lunch, held at the Albert A. Chatigny Sr. Community Center, by a couple of her fellow retired educators Carol Hennessy and Helgie Malkey and friend Charles Hough.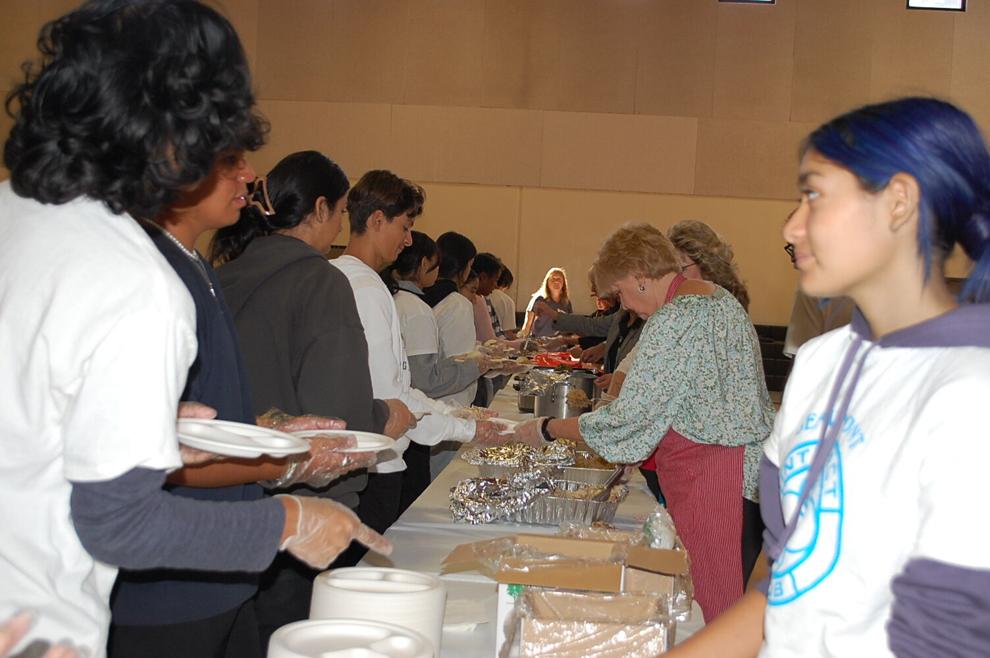 "We've been coming here since we were 'old enough' to come," Hennessy said, which she surmised was roughly 20 years ago.
The program is intended for senior citizens.
Rotary members and supporters cooked 25 turkeys for an anticipated 175 guests. They were served up helpings of sweet yams, green beans and instant mashed potatoes, and of course, turkey and stuffing, complemented with cranberry sauce and gravy.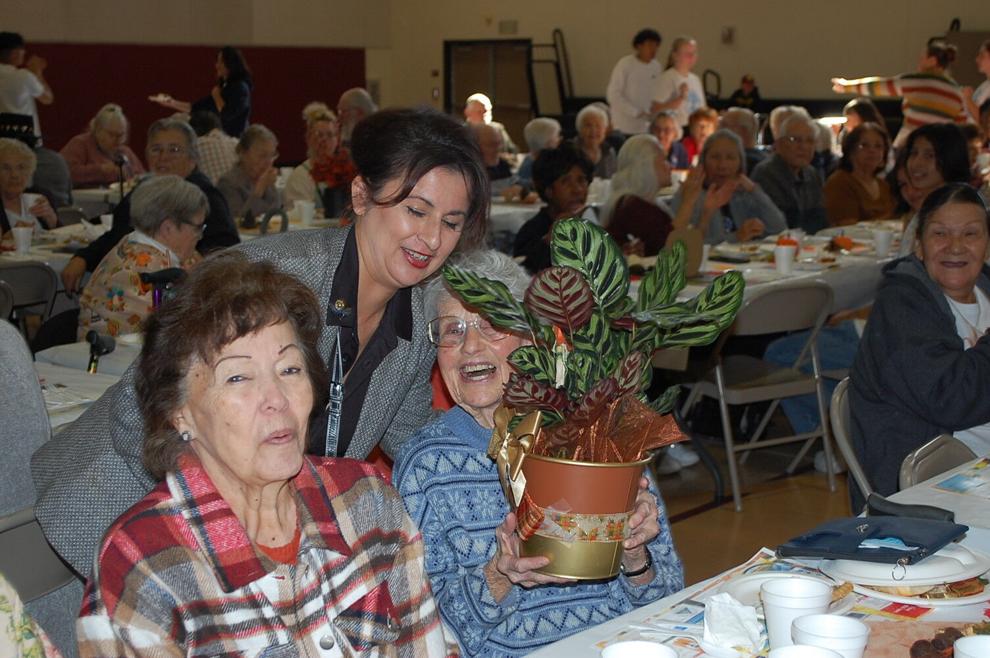 Pumpkin pie rounded out the meal, served by members of Beaumont's Interact Club.
"This event kicks off the holiday season," according to Lester. "It's something we look forward to so much."
And, she points out, "I don't have to do the cooking."
Fred Workman, a Vietnam veteran, attended the event with his wife Ann.
They have been invited every year for the past 20 years.
"Not much is done for veterans and the elderly" in the Pass area, according to Mr. Workman. "This is a great opportunity. We support it."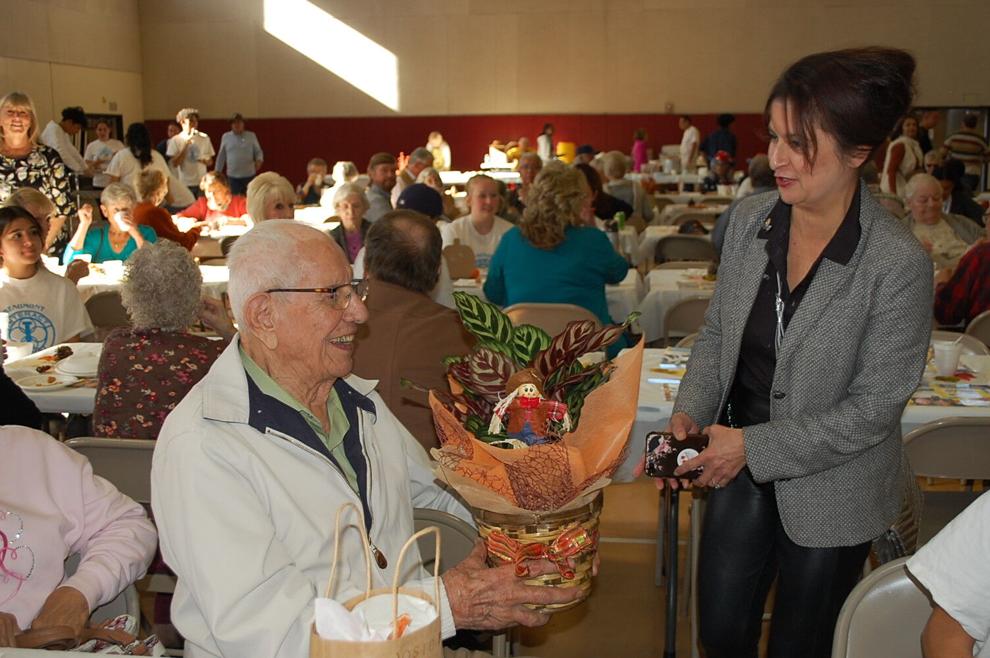 Interact member Janette Adane, a junior at Beaumont High School, was privileged to help serve food.
"I'm really happy seeing all of them," Adane said. "Most of them don't get out all year," and praised Rotary's efforts to give seniors a moment.
Rotary member and immediate past president Susan Aguilar-Martinez explained that "Several guests told us that this is their only Thanksgiving dinner, since so many are far away from family, and some told us that this is their only opportunity to get out and see people they only see once a year."
"Our 51st was another success thanks to the support of our sponsors, volunteers and Interact," she said.
To learn more on how to become involved; become a sponsor; or be added to the invitation list, contact any Beaumont-Cherry Valley Rotary Club member.
Staff Writer David James Heiss is a member of the Beaumont-Cherry Valley Rotary Club. He may be reached at dheiss@recordgazette.net, and messages may be left at (951) 849-4586 x114.