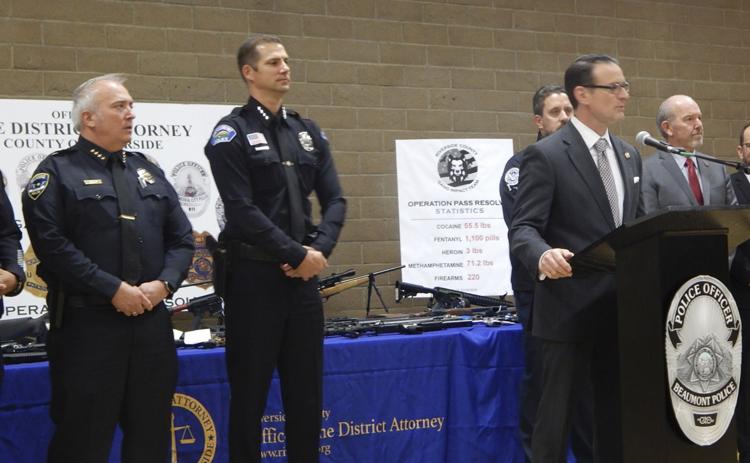 The Riverside County District Attorney's office announced Nov. 20 that Operation Pass Resolve netted 174 arrests over the past 15 months and recovered 23 firearms from the Pass area, according to Riverside District Attorney Mike Hestrin during a half-hour news conference in Beaumont.
Hestrin was joined at the news conference in the Fellowship in the Pass Church gymnasium by the police chiefs of Banning, Beaumont, Cathedral City, Desert Hot Springs and Corona, along with the representatives from the Department of Homeland Security, Bureau of Alcohol and Firearms, and Department of Corrections, among other agencies.
The Gang Impact Team targeted organized crime and wanted felons, Hestrin said.
Nineteen teams from local, state and federal agencies made arrests at 65 locations in Riverside county, San Bernardino County and Los Angeles counties.
"The biggest thing is we need to get drugs, guns and criminals off the streets," Hestrin said.
Beaumont Police Chief Sean Thuilliez said he had volunteers from his department, as well as patrol officers, multiple enforcement, the detective bureau and the public information officer working hundreds of hours on this investigation.
"I'm so proud of the dedication of the men and women of the Gang Impact Team," Thuilliez said.
Banning Police Chief Matthew Hamner said that criminals in the Pass area will learn from this investigation that they are not above the law.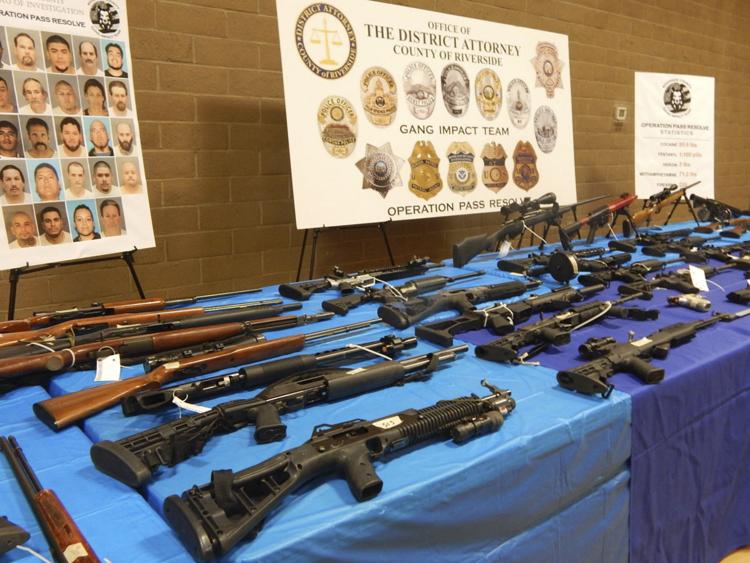 "We're not going to tolerate this kind of behavior," Hamner said.
Twenty-four more arrests were made on Wednesday, Hestrin said.
Robert Goetsch, of Homeland Security Investigations Riverside and San Bernardino county offices, said that Octavio Cejas, of Huntington Park, was one of the suspects arrested for possession of four handguns, two rifles, one pound of methamphetamine and 100 rounds of ammunition. Riverside County Supervisors Jeff Hewitt, District 5, and Chuck Washington, District 3, both praised the efforts of the Operation Pass Resolve.
Hestrin said that the charges against the suspects will most likely be federal weapons and drug charges.
Beaumont Mayor Julio Martinez attended the news conference with Mayor Pro tem Rey Santos and Councilmember Nancy Carroll.
Martinez said it was enlightening to learn about the efforts of law enforcement to stop crime in Beaumont and the Pass area.
He said it is surprising to realize that some of your residents are involved in illegal activity and the impact it has on the community.
Staff writer Julie Farren may be reached at jfarren@recordgazette.net.