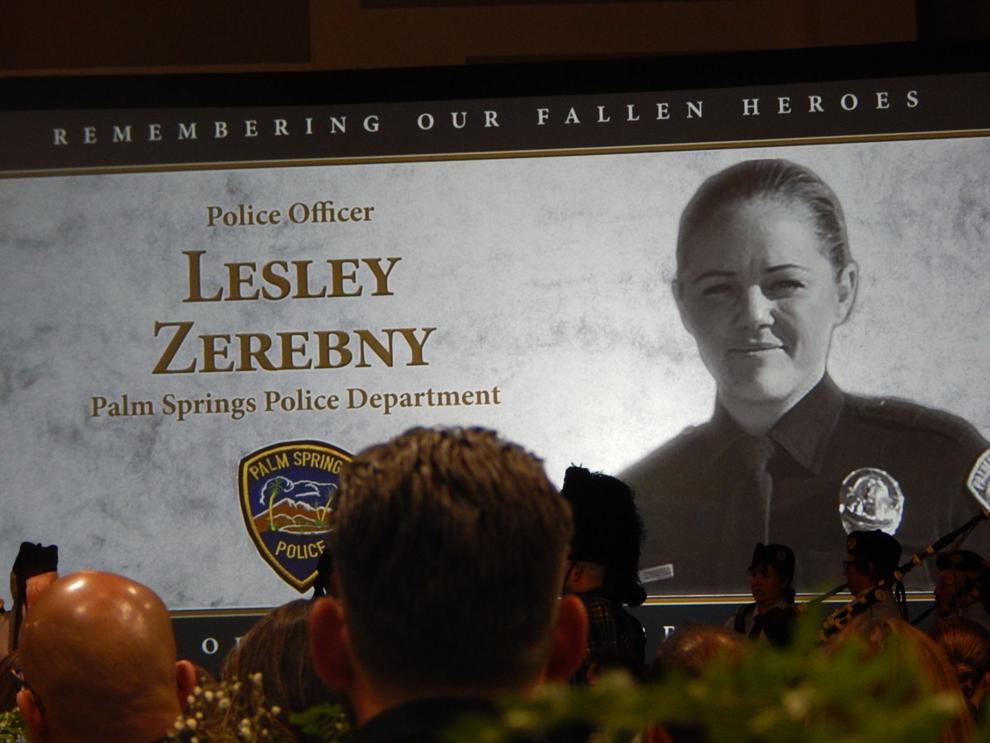 Solving a murder in seven hours in Banning and resuscitating a 4 month-old boy who had stopped breathing in Riverside were among the acts of heroism displayed in 2018 by law enforcement personnel in Western Riverside County.
Law enforcement representing California Highway Patrol, Sheriff's Department, oolice departments, fire departments and other agencies were honored April 18 during the 41st annual Law Enforcement Appreciation Dinner and Awards Ceremony (LEAC) at the Riverside Convention Center.
More than 500 people attended the dinner, which recognized law enforcement in categories including: Excellence in Community Service; Investigative Excellence; Lifetime Achievement; Spotlight Exceptional Lifesaving Recognition; Law Enforcement Collaboration Recognition, and Valor.
A moment of silence was held for California Highway Patrol Sgt. Steve Licon, who was killed three weeks ago in the line of duty when a suspected DUI driver crashed into him while he was responding to a call on the shoulder of Interstate 15 in Lake Elsinore.
Joe Bonaminio, father of the late Riverside Police Officer Ryan Bonamino, introduced the tribute to Fallen Officers, which included a video package of 65 officers who have died in the line of duty since 1895.
Ryan Bonaminio was shot and killed in 2010 while chasing a police pursuit suspect through Fairmount Park in Riverside.
Banning Police and the Gang Impact Team were honored for their work on Sept. 18, 2018 when they solved a murder in seven hours.
Banning police detective Linda Jimenez accepted the award in the category of "Law Enforcement Collaboration Recognition."
Jimenez, who has worked for Banning police for four years, told the Record Gazette after the dinner that the call came about 3:50 p.m. about a man shot and killed at an auto body shop on Ramsey and Omar streets.
The investigation involved three Banning police detectives and the Riverside County Gang Impact Team, for a total of 20 law enforcement personnel.
A second location was identified — the 1200 block of Nunez Street — and so was a second suspect.
Jimenez said that surveillance video was a great asset from the first location. "We actively viewed video footage and that lead us to the suspect," Jimenez said.
The suspect had past police contact with Banning Police, which made it easier to identify him, Jimenez said.
The detectives coordinated with the Riverside County Gang Impact Team and hours later, the GIT located the suspects at an address in Banning.
The suspects were seen burning clothes and other evidence. It was 11:10 p.m. that the police department and the GIT personnel executed a search warrant at the surveillance location and arrested the suspects. Banning police detectives interviewed the suspects, who confessed to the murder.
Jimenez is very proud of her department and the award. "I think it's very special. It's very rewarding. We do a lot for the community," she said.
GIT Supervisor Gary Coppersmith said it takes a special team to solve a murder such as this in a short amount of time.
"I've got the best of the best on my team," Coppersmith said.
Banning Police Chief Matthew Hamner, who started in February 2019, said he is very proud of his department.
Although the police department can't bring back the loved ones, Hamner wants the community to know that they are always ready to serve its citizens.
"That's what I want the community to know, that we're looking out for you. Tonight exemplified that in the best way," Hamner said.
Riverside Police Officers Claudia Gallardo and Jose Rodriguez also were recognized in the category of "Spotlight Exceptional Lifesaving Recognition."
Gallardo talked with the Record Gazette on Friday afternoon about the award.
On the morning of Sept. 5, 2018, Gallardo and Rodriguez were near an apartment building when they heard the call about a four-month-old baby boy who had stopped breathing.
In separate cars, they raced to the scene, arriving before the Riverside Fire Department.
Gallardo was familiar with the apartment complex, located at Arlington and Magnolia avenues in Riverside. She said she started CPR on the baby named Angel. Then Rodriguez took over the resuscitation effort while Gallardo waited for the Fire Department. Gallardo said that the mother was breastfeeding the baby and he stopped breathing. He also was turning purple.
Angel was unconscious for two minutes before they got him breathing again. He was transported to a local hospital, then transferred to Loma Linda Children's Hospital in critical condition, due to a pre-existing heart condition.
"We went back to visit him two weeks after the incident," Gallardo said.
The incident was a first for both Gallardo and Rodriguez and they were both very emotional about saving Angel's life.
"I'm so proud and very humbled," Gallardo said, about receiving the award.
Beaumont Police Lt. Greg Fagan, who chaired the program in 2016, said the LEAC awards take a long time to coordinate. "It's a long year," Fagan said. "We take off two months in the summer."
The Collaborative awards were added in 2016-17, Fagan said.