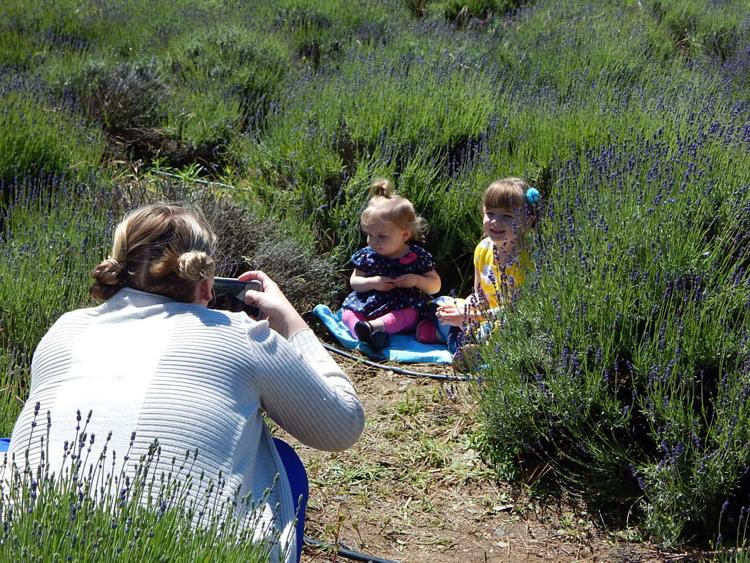 BY JULIE FARREN
Record Gazette
Greg and Lauren Lewis were taking advantage of the lavender blooms at Highland Springs Ranch to get pictures of their daughters Emma, 4, and Audrey, 1.
The Riverside couple was visiting the Lavender Festival last Friday for the first time.
They had been wanting to visit the festival for some time and found that opening day was the perfect time to take their children to the 15th annual festival.
"We're big fans of open space," Lauren Lewis said.
Greg Lewis said the aroma was pleasant even though the lavender fields were not as large as he thought for May.
"I think it will be full bloom, but you can already smell it," he said.
The Lavender Festival is being held Thursdays through Sundays through June 30. Festival hours are 10 a.m. to 6 p.m. Thursday and Sunday, and 10 a.m. to 8 p.m. Friday and Saturday, with free shuttle service from Beaumont Unified School District's parking lot at 350 Brookside Ave., Beaumont, Fridays, Saturdays and Sundays.
The annual event is an opportunity for visitors to walk around the ranch, look at the lavender blooms, create essential lavender oils, and eat lavender ice cream.
Guests can also learn how to make aromatherapy oil blends, paint a lavender wine glass, eat lavender cheese or make lavender crafts.
The festival was scheduled to open on Thursday May 23, but the rain set the festival back one day.
The crowds were still showing up Friday morning, filling up the horse-drawn and antique tractor tours, which provide an easy way of seeing the whole ranch and learn history as well about Highland Springs Ranch and Inn.
The tours cost between $10 to $12 per person, but tickets were selling at a quick pace.
Tom and Janet Hastert, of Wildomar, were visiting the lavender fields for the first time. The Hasterts have visited a similar lavender festival in Solvang in February.
"It's normal at that time," Tom Hastert said, of the blooms. They were planning to make a day of it in Cherry Valley. By mid-morning, they had already tried the lavender ice cream and loved it.
They also planned to take the horse-drawn wagon tour and watch the lavender distillation process.
Denise Vargas, of Crestline, and her friend, Ceci Dominguez, of Victorville, were attending the Cherry Festival — Denise for the second time, and Ceci for the first time.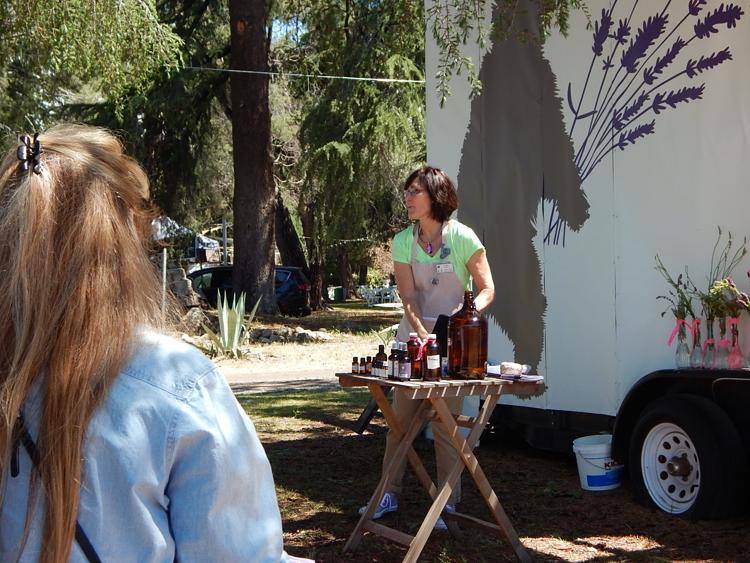 Vargas said her mother lives in Cherry Valley so it is close by to visit the ranch and her family.
"She (Denise) invited me and I didn't know they had this," Dominguez said.
They were watching a lavender essential oils cooking demonstration.
Dominguez was interested in that because she started cooking with lavender two years ago. She said she has made crème brulee and chocolate covered strawberries with lavender.
Carol Hamre, a staff member at Highland Springs Ranch, was teaching the outdoor lavender distillation class, which was attended by 30 people.
Hamre said she started by distilling a batch of oil, of which lavender is one of four essential oils.
Lavender also is a healing plant, Hamre said.
They were used in Roman baths.
Hamre said that lavender helps with anxiety, insomnia, sunburn and stomach aches.
Amy Wilson, of La Habra, and Eileen Faulkner, of Brea, were having a difficult time navigating their way around the ranch.
Wilson and Faulkner said they were not getting the right directions to some of the attraction at the ranch, such as the Heirloom Chicken Egg Harvest and Farm Tour.
They hiked farther up the hill than they should have and missed the tour because they were in the wrong place for 45 minutes.
The two women asked for their money back, which was $15 per ticket.
Wilson and Faulkner, who drove themselves this year instead of taking a City of La Habra shuttle, said their time was limited at the lavender festival.
They had planned to do the afternoon tea, but were not sure that they were going to make that one either.
The women said the maps did not correlate with all of the events.
"They really need to re-do their maps," Wilson said.
For more information, visit the website at hsresort.com, or call (951) 845-1151.