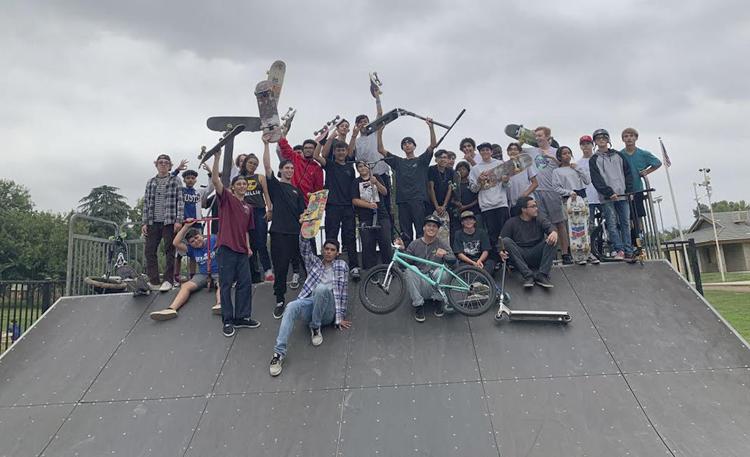 John Swoda spoke to the Beaumont City Council on Sept. 17 about an important goal he would like to see realized in Stewart Park – a new skateboard park.
One with enough space and flow to the design to minimize collisions between skaters and accommodating different ability levels and styles of skating – from skateboards to bikes and scooters.
What was so impressive about this request was that the young man at the podium was 15-years-old.
He explained one of the main reasons he is asking for the city's support on this project is safety.
"As the years go by, the skate park has become more and more destroyed and it is only a matter of time before it becomes a safety hazard," John told the council.
He also said that he had talked with Alec Beck, programs manager for the Tony Hawk Foundation, named for the professional skateboarder.
John said that Beck told him the foundation would support them in their quest for a new skateboard park.
After his speech, he introduced about 15 of his skateboarding friends and the council and community members met them with applause.
Elizabeth Gibbs, Community Services Director, said there is not an official record of how long the skate park has been in Stewart Park, right across from the pavilion.
The skateboarders who use the park every day say the eroded rails and cracked ramps and concrete are a good sign the park hasn't been updated since its conception.
John and his best friend, Quintin Cove, 15, should know. They have been skateboarding for nine years and spend at least seven hours a day there, along with 30 other skateboarders on weekdays and up to 50 skaters on weekends.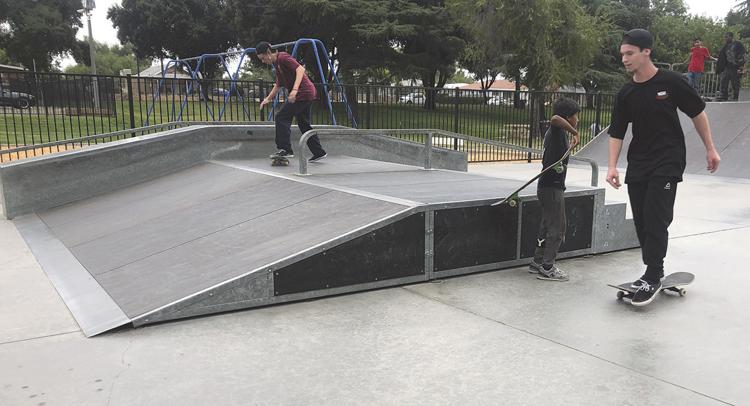 John and Quintin met with the Record Gazette on Sept. 26 at the skateboard park to talk about their love of skateboarding and their hopeful future plans for the park.
John said he had met Tony Hawk's best friend, Kevin Stabb at a skateboard competition and also has met Hawk.
The 15-year-old Beaumont teen researched the Tony Hawk Foundation and got in touch with Alec Beck, the foundation's spokesman, to see about funding for a new skate park.
During a phone interview with the Record Gazette, Beck talked about what the foundation does and how their grants work in terms of helping skate parks get built.
The foundation started 17 years ago and is based in Vista, Calif.
The primary goal is simple: "We help the skate parks get built," Beck said.
The Tony Hawk Foundation has provided 622 grants for new skate parks. Sixty-five are in California.
Beck said there are requirements to qualify for the grants. The skate parks need to be contemporary, be made of concrete, be outdoors, unsupervised, open to the public and free.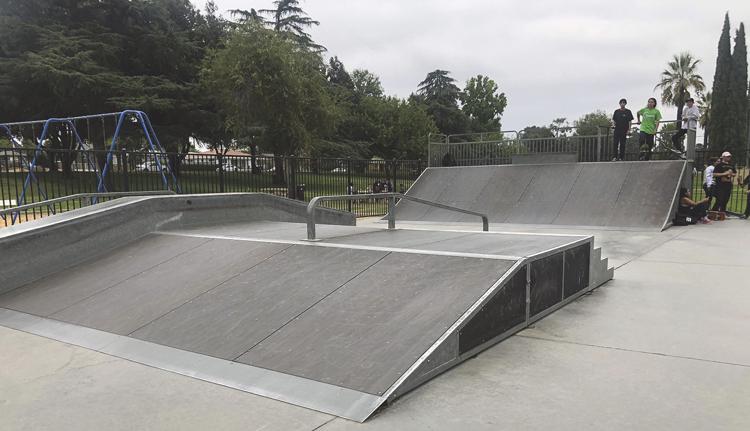 The skate parks must be built by professionals and have the support of the community.
Beck said that skateboarding has been around for 50 years and the infrastructure is evolving rapidly. Skate parks are widely requested facilities for public parks and has the highest use hours, Beck said.
Building a skate park is a costly venture, Beck said. If a community wants to build a 9,000 square foot park at $50 per square foot, the cost would be approximately $400,000 and would take three years to build the park.
Beck said the foundation writes grants from $10,000 to $25,000, depending on the need.
There are ways to raise money to build the parks, Beck said, because the grants are not going to cover the entire cost.
Groups can hold fundraisers or apply for federal grant money..
Beck said that cities do not always have the money or resources to build a skate park.
"We help local advocates help municipalities understand this is worthwhile," he said.
Skate park lovers also can ask for donations online or on a website.
John is not the first in his family to appeal for a skate park. His uncle, James Troutman, went before the Yucaipa City Council 20 years ago to ask for a skate park.
The design was done in 1997; phase 1 construction took place in 1998; phase 2 in 2001.
Cost was $280,000. The skate park is adjacent to Yucaipa High School on Yucaipa Boulevard and 13th Street. It is unique in that it has surveillance cameras.
Redlands opened its skate park earlier this year in the southern portion of Sylvan Park. It is 15,000 square feet. The Redlands City Council approved the construction in 2006. The construction contract was finally awarded in 2018 for $1.1 million.
Two community groups, the Friends of Redlands Skate Park, and Sk8, raised $127,000 toward the skate park.
John and Quintin and their friend, Leo, met with Gibbs and Ashley Starr, public information officer for the city of Beaumont on Thursday, Oct. 3.
Gibbs had asked the teens if they still wanted to pursue a new skate park or extend the current skate park. If they decide to stay with the current skate park, the playgrounds will have to be moved.
John said they will have to make a decision soon so the city can provide direction.
Staff writer Julie Farren may be reached at jfarren@recordgazette.net.