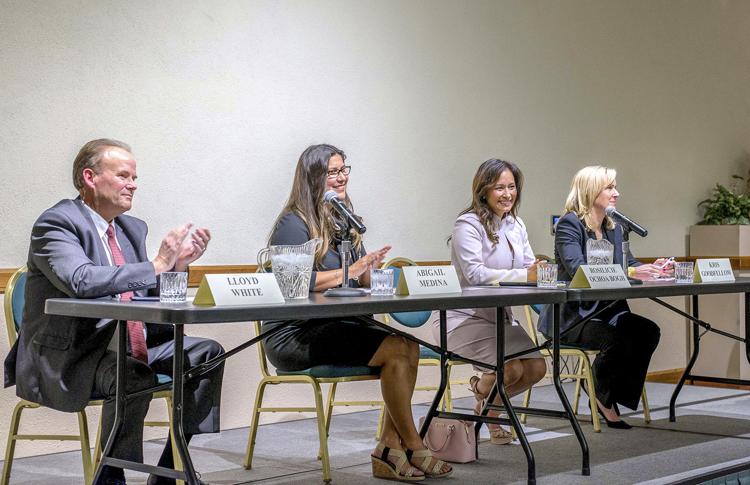 Homelessness, taxes and the role of government in various aspects of life and business were among the topics discussed by four senatorial candidates who appeared at a forum Tuesday evening at the University of Redlands.
In attendance to vie for representation of District 23 were Republicans Lloyd White, a city councilman from Beaumont and Rosilicie Ochoa-Bogh, a school board member in Yucaipa; and Democrats Abigail Rosales Medina, a school board member in San Bernardino, and Kris Goodfellow, an entrepreneur from Redlands.
Highland Republican Cristina Puraci, a Redlands school board member, was unable to attend.
The event was sponsored by the University of Redlands and coordinated by members of the Redlands branch of the American Association of University Women and the university's Public Policy program.
Each candidate took about a minute to address questions that they had not been privy to prior to the event.
Candidates were asked about how they would tackle affordable housing in a state where residents tend to pay more than twice the national average in mortgages and rent.
Bogh said she favors incentives for developers and removing some of the regulatory obstacles that prevent housing inventory from moving forward.
Goodfellow supports subsidizing affordable housing incentives and courting companies to bring jobs closer so residents don't have to travel an hour to work, noting that "They live out here because they can't afford to live where they work."
White disparaged Sacramento for applying a one-size-fits-all tax break that benefits coastal towns and bigger cities, but does not address the needs of inland communities when it comes to affordable housing, and supports incentives for businesses to open operations in the vast areas of open space around areas like Beaumont and Hemet.
Medina lambasted predatory lending practices that afflicted residents in her region, and believes that more investment in education and financial literacy could help better prepare the public when it comes to the home-buying process and applying for loans.
Candidates were asked for their opinions on the Democrat-driven California Public Banking Act signed into law last October, which is intended to offer an alternative to "Wall Street Banks" that are driven by corporate profits and less guided by principles of providing low-interest loans for community projects, businesses, infrastructure projects and even student loans.
White, having run for office at a time when Beaumont was besieged by corruption scandal, was adamant that "There is no reason to put elected officials in charge of banks," and reminded the public of the bankruptcy situation Beaumont emerged from after he joined the council, and that public officials have the temptation and access to public coffers.
He was assured by moderators that bankers — not politicians — would run the banks, and they would have to qualify for FDIC insurance.
Medina sees advantages to low-income communities having access to a public bank as an alternative to high-interest loan-lending institutions that make it harder for many residents and potential entrepreneurs to get start-up capital for projects and programs.
Bogh shared White's reticence, and preferred to have the free market drive bank business.
Goodfellow believes "Programs like this would allow job training in communities that would benefit, and loans to small businesses" in communities where access to capital is limited.
Moderators brought up the state's sanctuary city laws, intended to protect undocumented immigrants and prevents the state's law enforcement community from cooperating with federal officials to detain, arrest or deport non-criminal persons.
Medina responded, "They're human beings, and our neighbors," and insisted that all individuals should be treated with respect.
She said that it is cheaper to provide preventable services than waiting until undocumented persons end up needing more costly emergency services down the road.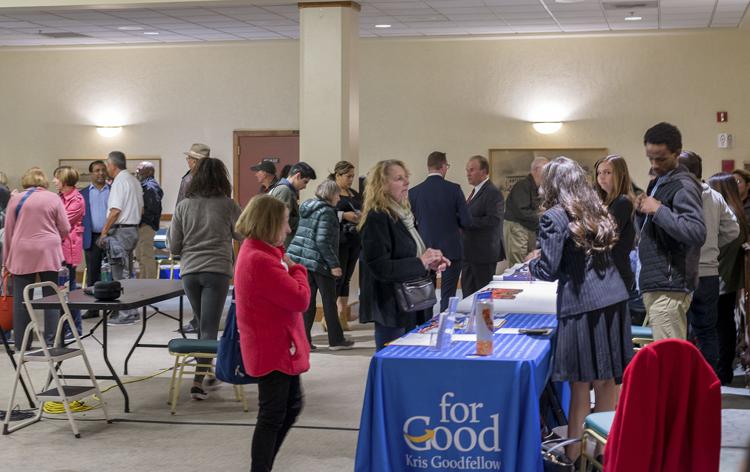 Medina supports "safe zones," and insisted that children and families deserve a safe environment to learn in.
Bogh, a self-professed daughter of naturalized citizens, sees a public safety issue if sanctuary cities are allowed. "We should not do anything to prevent public safety agencies from communicating with each other," she said.
Bogh explained that she does not support "Medicare for all," and supports a free market approach to quality healthcare for all.
Goodfellow said that California's diversity is one of its strengths, and "nothing should take away from that," and that not supporting sanctuary city policies would be "terrifying to me: citizens should feel they can go to a public safety agency" and report a problem without worrying about being deported if they are discovered to not be documented.
She supports a more efficient "pathway to citizenship," and said, "We are all immigrants here," noting that her parents were undocumented workers, and that she is an example of those who contribute to the world despite that component of their family's history.
White reiterated his public stance of not being in favor of sanctuary cities, and noted that he initiated leading a resolution for the Beaumont city council to not support sanctuary cities, explaining that he did not want to impede on his police chief's ability to do his job.
Candidates were asked to explain how they would address gender inequality on corporate boards, and to share their ideas as to how to better enforce "equal pay for equal work" for women who generally tend to make 68 percent of men's income.
Bogh thought it was "insulting" that the federal government saw a need to step in and intervene to force corporations to make sure at least one woman was represented on their board (and two by 2021).
She prefers free market practices determine whether the public should support corporations that do not have women representation in their leadership structures.
Goodfellow thought it was "fantastic" and believes California's legislation will "lead to a better outcome" for working women, and reduce instances of sexual harassment towards women. "If we were to a point where rights were equally protected, then this wouldn't be an issue," she said.
Education would be key in encouraging girls to understand that nothing should discourage them from achieving career dreams.
White, noting that he has been married for 33 years and has a 17 year-old daughter about to graduate high school, said, "I agree that women are smarter; they keep us where we need to be." That said, "The government should stay out of our businesses and our homes. Women will bring a different perspective" by serving on boards, "but it's not the government's job to enforce that."
Medina reiterated that there is a "vast difference" in pay, and that "all they need is opportunity," and suggested that boards could benefit having 50 percent or more of their compositions being female.
She said "It's important that that example be set at the state level." She thinks the 2017 Equal Pay amendment of the state's 2015 Fair Pay Act should be given more time for analysis of its effectiveness, and would like to see data from those results.
Moderators for the event were University of Redlands professors Dorene Isenberg from the Economics Department and the Public Policy program, and political science professor Renee Van Vechten; and AAUW member and former Press-Enterprise columnist Cassie MacDuff.
Staff Writer David James Heiss may be reached at dheiss@recordgazette.net , or by calling (951) 849-4586 x114.