Last Saturday, Yucaipa resident Rosilice Ochoa Bogh held a meet and greet at Fascination Ranch in Calimesa.
Bogh is a Republican running for the California State Senate in the 23rd District.
Approximately two dozen people attended the event at the ranch, owned by Bill and Jackie Davis.
Bogh provided the audience with a little background of her family.
Her grandfather was a worker in the Bracero Program, in the 1960s.
Bogh is first generation, Mexican American, born in the United States.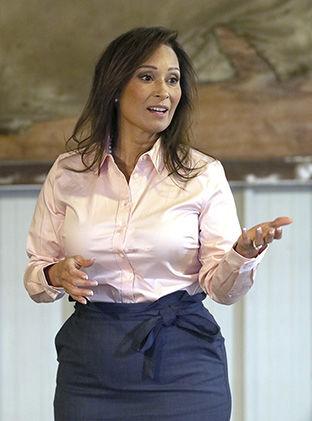 During the meet and greet, Bogh covered the lack of housing, the cost of housing, which affects education, behavioral health, public safety and the effects of taxes on businesses.
"People in California are struggling," Bogh said.
"The issues are interrelated."
"We're broken," she said.
"We need a new voice."
"We need a new face."
"I believe in the empowerment of people and the pursuit of economic freedom," she said. "I want people to thrive."
As she spoke, her concerns seemed to have resonated with those in attendance.
"I love this country," said Rey Santos, Mayor pro-tem, of Beaumont.
"We are immigrants that came here in 1976. We are first generation Filipinos. I believe that you have to work hard and adapt to the American way," Rey Santos said.
Santos shared how he has traveled to Socialists country, like Spain.
"When I come home, to the United States, we are literally kissing the ground. I am so glad to be home. We love America being an American."
Another guest commented, "Without capitalism, this country would not be what it is today."
Another attendee, Jackie Davis, shared her thoughts about today's youth.
She was concerned that children have not been taught the necessary social and personal skills to navigate a job, and she expressed frustration with young employees that she has had.
"They want to know when lunch is," Davis said.
"They want to know how much personal time off they get.
"They come in not wanting to work."
Several other guests expressed the same sentiment about youth.
Davis said that children do not have to go to college to get an education.
"They (the education system) has taken out home economics, auto shop and wood shop," Davis said.
"They have taken out so many things that used to teach kids how to get out in the world and do things."
Davis emphasized the need to for the youth to learn skills that will help them support themselves.
Bogh agreed and understood the importance of engaging the youth, particularly those in high school.
"Having an opportunity to talk to our youth and arranging a meet and greet, with the just the youth, and hearing their concerns would be very empowering," she said.
"And, I think, letting them know that how valuable their voice is, is imperative."
Another issue that came to the fore was the Second Amendment.
Near the end of her presentation, Ochoa Bogh thanked everyone for attending.
She also encouraged them to vote for her.
"We believe in the empowerment of the individual," Bogh said.
"We believe in economic freedom. We believe in personal freedom. That's the dream. That's why people are coming here (to America)."
Bogh is concerned that people are losing hope in the American dream.
Bogh said, "My hope, this evening, is that, if you are a moderate, an independent or a Democrat, I would hope that you would allow me to represent your voice in California, because I will be advocating for families. I will be advocating for seniors, who are struggling to make ends meet."
To learn more about the candidate, go to OchoaBoghforSenate.com