Wednesday morning, on the first day of school teachers started their workweek with an unpaid three-day unfair labor practices strike.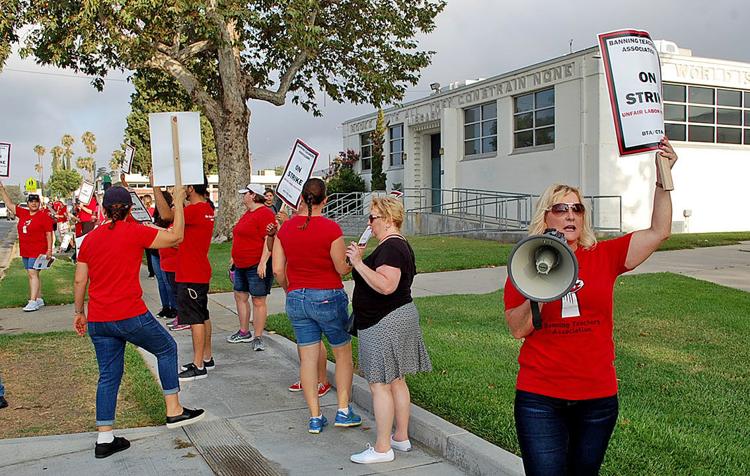 At an informational meeting the night before, held in a packed room of mostly concerned parents at The Farm's House restaurant Tuesday evening, Banning Teachers Association President Anthony Garcia explained that a strike had been authorized by 70 percent of the union's 250 or so members Monday afternoon.
Neither the school district nor the BTA could confirm a count of how many teachers participated in the three-day strike that was to conclude at the end of the school day Friday, since teachers were fanned out at all of the school sites.
The district also could not confirm how many substitute teachers it was able to line up to replace protesters.
According to Garcia, "We've had issues with our contracts for the past couple of years, and have had several grievances, such as a non-negotiable hour added at Nicolet Middle School last year that continued to this year."
Garcia explained that the district added an extra hour to the school day at Nicolet Middle School, without input from parents whose students would be affected, or from teachers who would not be paid for that extra hour each day.
According to teacher Dave Larson, who was on the front lines in front of Central Elementary School Wednesday morning, that adds up to 27 extra days without pay that Nicolet's teachers are forced to work.
Joanna Barnheiser, a transfer to Nicolet this year from the high school, where she will teach English and a transitional course on emotional and social leadership, was with her new colleagues picketing in front of the middle school.
"They can't change a contract without negotiations," she said. "Like most of my colleagues, I don't have a problem working an extra hour, but we need to follow the contract. The fact that they imposed this last year, and it carried over to this year, was the impetus" for the protest.
Kizzy Robinson was walking her daughters to school between Hoffer and Central elementary schools.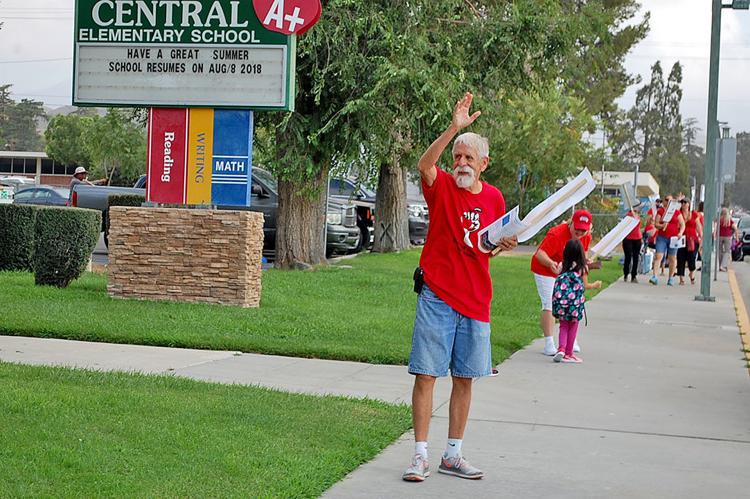 "Teachers are being treated unfair," Robinson said. "At Nicolet the class size was 40 to 1, and there were a lot of fights. It's too big. When I was in school, teachers could go around the room and talk one on one with students. They can't do that anymore."
As she approached Central School to drop off one daughter, a line of protesters wearing red greeted them.
"I applaud these teachers," she said.
Maso Lara, a math teacher at Nicolet stood across the street from his school.
"We're finally standing up for ourselves," he said. "We're tired of the us versus them and the terrible morale between teachers and the district."
According to Lara, the extra nine or 10 minutes of class time, and the later lunch time for eighth-graders, creates behavioral issues and extra stress for students and staff.
"Sixth period is a nightmare, and lunch is later, so they're grouchy," Lara said. "Teachers can only shake it off so long, and kids can see through the smiles and know their teachers are not happy."
Liz Marin, of San Bernardino, was just hired in August to teach kindergarten and dual immersion at Central School.
Her first day technically on the job, she was out picketing with her new colleagues.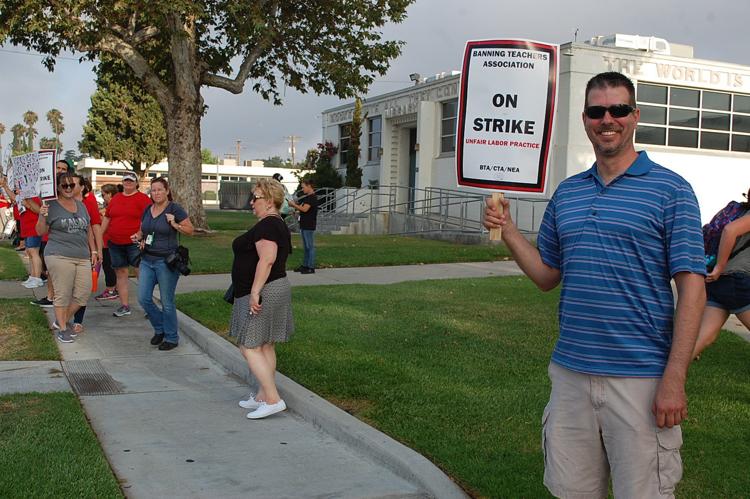 "Before I got here, everyone seemed nice, but using common sense and listening to teachers about what they've had to say, how they've been treated unfairly and without respect, I felt that, if I am to stay here, I should help them — and any future teachers who come to work in Banning."
Kathy Henschel, a former Nicolet physical education teacher who retired last spring, was at Central School supporting her former colleagues.
"I waited all last year for this," she said. "I was hoping something would've changed last year. I never hope for a strike, but we need something to wake them up," referring to district administration.
BTA Chief Negotiator Randy Robinson, a physical education teacher at Nicolet, stood across the street from his school with teachers there.
"The district decided on its own, without input from stakeholders, to impose an extra hour. We don't oppose the work, but it needs to be done collaboratively to provide the best learning environment for our kids, and stop the 25 percent annual staff turnover every year — that doesn't help our kids."
In a statement, school board president Alex Cassadas explained that Nicolet's schedule was aligned to be in parity with Banning High School's, acknowledging that the BTA had filed an unfair labor practices grievance. A hearing is scheduled for later this month to determine whether the district had recourse in adding the extra hour, or if it violated the agreement.
A special board meeting took place Monday evening as the informational session at The Farm's House was concluding.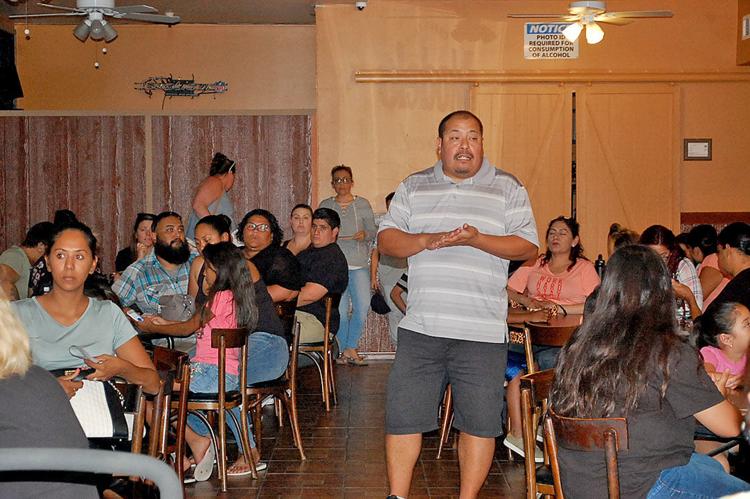 According to Cassadas, when the board took a break to invite BTA representatives for discussions at 10:30 p.m., there were none to be found at city hall where the meeting took place.
Staff Writer David James Heiss may be reached at dheiss@recordgazette.net, or by calling (951) 849-4586 x114.