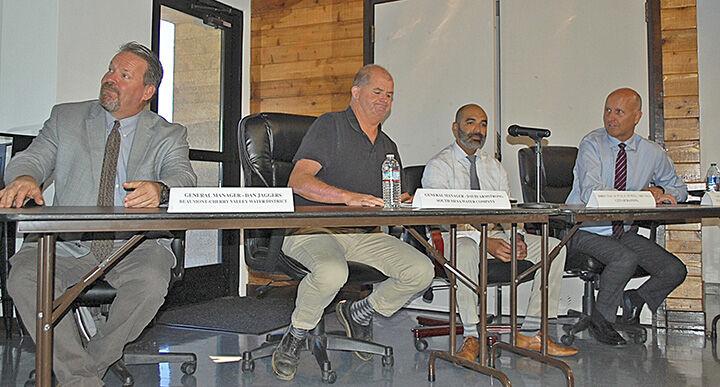 "Whiskey is for drinkin', and water is for fightin'," an adage that San Gorgonio Pass Water Agency board Vice President Mickey Valdivia used to kick off the PassEDA's Sept. 15 water discussion hosted at Noble Creek Community Center in Beaumont.
Whether it is Banning's longstanding fight to maintain water rights from its complex flume issue or the San Gorgonio Pass Water Agency's 61-year effort to bring water from the State Water Project to the Pass area, the water municipalities and players involved understand the necessity to preserve water rights and infrastructure.
Five representatives from the industry addressed more than 30 constituents: Pass Water Agency's General Manager Lance Eckhart, South Mesa Water Co. General Manager David Armstrong, Yucaipa Valley Water District General Manager Joe Zoba, Banning's Public Works Director Art Vela and Dan Jaggers, general manager of the Beaumont-Cherry Valley Water District (BCVWD).
Armstrong gave a history of mutual water companies, which he called "the bedrock" of the industry, who are important in retaining historic water rights.
His shareholder-owned entity started out as an irrigation district that now controls eight wells and five storage reservoirs, mostly throughout Calimesa and Yucaipa.
Zoba explained that his agency is tasked with utilizing a portfolio of water supplies, including treated State Water Project sources, groundwater, captured stormwater and a recycled water program.
His Yucaipa Valley Water District oversees a drinking water and wastewater facility that treats 4 million gallons daily, and has two reservoirs that hold 2 million gallons that will go online next month.
He discussed efforts to require incoming developers to install two water meters, one for inside drinking water and a meter for recycled water for outdoor use.
Jaggers told guests that "local groundwater management needs to be done right" as the industry responds to regulations, despite millions of dollars in investment toward infrastructure.
His agency, established officially in 1919, but has been around via predecessor agencies since 1886, is tasked with delivering safe potable water at the lowest cost, and manages a stream diversion in Edger Canyon and a recharge facility at Noble Creek.
"We're the starting point of the watershed, so we have to make sure that we get it correct. We can't pull water back once it flows out of the region," Jaggers said.
His agency strives to advocate for water-wise landscaping and turf reduction.
Vela gave an overview of three of his larger challenges: the flume, whose remaining infrastructure was destroyed by the Apple Fire in 2020 and has not delivered water to the Banning Heights Mutual Water Company since; the variables of regulations regarding chromium 6, since nine of the city's 21 wells have higher concentrations of chromium 6 than regulations allow in well water; and the need to raise water rates to fix and build infrastructure in a community that is highly economically disadvantaged.
For over 20 years, the flume, which started delivering water to Banning Mutual Heights in 1913, has been the focus of a legal struggle over land and adjudicated water rights that involves Banning, the Department of the Interior, Southern California Edison and the U.S. Forest Service.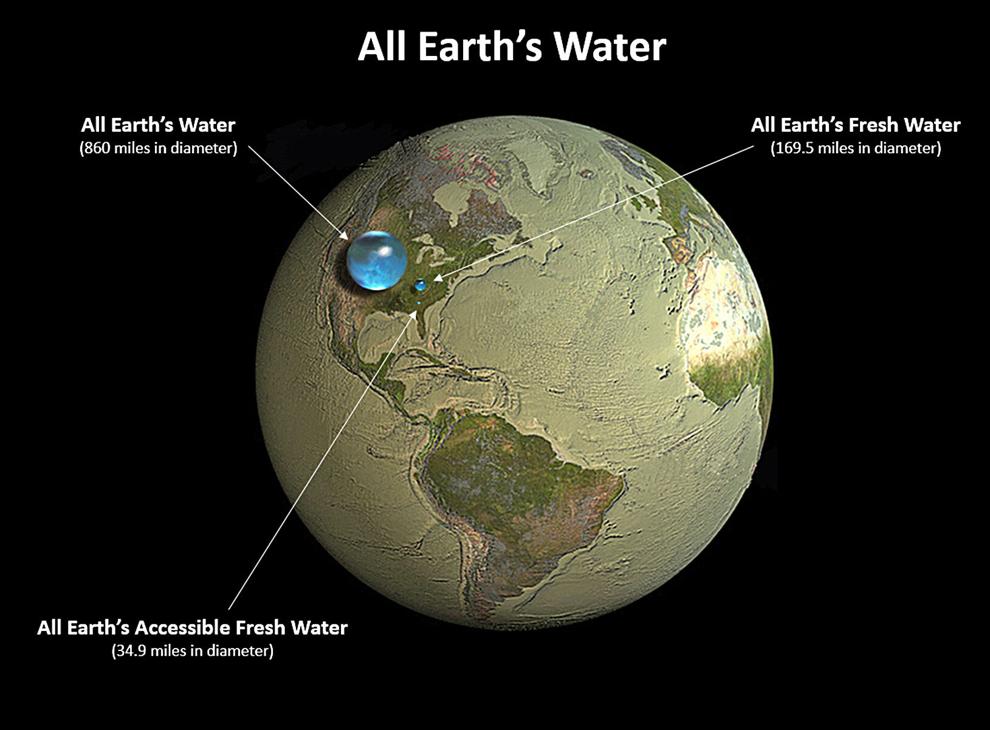 The water from the flume that would come from the hills above Banning, "is the cheapest and cleanest" source of water that can be provided in the Pass area, Vela said.
The destruction of the elements of the flume's infrastructure from wildfire accelerated a consensus among the agencies involved that water flow needs to be restored for delivery to the area's communities.
Eckhart pointed out that water will be the determining factor of where development occurs: without water, a community is left with few choices on what they may want to become.
He provided an overview of the agency's purview as one of 29 state water contractors that get their water primarily from the melting Northern California snowpacks as part of the State Water Project.
The San Gorgonio Pass Water Agency is the third-largest investor in the Sites Reservoir Project, a 1.5 million acre-foot reservoir along the Sacramento River.
Eckhart noted that the water agency is literally at the end of that project's line on its east branch and needs to continue to support and expand the region's 60-year investment in imported water supplies.
The reliability of imported water has become more variable due to precipitation coming as rain, rather than slowly released melting snowpack, according to Eckhart, and the region needs to position itself to be more aggressive in capturing and storing imported water when it becomes available.
For now, Eckhart assures, the region — from Yucaipa to Cabazon — has enough groundwater in local basins to rely on for the time being, but as development continues and the population grows, there will be a need to secure more water resources.
Staff Writer David James Heiss may be reached at dheiss@recordgazette.net.