BY DAVID JAMES HEISS
Record Gazette
For Banning Mayor Colleen Wallace's latest town hall meeting forum held at the recreation building in Roosevelt Williams Park, she invited a few advocates for mentors, and a city official to offer updates and encouragement.
Youth minister and Moreno Valley school board member Corey Jackson, founder of Moreno Valley-based Sigma Beta Xi (SBX) Youth & Family Services nonprofit organization, runs into Wallace regularly.
He was the first guest speaker.
"It's important to share information, especially in a crisis," Jackson said. "Colleen could be driving down the freeway, and still be in the right place at the right time" to connect people with the resources they need on a moment's notice. "We both sat on a task force with Supervisor (Jeff) Hewitt to find out what's going on" with the latest coronavirus variant.
"If it weren't for COVID-19, overdosing of fentanyl would be the biggest issue right now as people mask their anxiety and depression," Jackson said. "We need to encourage people to get the help they may need."
Jackson explained that "We don't live in communities anymore. We live in houses next to people," and only hear from them if "we leave the trash bins out too long, or the music is too loud, or your dog leaves something in their yard. We need to find ways to reconnect and be supportive of one another. Too many people are in survival mode."
Tisa Rodriguez, a Democratic party representative and NAACP secretary spoke next.
"I don't think of politics as winners and losers, but an ability of people to stay and live in their houses," she said.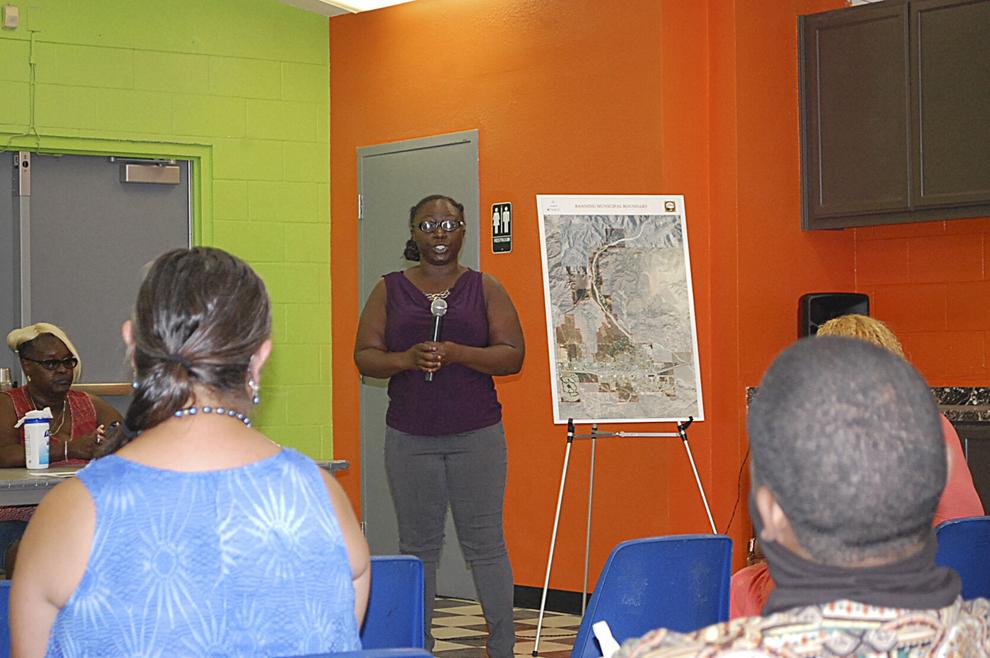 She described the NAACP as such an organization that provides that kind of outreach, which also supports grassroots movements.
"The most amazing people I've met are people who were working to make a change, right there down the street," Rodriguez said. "And when they choose to come together, they're powerful."
She urged the dozen or so attendees to become civically involved, and to "call neighbors; ask them if they need a ride to vote. It takes all of use to work with people. You know your neighbors: have conversations with them and help recognize the will of the people."
Mayor Wallace's cousin Moesha Washington, founder of Memez (pronounced "Mee-mee's") Rollin Resource Center, which Washington established just a year ago, explained why she created her program, which arose from her frustration of having previously worked for the county's social services programs only to observe many young people get left behind due to a lack of resources or real world preparation.
"If you were never taught, you never know" how to pay bills, how to apply to college and financial aid, for instance, Washington suggested. "I've helped some people get medical assistance, or receive general mail at the post office, get IDs, and trying to help homeless people nearby."
Washington said that when she reached out to dozens of homeless people camping out along Wilson Street, only three expressed interest in receiving any kind of assistance.
She encouraged the city to explore bringing back the DARE program, and to find ways to encourage generational wealth.
Police Chief Matt Hamner offered a few remarks, advocating adults to become positive role models, since so many young men, he pointed out, have to look up to parents who may be in prison.
"Every young person needs someone to be a mentor," Hamner said. "Most people are good people. We need to get to know people personally, and don't judge them."
The city's Community Development Director Adam Rush concluded the town hall meeting with an overview of some of the city's upcoming developments.
In Rush's view, Banning has enjoyed "a 180-degree change in the past couple of years" when it comes to potential investors wanting to do business with the city.
While Tri-Pointe Homes is working towards the third phase of 3,800 living units (900 of those homes have been approved; 500 have permits issued and are under construction); the Rancho San Gorgonio development is a year-and-a-half behind schedule, but grading is anticipated before the end of this year as it readies 3,500 homes on its horizon.
And while all that promises tax revenue, it will fuel growing pains such as increased traffic, Rush cautioned.
He said that the city needs to accommodate up to 1,400 state-mandated affordable housing units throughout the city.
In his update, he said that Robertson's Ready Mix pulled a permit a couple of years ago for a 20-year extension to operate, but anticipates that the quarry operator only has enough resources to eke out an existence of no more than a decade. Upon Robertson's conclusion of operations in Banning, it has an agreement to cede "25 of its best" 90 acres and dedicate them to the city, which has no immediate plans of what it would do with that property, though "it could become some sort of recreational asset," Rush said.
He sounded encouraged that Grandave Studios is moving along to get stakeholders at the Banning Municipal Airport to let the planned movie studio build around that property and eventually bring a minimum of 4,500 jobs to the city.
Rush said that a planned medical facility on the site of the former San Gorgonio Inn fell through, and that the permit for a La Quinta Inn on Hargrave Street has expired and is unlikely to be renewed.
A retail building on the corner of Hargrave and Ramsey Street will host a Yoshinoya Japanese fast food joint, and a couple of other tenants are being vetted for that location.
Rush reported that two of three approved cannabis dispensaries have opened for business; by mid-2022, assuming that five planned marijuana cultivation facilities are up and running, the city could anticipate a potential $600,000 in tax revenues from those eight facilities alone.
Staff Writer David James Heiss may be reached at dheiss@recordgazette.net , and messages may be left at (951) 849-4586 x114.