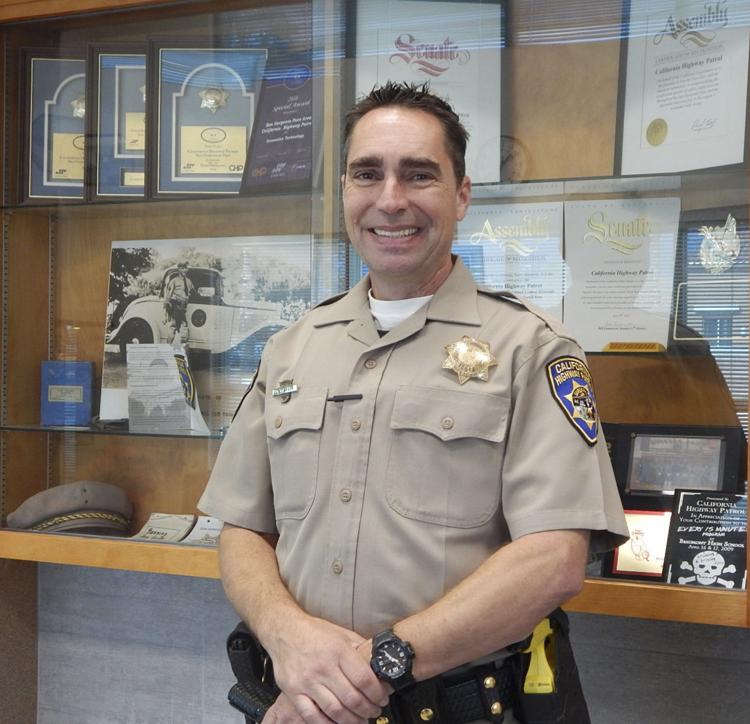 San Gorgonio Pass California Highway Patrol Commander Mike Alvarez said that veteran CHP public information officer Darren Meyer has made their office one of the premier law enforcement agencies in Riverside county.
Meyer, 50, has been the communications officer for San Gorgonio Pass CHP for nine of his 20 years with the California Highway Patrol, but he's more than that.
Go to any community event in Banning, Beaumont and Cherry Valley and you will see Meyer hard at work.
Meyer represents CHP at job fairs sponsored by the city of Beaumont and the Veterans Fair Expo.
He also makes presentations to students in the Banning and Beaumont unified school districts.
Meyer teaches a Safe Driving course for seniors at Beaumont City Hall so they can get a certificate for taking the course.
And he is the man behind the CHP's press releases and social media information about traffic accidents in the Pass area.
Meyer will be retiring as the CHP's communications officer on Jan. 1, 2020.
He also knows that leaving the CHP is going to be a difficult goodbye for him.
"Over the nine years, I've learned that the highway patrol is a complex organization and the community outreach that we do is really important," he said.
Alvarez is happy for Meyer, but knows the significance of this loss at CHP.
"I'm very excited that he's honorably retiring," Commander Alvarez said this week. "He's done his part for the department.''
Law enforcement has been in Meyer's blood his whole life. Born in Cincinnati, he moved to San Diego when he was 2-years-old with his father, Marvin Meyer, and mother Christine Meyer, who met while they were serving in the Navy.
His father worked at Procter & Gamble In Ohio and moved the family to California to open a motorcycle dealership. Darren's younger brother, Mike 47, was born in California.
Darren graduated from Valhalla High School in 1988 and went to Embry-Riddle Aeronautical University.
"I wanted to fly. That was my goal," he said.
Meyer stayed at Embry-Riddle for two years, then returned to San Diego and was hired as a firefighter after earning his credentials as an emergency medical technician.
Meyer met his former wife, Kari, and they had a daughter Jessica, now 23.
He left firefighting to join the CHP in 1998 and attend the academy.
After graduating from the academy, Meyer was assigned as a patrol officer in El Centro and learned Spanish as his second language.
The Meyer family left El Centro in 2003 and he was transferred to the San Gorgonio Pass CHP, where he wanted to continue with aviation.
He took the flight test and missed it by one question and would have to wait a year.
He gave up on that idea and became the communications officer for the San Gorgonio Pass office.
Meyer said he did not have to apply for the position.
He said it took a few years to feel comfortable in his new role.
Meyer was getting to know elected officials and becoming familiar with the community.
His new position was helping him network and getting to know people, Meyer said.
Since becoming the communications officer, Meyer said the department has changed and the CHP has been attending more community events.
CHP also is more prevalent on social media including Facebook, Twitter and Instagram.
Meyer said he attends at least 12 events a month and gives talks at Four Seasons senior community and the gas company.
They also attend book fairs and toy collections, Meyer said.
The San Gorgonio Pass CHP has 40 uniformed officers – 30 work out in the field and 15 are management.
Easing into retirement will be easier for Meyer because he and his girlfriend, Claudia, a retired Banning schoolteacher, will be spending more time together.
They own a wedding event company, which they plan to focus on as their career.
Claudia is the creative part of the company, doing the lighting and the photo booth.
Meyer is the disc jockey.
Going full-time made sense, Meyer said. "We found it was taking up all of our weekends," he said.
They work on approximately 70 weddings a year, Meyer said.
He and Claudia will stay in the area until they decide where they want to move.
He has been training the new communications officer, Matt Napier, who will assume his duties January 1.
Staff writer Julie Farren may be reached at jfarren@recordgazette.net.