Timothy Street, a tall lanky young man from Birmingham, Ala., waited his turn at Total Annihilation.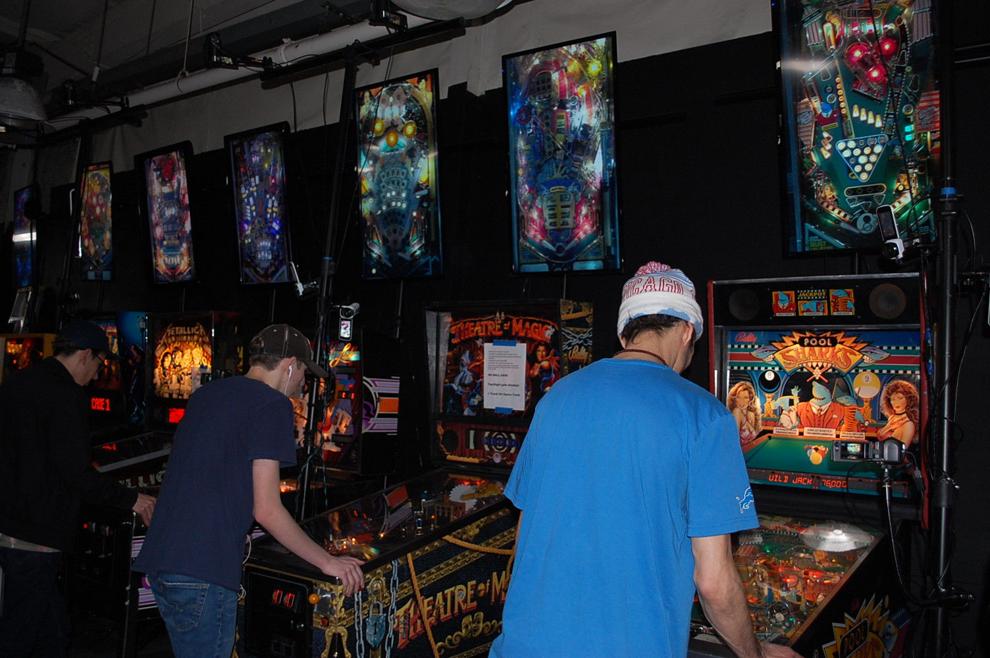 Not of the world, per se, but the flashy pinball game with a retro-80s feel, designed by Scott Dane, that retails for nearly $6,000.
Total Annihilation was among several pinball games set up for competition during the INDISC, or "It Never Drains in Southern California" tournament held last weekend at the nonprofit Museum of Pinball in Banning.
Above the competition consoles were display monitors for spectators to watch every player's move from bleachers set up nearby.
Street's interview was interrupted once his turn came up.
"Give me a sec. It won't take long," he said, and stepped up to launch into a few rounds at Total Annihilation, wearing a baseball cap and ear buds.
He jabbed at the flippers, his whole body jerking in apprehension to make the game work.
The machine responded with flashes of light, including a red siren swirling atop the head.
When a ball was lost, his hands fell limp to his sides as he watched the next one reset.
It was Street's second attempt Saturday afternoon at the game, and he concluded his latest session by raising his hand so a scorekeeper could come by and record his slightly more than 700,000 points.
Street says he had 900,000 on the same game previously.
"I play a lot of pinball, so I hear about the big ones. This tournament is great," he said. "It's the best outside of Pittsburgh, where the world championships are. This would definitely give them a run for their money."
According to INDISC Director Jim Belsito, more than 500 people attended the festival that was held last Friday through Sunday, and 220 players competed for a percentage of a prize pool totaling $21,600.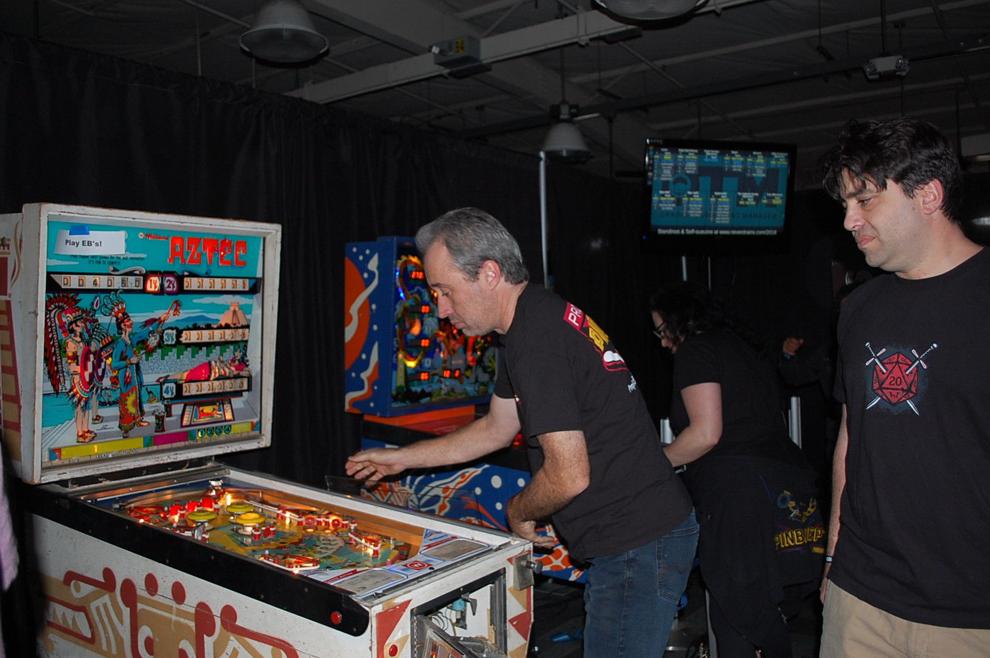 The top four players were (from first to fourth) Robert Gagno of Vancouver; Zachary Sharpe of Chicago; Colin Urban of Portland, Ore.; and Chris Chinn of Seattle.
While the tournament has been going on for several years, this is the third year INDISC has been hosted at Banning's Museum of Pinball, according to Belsito.
It was also the first time that there was a women's division.
Anne Bush, of San Diego, was vying for a spot in the women's division, and had a feeling that she was the fifth seed as of Saturday afternoon.
"I competed last year" in INDISC, "but they didn't have a women's division."
Her favorite game was NBA Fastbreak, because "it's got a good multiball, or wizard ball, that seems accessible, but it's not, and it's really frustrating me."
Mark Bandong, a member of the International Flipper Pinball Association, claims to have been participating in the tournament "before it was a circuit event," at least five years ago when it was held at the Lake Alice bar in Riverside.
His latest pinball game for competition was "Junkyard," which he had previous experience with, "but not recently."
On Saturday, he earned a 15 million score, beating his previous score from the day before of 10 million.
Like Street, he too competed on Total Annihilation, which Bandong described as being "brand new — it's been out since this fall. I missed all the launch parties. I put up a decent score, but I could do better."
According to Museum of Pinball owner John Weeks, there were a few hundred more people at INDISC this year than last year.
To accommodate INDISC, only the pinball portion of the museum was open to the public last weekend; the other half of the museum, which houses classic arcade video games, was closed for the event.
"Pinball just grows in popularity," Weeks says. "It's grown nearly eight times" what it was a year ago.
INDISC is a prelude to the museum's major Arcade Expo 4.0, scheduled for March 16-18, which will include arcade games under the night sky, a Donkey Kong playoff, and access to more than 1,100 retro and modern arcade and pinball games set to "free play."
Tickets and schedule information will be forthcoming on the Web site www.arcadeexpo.com.
Staff Writer David James Heiss may be reached at dheiss@recordgazette.net .