The region needs an emergency bypass along the Interstate 10 freeway, specifically near Cabazon.
Regionally, people seem to agree with that sentiment.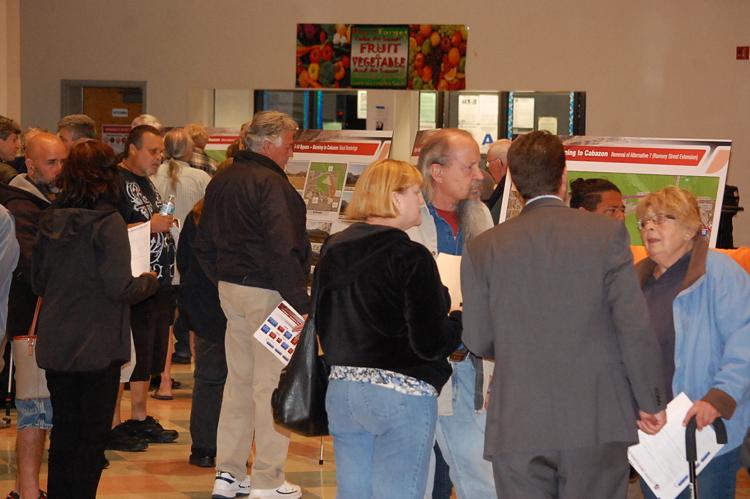 But unless one is from Cabazon, fewer agree as to where a proposed bypass ends up: specifically, as it would dump into Banning.
A small crowd gathered at Banning High School's multipurpose room a week ago to check out information boards set up by the Riverside County Department of Transportation, depicting varying scenarios being considered for a two-mile alternate route around a portion of the I-10 freeway between Banning and the Morongo reservation in Cabazon.
A proposed 3.3-mile, two-lane roadway between the intersection of Bonita Avenue and Apache Trail in Cabazon to the east, and an intersection in a residential area of Banning at Hathaway and Westward Avenue would provide an alternate route between Banning and Cabazon in the event of a closure on I-10.
The project's sponsors, CalTrans and Riverside County Department of Transportation, anticipate the project would improve public safety and emergency response access and provide a safe route for pedestrians that currently use the freeway to get back and forth between the two cities.
Banning resident Don Smith, a former city councilman, was among them.
"I got stuck for seven hours on the I-10 a number of years ago when it closed down" due to a shooting incident, a timeframe of which he could not recollect. "It's an example of why there needs to be a secondary route," he said.
But the project as it is proposed may not be as efficient "unless they build two underpasses for two railroad crossings" that traffic from the new road would encounter, Smith points out.
And overpasses, or grade separations for railroad crossings are not included in the yet-to-be funded project, with anticipated costs approximately standing around $70 million.
Another former city councilman, businessman Frank Burgess sees the plan as "a waste of tax money."
"Why is this going to happen?" he wondered. "I know their excuse, but I don't see how Hargrave's going to carry the load" of increased traffic. "What is the benefit to the city of Banning?"
He expressed his concern that the county already ignored Pass area residents in moving forward with building warehouses in Cherry Valley, and was not confident that county representatives would heed locals' concerns with this project.
John Weeks, owner of the nonprofit Museum of Pinball on Hathaway Street, was initially concerned that the project looked like it was going to go through a portion of his eight properties along Westward Avenue.
Reporting back later, he had been assured that his property would not be adversely affected, and all he would see was a traffic light installed near his property.
"The highway is needed. I'm a little worried people are going to go to Hargrave and hit the railroad, and it will cause a cluster," Weeks said. "It's progress, for sure, but you can't move a bottleneck and simply move it to another bottleneck."
Cabazon residents Adrian Acosta, a landscaper, and his wife Maria, were anxious about the plans.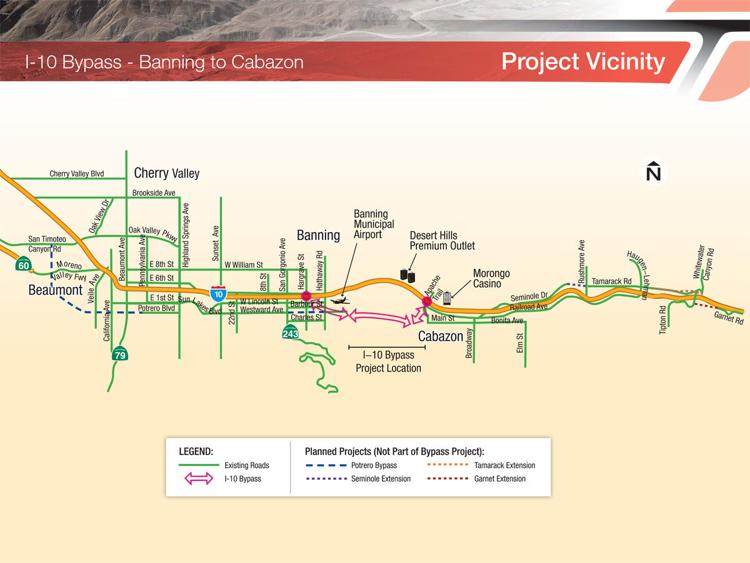 "This is good for us," he said. "I go to work and two trains come, and I have to wait 20 minutes" to proceed, he said.
Mrs. Acosta said, "We had a neighbor who was stuck because the ambulance they were in got stuck because of a train. There is no other route" to San Gorgonio Memorial Hospital. "We really need an emergency route. We need a second road," she said.
Banning's Mayor Pro Tem Don Peterson was at the workshop, which was set up as an informal exhibition of enlarged maps detailing various scenarios, accompanied by engineers who would answer questions.
His colleagues on the council, Debbie Franklin, George Moyer, Daniela Andrade and Art Welch also attended the event.
According to Peterson, "Nobody came to Banning to ask us for permission" while he has served on council.
Potential noise pollution and increased vehicle emissions are among concerns he and his constituents were echoing.
"These streets are not designed for heavy trucks. Has anyone considered the property devaluation?" Peterson wondered. "This allows overloaded, unpermitted trucks to pass scales without being regulated."
He brought up traffic from annual events like Stagecoach and Coachella concerts whose spillover traffic on the proposed road will overwhelm the city.
According to Peterson, "Once again, Banning doesn't get a say, whether it's a jail or a court, and inmates being dumped in our city."
Some of his concerns have already been factored in, according to engineer Darren Adrian, a Banning High School alumnus who is with the Riverside-based consulting engineering firm Kimley-Horn.
A couple of truck turnouts are proposed, to alleviate concerns that trucks could use the roadway to bypass Cabazon's weigh stations, Adrian said.
It was a concern Friends of Cabazon Library President Martin Sanderson had, but was satisfied with Adrian's answers.
"I'm all for this project," Sanderson said.
A multi-use trail for cyclists and pedestrians will be set back 30 feet from the roadway, for safety and, Adrian says, for potential widening of the proposed road to four lanes.
As to concerns of Banning's city streets not geared to handle heavy traffic, "We absolutely look at pave ways and understand that the city is ultimately responsible for its streets. It's a legitimate concern that needs to be addressed."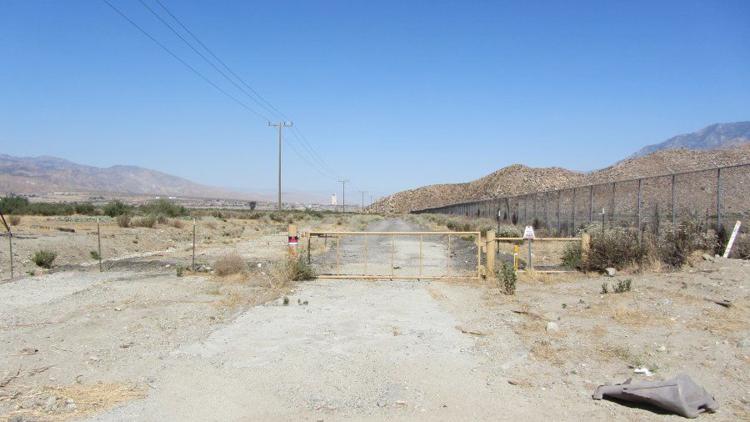 In responding to Peterson's comments that the city of Banning had not been properly consulted, Adrian said in an interview that a formal presentation was given to city council at their Aug. 12, 2014 meeting, and a special workshop on the project was conducted for the council on June 4, 2016, both prior to Peterson's election to council.
His firm has participated in six formal meetings with Banning city managers or senior staff, and "dozens of informal coordination meetings," Adrian said.
Collaboration between the Morongo tribe, Congress, and the city has been ongoing regarding the planned project since 2008, when former Congressman Jerry Lewis, Banning Mayor Brenda Salas and Tribal Chairman Robert Martin supported a Ramsey Street extension to provide enhanced access to the airport, and in the event of an I-10 closure.
The planned roadway cuts through land owned by Morongo.
Lewis helped channel a provision of $1.3 million in a 2003 Omnibus Appropriations Bill for the transportation effort.
Representatives from the Morongo reservation were at the event.
"For the past decade, Morongo has been working with the county, the city of Banning, CalTrans and CHP to improve public safety and reduce traffic congestion on the I-10 freeway," said tribal spokesman Michael Fisher. "The tribe will continue to work with the involved agencies and neighboring communities to identify an option that best meets the regional safety and mobility of the Pass."
Councilman Welch, chairman of the Riverside Transit Authority, said he spoke "with quite a few people" at the Jan. 25 event. "Their concerns are not so much against the bypass, but the mitigation once it hits the city limits of Banning," he said. "Of course, those from Cabazon are happy, but it's going to be a long process. The county will reach out, but there are an awful lot of unanswered questions: will it be double lane, curb and gutters; will it be running into streets not designed for heavy traffic. There's no consideration for rail separation at Hargrave," and, he points out, "the project involves areas where there are homes, and there'll be a lot of truck traffic coming off the freeway: will the Sheriff's Department have the manpower to patrol it?"
Banning's Community Services Director Heidi Meraz lives on Barbour Street, one road up from where the incoming westbound traffic will hit.
She expressed concern that, while traffic hitting Hathaway Street is intended to be directed toward Lincoln Street, "If people see traffic along Hathaway going to Lincoln is backed up, it's human nature" that they will divert down the residential Barbour Street instead, in order to get to Hargrave Street.
Adrian is wary when people paint a scenario that the roadway project itself is going to go through neighborhoods.
"In the area of east Westward that this will go through, there are only five homes, three of which are boarded up and basically abandoned near the city's sewer treatment facility," Adrian said. "We're not building through a pristine residential area."
And to residents' concerns that traffic will be impacted along Lincoln Street needing to get back to the freeway, he says that there are freeway access points on Lincoln Street for the I-10 at Hargrave and 8th streets, and Sunset Avenue.
The project's draft environmental impact report and draft assessment are on display at the Banning Public Library, 21 W. Nicolet St., and the Cabazon Library, 50425 Carmen Ave., Cabazon, and is available online at www.rcprojects/i10bypass .
Individuals who wish to express their thoughts on the project are invited to submit public comments in writing to Mary Zambon, senior transportation planner, Riverside County Transportation Department, 3525 14th St., Riverside, CA. 92501, by Feb. 13.
Staff Writer David James Heiss may be reached at dheiss@recordgazette.net.