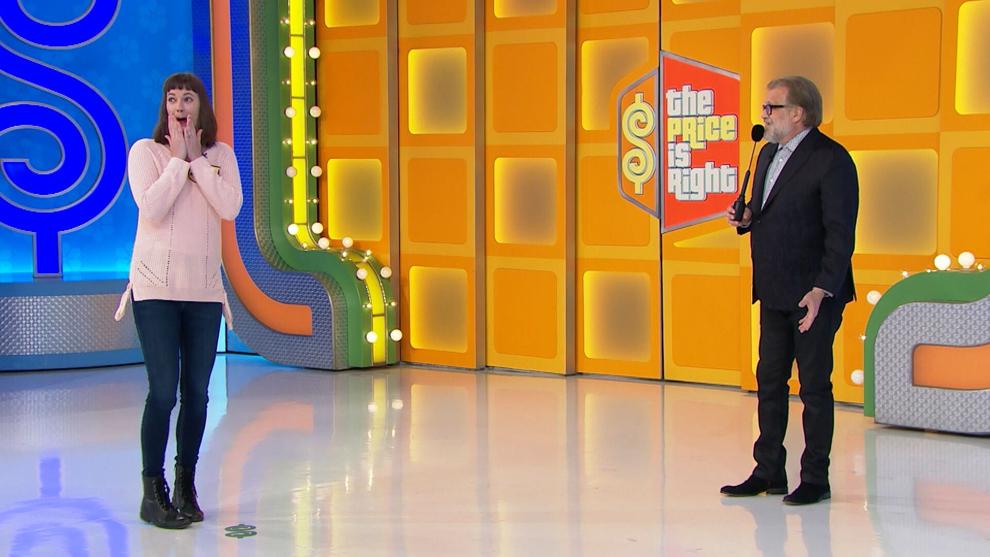 BY DAVID JAMES HEISS
Record Gazette
Zara Brett Melcher was the fourth contestant called down to one of four podiums.
She came running from behind the curtain, squealing excitedly.
Brett, a former Record Gazette employee who lives in Loma Linda, was one of a dozen contestants selected to be on the Price Is Right for the April 22 episode.
In her first competition, she narrowly missed bidding correctly on sets of noise-cancelling headphones.
In the next segment, several pairs of designer men's shoes were on display, and contestants had to guess their combined closest value without going over.
Melcher guessed $1,875.
It was the closest to the correct value of $1,890, and Melcher got to move on to a game called Pay The Rent, in which she had to correctly rank a box of cake mix, a mustache and beard dying kit, a bottle of Tejava mint black tea, a container of Tetra goldfish food, a jar of Smucker's Pineapple Preserves, and a block of Tillamook Colby jack cheese based on increasing value.
She sagaciously stopped before she would have undervalued the hair and beard dying set (valued at $9.99), which if she had tried to guess its value, she would have been set up to be incorrect, and would have lost the $10,000 she had accrued by correctly valuing everything else.
Host Drew Carey, whose beard is essentially white, admitted "I have no idea how much hair color is."
"You look great," Melcher told him.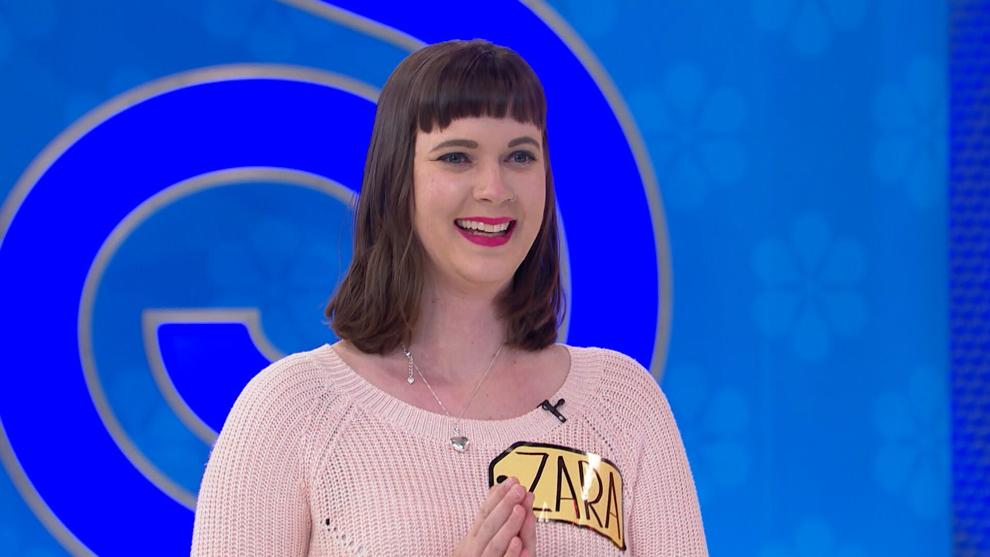 She was given an opportunity to spin the infamous Price Is Right wheel, but did not spin the higher number to beat out another contestant to continue on.
"I did not leave the set. We had to stay the entire time on the sideline and help root for the other contestants," Melcher says.
She explained that 12 contestants are picked to come in for filming, and throughout the show nine are called from behind the curtain.
Back in December Melcher applied to be on the show.
"I wasn't confident I'd get it," she recalls, but "in February I got a call requesting a Zoom interview," during which she had "to show a lot of energy."
"I didn't hear until the end of February when I was informed that I'd been selected to film."
She drove out on a Sunday morning to get a COVID test, and later that evening was approved to film at 1 p.m. for the next day, March 16.
"I had to have a second interview. We were broken up into groups and quizzed in front of others. We were asked about what our favorite games are on the show, and exhibit exuberance."
"I wasn't acting," she insists. "I was actually shocked that I was called up, and honestly being very genuine" as she bounced up and down, screaming in delight.
She plans on putting the majority of it into savings, and apply some of it towards a new car.
Melcher graduated from the University of California, Riverside, with a bachelor's degree in history; and is finishing her master's at California Baptist University in higher education and student development and leadership
By day, she is preschool educator with the San Bernardino Unified School District.
She worked at the Record Gazette as an editorial assistant for nearly a year as she finished up her undergraduate studies in 2011-12.
Her husband Michael Melcher didn't really know her results until the show aired last week, but he benefits from keeping a few pairs of the Taft designer shoes, which Melcher got to request in his size.
She is hoping to sell the others.
She signed a contract not to reveal anything until the show aired.
All seven pairs of men's designers shoes were shipped to her this week; and she will have to pay taxes at the end of the year for those, along with the $10,000 that she has won, which will be transferred to her three months after the air date.
"It was surreal" to be on the show, Melcher says. "We were told by producers that 'you'll have everything planned out, but the moment you step out there and the lights shine on you, you're going to forget everything.'"
It finally hit her after the episode was filmed that, "Wait, I was talking to Drew!"
Growing up she used to watch him host "Whose Line Is It Anyway?"
The studio seems way smaller, especially without 200 audience members, she says.
"I could've been greedy and go for $100,000 and possibly end up with nothing, but I figured, this is $10,000 I don't have," and quit while she was ahead.
As she spun the wheel in vain, she quickly shouted hellos, while it turned, to her biggest fans: husband Michael, sister (Alanna Brett) "both of my nephews (Skylar and Caden Morin) and dad (Andrew Brett), and all my students at Jones Elementary School."
Staff Writer David James Heiss may be reached at dheiss@recordgazette.net , and messages may be left at (951) 849-4586 x114.