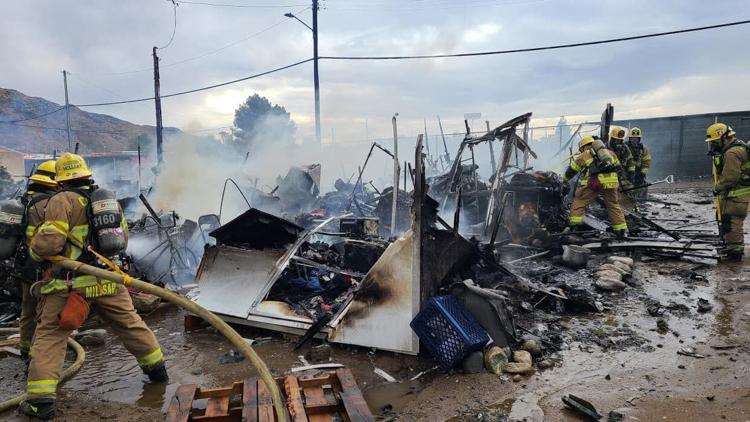 BY DAVID JAMES HEISS
Record Gazette
A fire quickly consumed the 20 housing units of Banning's Ramsey Street Village, the project that housed nearly 40 transitional homeless individuals in the 1900 block of east Ramsey Street, Sunday afternoon.
According to CalFire, 19 pods were destroyed and one was damaged, along with a quarter acre of vegetation, and 40 people were displaced.
All residents are safe and accounted for, according to City Manager Doug Schulze.
The Red Cross and homeless services personnel from the county were on hand to provide 30-day housing vouchers at nearby hotels, and credit for acquisition of clothing.
Mayor Colleen Wallace, whose district the village is situated, received a call around 12:40 p.m. Sunday and rushed over to assess the incident.
"I'm always checking on them anyway," she pointed out. From what she understands, "It started in one and took off from there."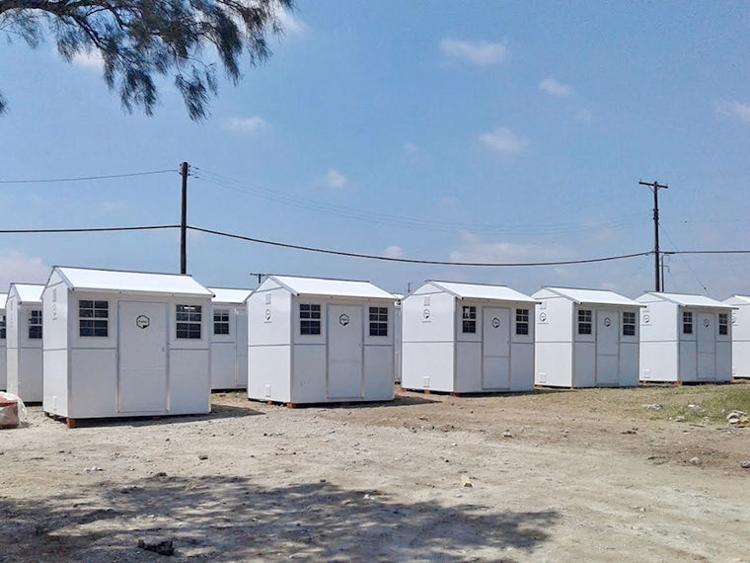 Wallace says she's waiting to hear back from their insurance as to what the city's deductible will be. She expects that once the area is cleaned up, the city will have an on-site coordinator and security lined up, and programs that work with homeless in transition, before the city rebuilds.
"Long-term options for the village will be discussed with city council, so they can decide what to do," Schulze says.
Each unit had their own built-in heaters, though the source of the fire "appears to be a hot plate that was accidently left plugged in when the resident left the unit," according to Schulze.
Wallace is confident that the city will rebuild the pods in a timely manner.
"I'm not giving up on them," Wallace says. "I know there are people who are against it, but it works if programs are in place."
The city previously acquired the 64 square-foot shelters from Everett, Wash-based Pallet Shelter at a starting cost of $4,900 each, funded through FEMA funds and Community Development block grants, and the ready-to-build structures were erected last April.
Former mayor Daniela Andrade had hoped that the program would abate homeless folks who have a history of "roaming lifestyles" that resulted in "fires of abandoned buildings."
The program was intended for homeless individuals with ties to Banning who agree to reside in the program as they sought long-term housing options, and abided by the city's strict stipulations regarding consumption of illegal substances.
The nonprofit organization Faith In Action was instrumental in helping acquire bedding and donations for the program.
Staff Writer David James Heiss may be reached at dheiss@recordgazette.net, or by calling (951) 849-4586 x114.