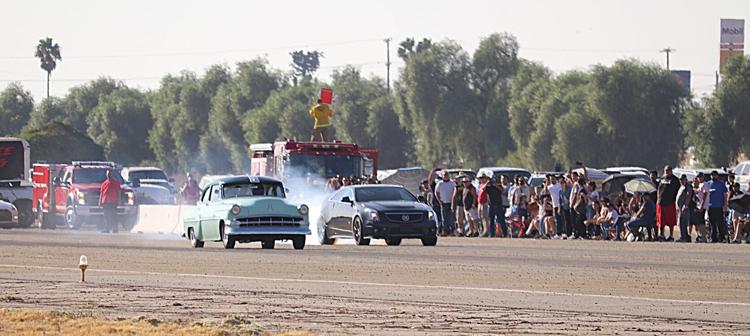 The Banning Street Drags event hosted last weekend at the Banning Municipal Airport drew thousands to the city, as nearly 200 cars registered for events each day.
Spectators and participants came from as far away as Arizona, Nevada and Colorado, according to Banning Chamber of Commerce President Robert Ybarra, a co-coordinator for the event with Banning City Councilman Kyle Pingree, and Andy Morocco of Beaumont, who helped coordinate the last one Banning ever hosted nearly 20 years ago.
Ybarra is a candidate for the San Gorgonio Pass Water Agency's at-large position.
"People came from all over to be a part of it," he said, pointing out that hotels around the area were filled up because of visitors swarming the area.
Employees at the Travelodge in Banning and Hampton Inn & Suites in Beaumont confirmed being at capacity last weekend.
Despite confusion a couple of days before the event as organizers contended with backlash from the county about having an event with so many people, "We have had nothing but positive feedback from racers and spectators," Ybarra said. "We haven't finished adding up all the costs and profits to offer concrete numbers, but I can tell you that the event has already had a huge economic impact to our community: a day before and in between race days, most of the hotels were completely booked, campgrounds for motorhomes and trailers were packed with out-of-town racers needing places to stay."
He noted that the Pass area benefitted from residual spending from all those guests — from RV and truck parking to convenience stores and restaurants.
Because of the overwhelming success, the city granted Banning Street Drags two more dates for races on Nov. 14 and Dec. 19.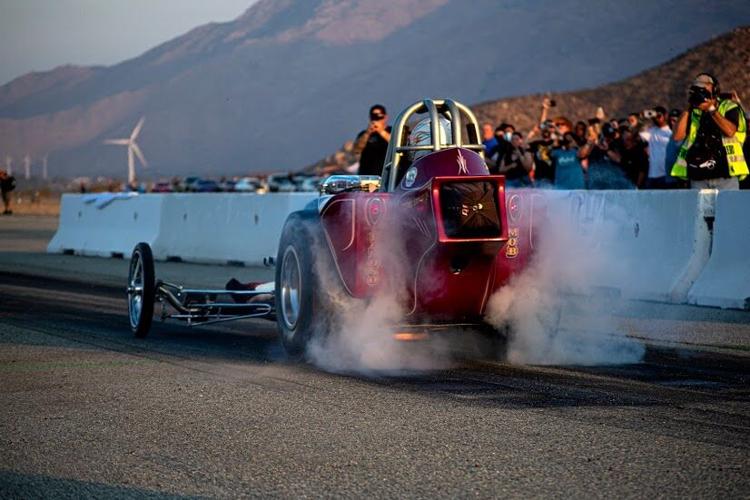 While those will be one-day events, "They will be longer in duration to give everyone more bang for their buck," Ybarra said, explaining that they will run from 10 a.m. to 10 p.m.
Ybarra reported that 315 cars registered during the two-day event, and the city attracted more than 3,000 visitors.
Natalie Rios of Calimesa, a trauma nurse who grew up in Banning, was excited to be a part of it.
"I loved it! It was exciting to hear the revs, roars and racing, but mostly to see families and people come together to enjoy from all walks of life," Rios said. "We needed and welcomed this, to unite us, stimulate us and bring joy into uncertain times. There were many smiling faces and fans cheering on who they thought would win."
The environment was festive, and according to Rios, "Police, volunteers, staff, vendors, racers, family and children found joy in uncertain times. I learned more from conversing with others there, enjoying and taking pictures and the excitement of racing older and newer cars, trucks and cycles. I would definitely recommend it again. Thank you to all those who made this possible."
"The event was a breath of fresh air for our community," says Banning resident Michael McDowell, president of City Bridge Sports Club, a startup nonprofit organization that provides sponsorships and opportunities for student athletes.
McDowell volunteered with some of his athletes at the event. "We had tons of fun. The races were much more enjoyable than I ever imagined, because some of the racers were local. I got a chance to see friends and family race the cars they normally just brag about, and that was fun."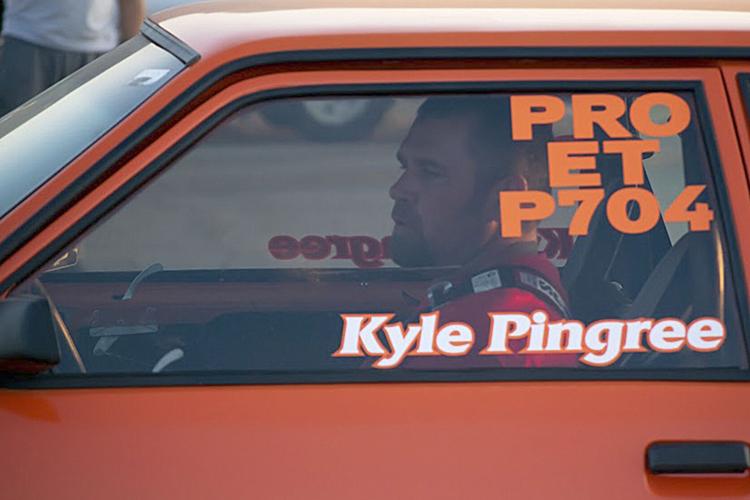 He had heard about it through Mickey Valdivia, an acquaintance of his who is running against Ybarra for a seat on the San Gorgonio Pass Water Agency. "As a lifelong resident, it is nice to finally have an attraction in our community that sets us apart from the rest," McDowell said. "It was my first weekend attending a drag racing event in my life, but it will not be my last: Banning has turned me into a drag racing fan, and I couldn't be happier that my first experience at a drag racing event went down in my hometown."
Christy Abernathy McKiel, visiting with Banning resident Laura Leindecker last weekend from Palm Springs, said "Banning did a fabulous job on the drags. So many people loved it. I hope it continues."
And, Leindecker adds, "The price was reasonable" at $20 for admission for both women.
Banning Chamber of Commerce ambassador Barry Clark and his wife Regina Lee Brady Redfeather of Banning were at the event.
They own Angel Butter Farms, a purveyor of jams, jellies and other homemade food and clothing items, and had considered being a vendor at the event, but decided to volunteer instead, with Redfeather registering intake of vehicles, and Clark writing entry numbers in chalk on participants' windows for identification by judges.
According to Redfeather, the Banning Street Drags event was a "run what you brung" event: "You could race any car or motorcycle you wanted, as long as everything is tightened, the windshields are intact, lug nuts tightened, and no oil leaks.
"I really enjoy racing. It's in my blood," Redfeather said. She helped register 267 cars Saturday. "We had to turn cars away. There were lots of spectators. It turned out really big. I'm really proud of Banning. I hope this continues."
City officials have noted that any funds generated at the airport legally have to be reinvested into the airport.
"Our airport needs help," Clark said. He pointed out that, with the closing of the Irwindale Speedway and the reductions in race options at the Fontana Speedway, Banning may fill a niche.
According to Redfeather, "There were no problems, no accidents, and everyone got along, and people socially distanced. We were honored to be a part of it."
Staff Writer David James Heiss may be reached at dheiss@recordgazette.net , or by calling (951) 849-4586 x114.