The candidates running for Banning City Treasurer are: Alejandro Geronimo and Shawn Patterson.
The Record Gazette asked each candidate to provide their educational background; family information that they wished to share; professional and civic background/involvement; and statements that indicate why they are running for the office they're campaigning for, what they hope to accomplish if elected, and statements as to why they are the best candidate for the role.
Alejandro Geronimo
Banning Library board member Alejandro Geronimo is a candidate for the Banning City Treasurer position.
He earned a Bachelor of Science degree in business administration from San Jose State University, and has a master's degree in public administration with an emphasis on organizational leadership.
My family and I moved to Banning in 2012. We moved down from Northern California when I took a job in the local government. We initially moved to Banning and only planned to live here until we settled on a permanent place. Within the year, we were convinced that we did not have to move anywhere, and Banning became our home. My wife and I have two beautiful girls in grade school who attend the Banning Unified School District. We love the area because Banning has a small-town feeling, and it is easy to get around and at the same time, Banning is in close proximity to many destinations. Although popular destinations are within driving distance, we usually choose to stay in town and enjoy any festivities or events the city has to offer.
Because Banning offers so much to us, I feel it is my civic duty to give back. I have amassed many years of experience working for local governments as a public servant. My most recent employment is working in the Accounting & Finance division for a public sector agency. My experience includes working with large budgets, tracking revenues, and expenses. I understand the ins and outs of financial transactions that occur within public sector agencies. I hope to share my experience and apply it to the City Treasurer position.
My experience serving as a Board member has been essential in learning what it is to fulfill my civic duty obligations. If elected, I hope to gain your trust and confidence. And I assure you that I will do my very best to serve in the community's best interest.
In addition to my employment, I currently serve as a trustee for the Banning Library District. I hold the title of secretary and also serve as the chairman for the Finance Committee. My experience serving as a board member has been essential in learning what it is to fulfill my civic duty obligations.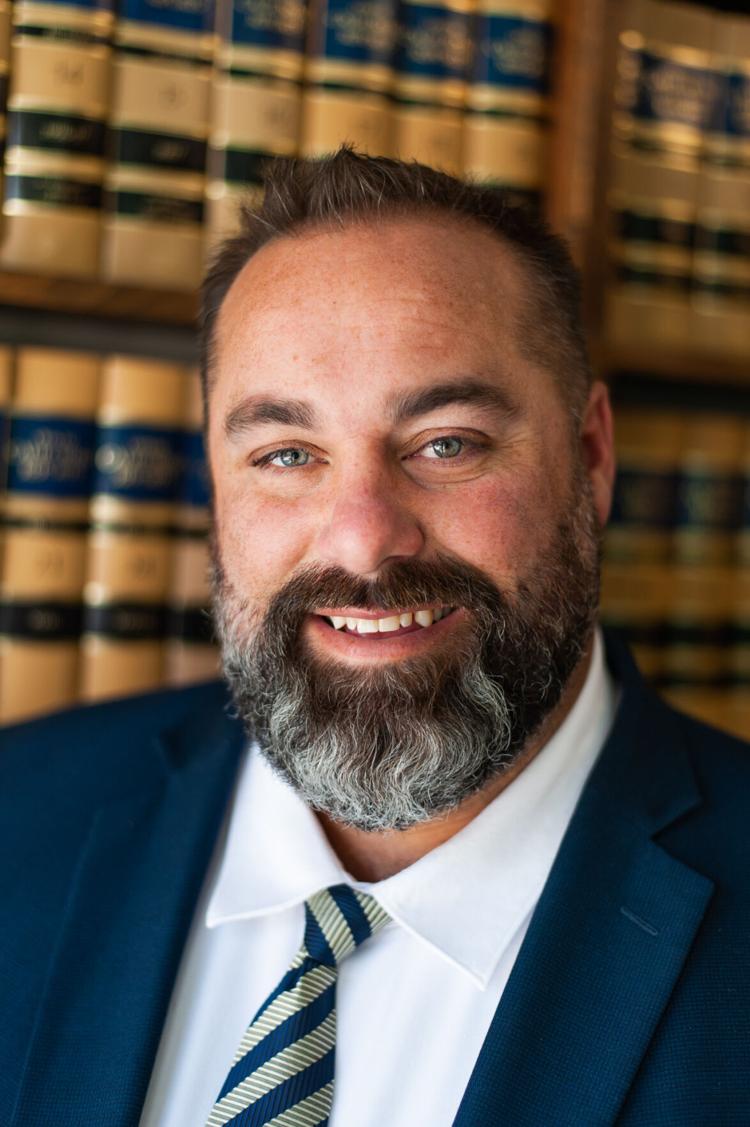 Shawn Patterson
Shawn Patterson is a candidate for the Banning City Treasurer position, and has the endorsement of retiring City Treasurer John McQuown.
Patterson is a 1997 graduate of Banning High School, and he has a bachelor's degree from Utah Valley University, and earned a juris doctorate from The University of La Verne College of Law.
Patterson owns and operates the law firm McClellan Wilson and Patterson, located in Historic Downtown Banning, after purchasing the firm from his business partner D. Hershel Wilson, and practices law in the areas of probate, estate planning, trust, and elder law. He supervises the administration of family trusts and accounts to the California Superior Courts for the administration of Decedent Estates.
He has been married for 16 years and has four children, three boys and one girl.
His wife is a credentialed teacher taught at Banning High School and Hoffer Elementary for six years before making the decision to stay at home with their four children.
In his words: "I have a profound love for our city and made the conscious decision to raise my family here. I am a member of the San Gorgonio Pass Rotary club and I seek to be active in our community by attending, and participating in, events such as Stagecoach Days, and the Banning Market Night and Classic Car Show.
I feel I am well suited to be the Treasurer for our city for the following reasons: I own and operate a successful business with four employees and understand the need for sound budgets that allow business to thrive while maintaining fiscal responsibility; I am an attorney who works with detailed accountings for estates and multi-million dollar trusts; my family and I have a long history with Banning. I grew up here in town and hope to continue to give back to our community by serving as the city of Banning treasurer. If elected as Treasurer, I will work closely with the City Council, City Manager and Finance Director to produce a fiscally responsible budget. I will also explore additional sources of revenue that resist raising taxes for residents."