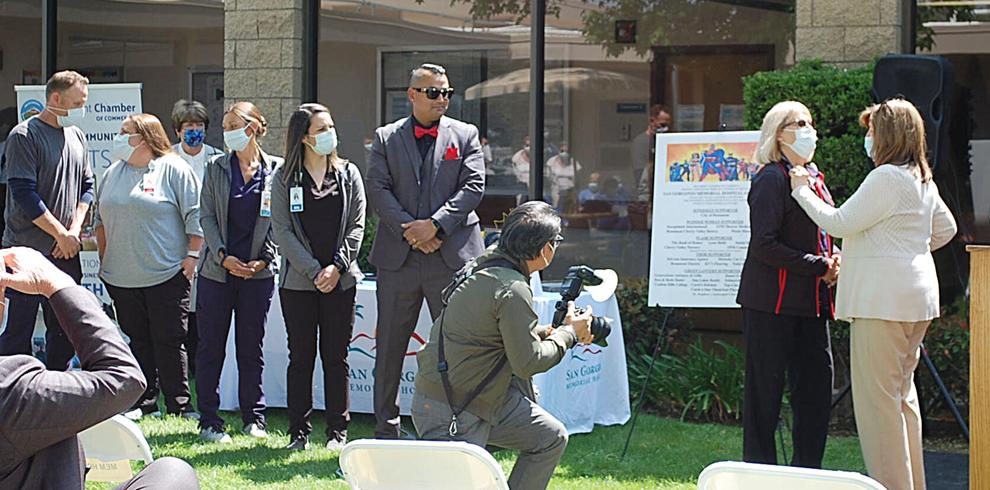 BY DAVID JAMES HEISS
Record Gazette
Pat Brown valiantly fended off tears as she expressed gratitude on behalf of San Gorgonio Memorial Hospital's 641 employees, named this year collectively as Beaumont's Citizen(s) of the Year by the Chamber of Commerce.
At a reception in an outdoor courtyard at the hospital last Friday, Brown, the hospital's chief nursing officer, described the harrowing experiences her colleagues have endured being on the front lines during the pandemic.
"I know how special they are," Brown expressed, "but for you to recognize their sacrifice is amazing. It's been devastating and demoralizing, and we were scared that it wouldn't be enough — and many times it wasn't."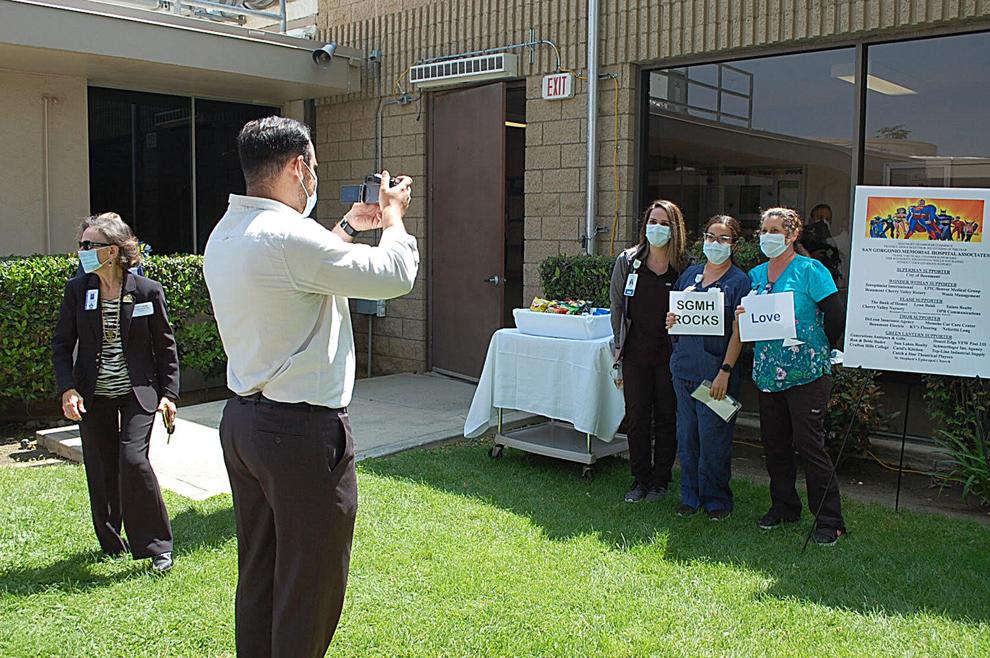 Particularly poignant, since COVID-19 was personal to her: it claimed her husband Bob early on. "It took a toll on us, and we couldn't get close enough to each other to hug and comfort each other" as patient losses "happened over and over."
"It was a victorious day when a COVID patient went home," Brown told invited guests and hospital staff, though those victories were often ephemeral, as other patients rapidly replaced them. "It was hard work day after day, and we were always so covered up we could barely recognize each other, and just when we thought no one else cared, someone would donate pizzas or subs, or soups, to let us know that we were not alone. For all those gestures, and this honor today, a heartfelt thank you."
The courtyard was decorated to reflect comic book superheroes theme.
Beaumont Chamber of Commerce Vice President Sandy DeLeon said in her remarks "All associates really stepped forward and have shown us what a real hero looks like day in and day out."
County Supervisor Jeff Hewitt was among the first dignitaries to congratulate hospital staff, telling those gathered that "They stood up and did things no citizen of the year has ever done before," pointing out that "They didn't have the luxury of staying home" and avoiding everyday contact with people despite quarantines. "So many people were courageous and stepped up. Today we're honoring a lot of people who were here every day."
Beaumont Mayor Mike Lara, Banning Mayor Colleen Wallace, and Art Welch, field representative for Assemblyman Chad Mays and Senator Rosilicie Ochoa Bogh, were among those awarding proclamations to the hospital for the occasion.
Traditionally, the chamber of commerce hosts a fundraising gala to honor their citizen of the year.
Each hospital employee received a small package that included a multicolored pen — significant since they regularly have to take a lot of notes — a commemorative pin, and a gift certificate to a local restaurant.
Eight restaurants stepped up to offer contributions towards the cause including the Sand Trap Sports Bar & Grill, Farmer Boys Restaurant, Raising Cane's, Russo's Italian Restaurant, Fuego Cravings, Domino's Pizza, Jersey Mike's and Sizzler.
Several entities helped underwrite this year's event, including (but not limited to) Soroptomist International and the Beaumont-Cherry Valley Rotary Club, Epic Management and Beaver Medical Group, Waste Management company, and the city of Beaumont.
Staff Writer David James Heiss is involved with the Beaumont-Cherry Valley Rotary Club. He may be reached at dheiss@recordgazette.net , and messages may be left at (951) 849-4586 x114.