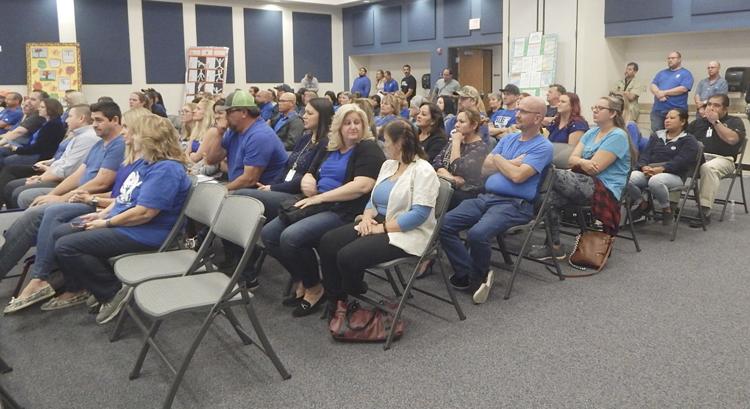 The Beaumont Unified School District has offered its classified employees a 1.5 percent salary increase for the 2018/19 fiscal year, but the employees have turned that down in favor of the money going toward their health and welfare benefits.
Close to 100 classified employees showed up to Tuesday's school board meeting to show support for colleagues and voice their opinion about the offer.
They were represented by the Beaumont district's CSEA chapter 351 (California School Employees Association) president Jeannette Payne, and Dale Wissman, labor relations representative for CSEA's Rancho Cucamonga office.
Eight employees talked about their personal challenges with health care coverage during the meeting's public comment section.
The board can listen to the comments, but cannot legally make any decisions during the public comment section because it is not on the agenda.
There are 456 classified members.
The contract just does not meet the basic requirements of its employees, said Payne.
For example, a family will pay $593 a month for health and welfare. That amount can dig deep into their paychecks, employees told the board.
Jen Ellis said she and her colleagues are not asking for free benefits, but the cost of paying for their health care out-of-pocket is affecting their lives.
"I would not expect the district to provide free health care, but they should provide affordable," she said.
Payne said that people are using half of their paychecks to cover the costs. That leaves little left over to pay other bills.
Leslie Wood read a statement on behalf of classified employee Shalyn Haley, who has worked for the school district for six years.
The single mom of three children said in her statement that her son had heart surgery in December 2018. If the costs rise, she said that employees will not be able to provide for their children.
Kateri Flores has worked as a classified employee for five years in Beaumont. Flores said she had a heart attack and had to have emergency surgery on August 19. In 2011, her 6-year-old son was diagnosed with cancer.
April Morris has four children in the Beaumont school district. Next year, she will have five in Beaumont.
As a six-year employee, Morris said she is paying $592 a month for her family's health care, which amounts to $7,104 a year.
"This is an extreme hardship on my family," she said.
That leaves Morris $953 a month to pay her bills. Morris said. A salary increase of 1.25 percent only adds up to an extra 21 cents an hour.
Laurie Grzanowicz is a 20-year employee, paying $741 a month for health care costs.
She said that she has seen employees only in their third or fourth year making the same amount of money that she does. After paying for health care, she has take-home pay of $1,500 and her rent is $1,300.
She also has insurance that costs $250 so she is already under water when it comes to her bills.
"I thought when I got a job with the school district, that I would be taken care of," Morris said.
Labor relations representative Wissman said the classified employees association has been negotiating with the school district since April. The original offer was 1.5 percent, but changed to 1.25 percent.
Wissman said that the employees are not asking for any more money, that they are on the same page as the school district.
The employees just believe that the increase would better serve their health care costs.
After the school board meeting, Assistant Superintendent for Human Resources Shawn Mitchell said that 52 percent of the employees have health insurance while 48 percent do not.
So, if the increase is limited to health and welfare, those without benefits would not receive any money at all, Mitchell said.
Staff writer Julie Farren may be reached at jfarren@recordgazette.net.