A 26-member committee mulled through several meetings to determine new school boundaries as it prepares to open Summerwind Trails Elementary School, presumably next summer.
The committee held five virtual meetings for the public to facilitate concerns, and a separate one for district staff.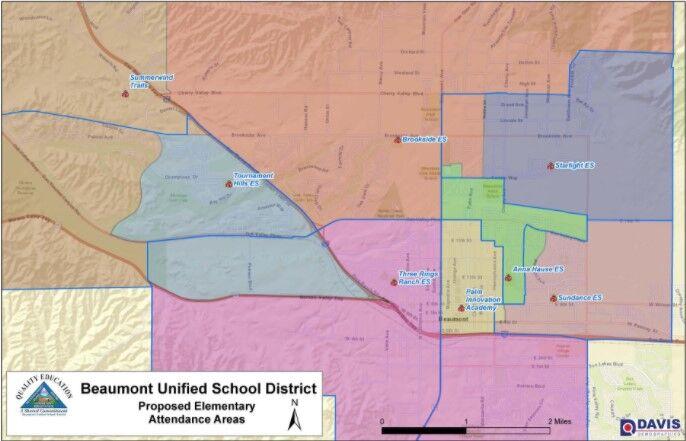 "We wanted to make sure that students were able to attend their school of residence within the boundary of the development going on in their neighborhood," Penni Harbauer, assistant superintendent of Business Services, told the school board at its Dec. 15 meeting, "and make sure what makes sense for those families"
She said that the committee also wanted to address the splitting up of students, in which previously some students at an elementary school would go on to one middle school, while some of their peers would end up at the other middle school.
"We wanted to make sure" for instance "that all students from Palm would go to San Gorgonio" Middle School, or "all students from Three Rings Ranch will go to Mountain View," Harbauer said.
Safety and security was another issue the committee focused on, analyzing major streets and highways.
"We're very lucky in this district to have two major freeways. Our district goes across multiple cities," Harbauer points out, including Beaumont, Banning, Calimesa within Riverside County, as well as portions of unincorporated San Bernardino County. "We are one of the fastest-growing districts in California," she told the school board at its Dec. 15, 2020 meeting, and that growth was happening not just with the addition of Summerwind Trails, but throughout the district in general.
Families who live outside the new Summerwind Trails School's boundaries are welcome to apply through open enrollment, Harbauer said.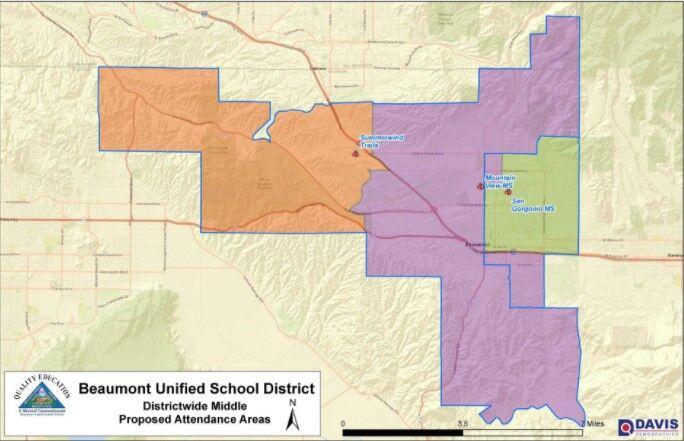 That school is slated to open in August.
The district took steps to make sure that students in special education would remain at their school of residence from kindergarten through fifth-grade, without having to bounce around to different campuses.
The district will be communicating the process in a letter to be distributed as students resume classes on Jan. 11 regarding changes related to enrollment.
The maps from the school board's agenda hopefully give an idea of the changes, which reflect anticipated growth — not just the opening of Summerwind Trails: a small portion of Sundance School's boundaries have shifted up into Anna Hause territory, to allow Sundance to absorb growth in the Atwell development, according to Director of Facilities Lisa Hendrix.
At Brookside Elementary School, Summerwind alleviated some of the boundary to the west, as well as some of Starlight School's population to the east.
Hendrix reported that Palm Innovations Academy will see the biggest changes, including "a small pocket" from Sundance School; while most of the area below the freeway was transferred back to Three Rings Ranch, reversing a decision from years earlier.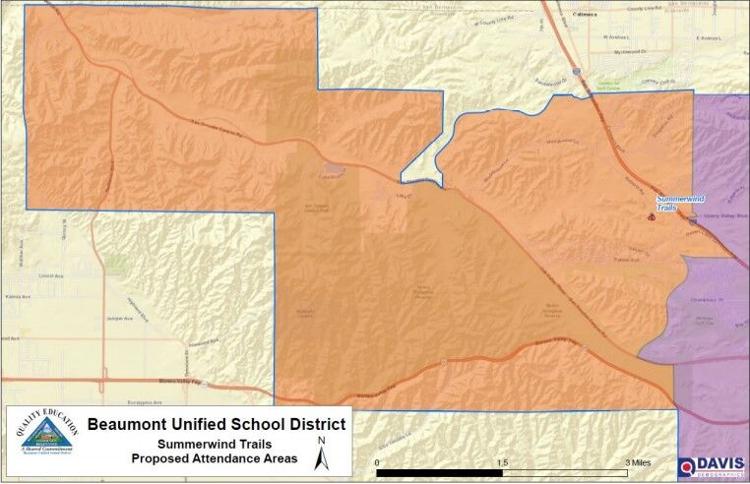 All of the Olivewood development will switch from Three Rings Ranch to Tournament Hills Elementary School, while Three Rings Ranch picked up some of Palm Innovation Academy's former boundary.
Summerwind Trails, which will be a k-8 school, has a huge swath of boundary in Calimesa, since no other elementary schools will be feeding into it.
Students attending Anna Hause, Palm and Starlight schools will matriculate to San Gorgonio Middle School; and students attending Brookside, Three Rings Ranch and Tournament Hills schools will attend Mountain View Middle School.
Board member Steve Hovey sat in on one of the community presentations.
"Seems like an excellent process. No doubt some people will be discomforted by these changes; others will relish them," Hovey said. "Glad it's been done in a timely manner" so families can plan accordingly as they prepare their children to attend school next fall."
Hovey motioned to pass the proposed boundary changes, and the measure passed unanimously.
Staff Writer David James Heiss may be reached at dheiss@recordgazette.net , and messages may be left at (951) 849-4586 x114.