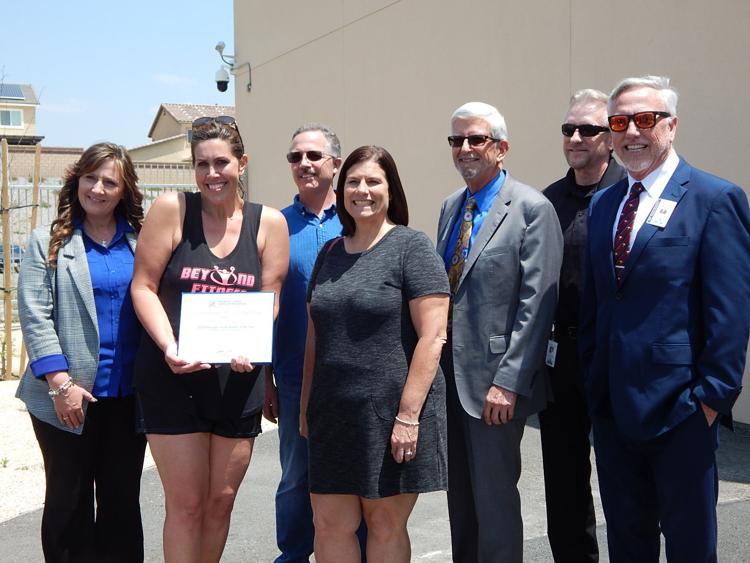 Tracy Waters was soaked from fourth-grader water pistols when Riverside County Office of Education Superintendent Judy White walked up to her on the field of Starlight Elementary School last Friday afternoon in Beaumont.
White, surrounded by Beaumont school board and cabinet members, announced that Waters, 47, is one of four 2020 Riverside County Teachers of the Year.
Waters is a fourth-grade teacher at Starlight Elementary and has worked in education for 23 years.
Waters was surprised to see White. "I didn't see you get out of the van." She said to White.
The RCOE Educators of the Year is a closely-guarded secret and Starlight Principal Lauren Kinney was working hard to ensure that Waters did not find out that she had been selected.
Her husband Pat Waters, a fourth-grade teacher at Three Rings Ranch Elementary School in Beaumont, said he only learned of his wife's award an hour before from Kinney.
He had to get their children, Jenna 17, and Owen, 12 and bring them to Starlight. Pat Waters said his wife is so deserving of this award. "Teaching is in her DNA," said Pat, who has been married to Tracy for 23 years.
Tracy's mother, Sue Poland, was driving to the school from Banning.
Waters was set to be surprised at 1:45 p.m.
Kinney was running around making sure the kindergarteners had pom poms for the ceremony and that everyone from the school district was there.
Half of the group walked to the field behind the school and the other half were transported in a van that drove onto the field.
The fourth-graders were having fun during the Very Merry Un-Birthday Bash, which Waters puts on for students whose birthdays fall during the summer, when school is out.
Water pistols were in full force and Waters was soaking wet, but having fun when the guests were walking up to surprise her.
Waters recognized Poland. "Oh my God, my mom," she said.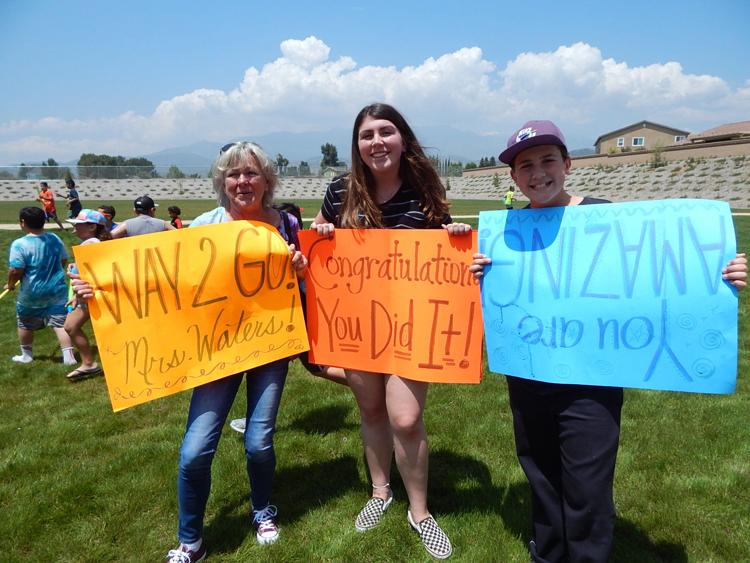 Her children and Poland were holding signs that said "Way to Go Mrs. Waters'' and "Congratulations You Did It.''
Poland became emotional about her daughter, saying that Tracy is a saint and that the family had a scare when she was 19.
Tracy was a sophomore in college when she was diagnosed with cancer in her leg.
Fortunately Waters did not have to have any treatment.
She went on to pursue her career in education, which eventually brought her to the Beaumont Unified School District, where she has taught at Sundance Elementary School and Starlight Elementary.
Currently, she teaches students with learning disabilities and from group homes and English language learners.
Receiving the award meant a lot to Waters, who started crying when she realized what was happening in front of her family, friends and colleagues.
"It's very humbling," she said.
Waters said she wants to challenge her students to reach their fullest potential and to believe in their self-worth.
She is involved in Rotary's Early Act, a youth service club for elementary students to plan activities and put "Service Above Self."
Waters said she loves being a part of the childrens' lives and watching them blossom.
"It's the most beautiful gift you can be given, to be a part of their future," Waters said.
Kinney, who has known Waters for 25 years, got emotional when talking about her friend and colleague.
"She knows what kids need," Kinney said. "When she plans lessons, she is so thorough.''
Along with Waters, three other teachers have been recognized from Riverside County schools. They include Brenda Becceras, a kindergarten teacher at Palms Elementary School in the Perris Elementary School District; Jodi Fecera, a family and consumer sciences teacher at Palm Desert Charter Middle School; Tom Buck, a digital media career and technical education teacher at Indio High School.
All four teachers will represent Riverside County in the 2020 California Teacher of the Year competition.
In the last six years, five of the California Teachers of the Year have been from Riverside county. In May 2020, they will be honored at the Riverside County Office of Education's annual Celebrating Educators luncheon.
The Riverside County Teachers of the Year are selected from nearly 20,000 educators in Riverside county.