Last weekend's shooting rampage in Las Vegas claimed the life of a Beaumont resident.
Hannah Ahlers, a vivacious stay-at-home mother of three was attending the Route 91 Harvest Festival with her husband, Brian, who was not injured, and three other couples, according to the Las Vegas Review-Journal.
As a mother who was enthusiastically involved in her children's lives, many young people — and, vicariously, their parents — knew her, or interacted with her occasionally.
Her older brother, Lance Miller, acted as a spokesman for the family, and conveyed a message on behalf of Brian Ahlers (pronounced, "Ay-lers").
"I married her when she was 17," Ahlers stated. "We have three kids (14, 11 and 3). She was a full-time housewife and mommy, and she was amazing at it."
According to Mr. Ahlers, Hannah Ahlers was "active in moms groups, and our daughter's volleyball team."
He went on to express, "She wasn't too good for anybody. She was beautiful, inside and out."
The family had lived in Beaumont for the past five years, having moved previously from Redlands, where Hannah graduated from Redlands East Valley High School in 2002, and attended Crafton Hills College in Yucaipa.
Jessica Warrick, of Banning, says that her daughter is friends with the Ahlers's older daughter.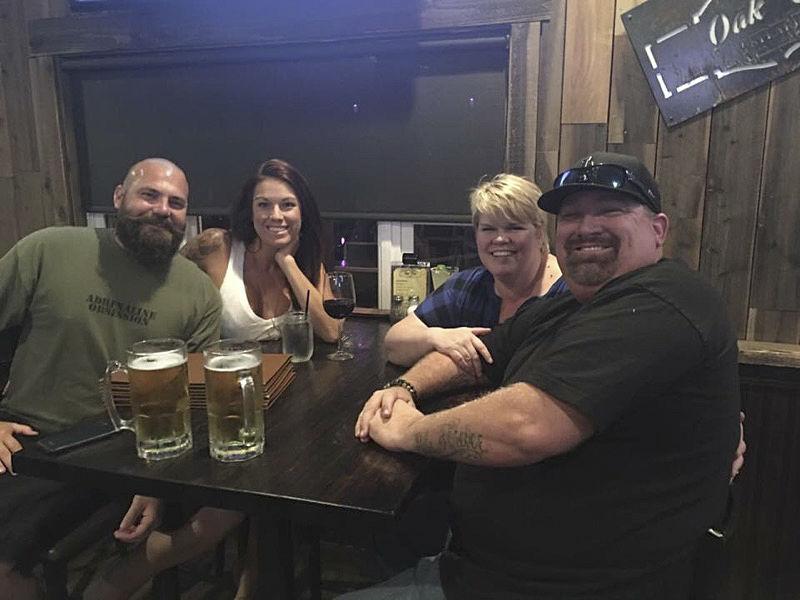 Hannah Ahlers, in Warrick's observation, seemed to have "a huge network of friends she saw all the time, like the parents of her daughter's volleyball teams," for instance.
"She was a pleasure to know, because she truly cared about my kid, and she's a person who treasures friendships. My daughter adored her.
Hannah is funny, always smiling, and up for anything — always running around from thing to thing for her kids, and she was just so easy to like."
Warrick described Ahlers as "fun and cool, beautiful and stylish. All the kids loved to be around her, but she was a good mom who adored her kids, and her kids' friends."
The Rev. Bill Dunn, of Beaumont, knew her because his daughter and the Ahlers' daughter are friends.
"Hannah was a real good person, a solid mom," Dunn says. "We just got through with Homecoming. A lot of these kids are just freshmen, and for them, it's a real big group homecoming. Hannah was there taking pictures of them" and documenting the moments, being their cheerleader and proud mother.
"No one saw this coming. I mean, what can you do," Dunn said.
Jessica and Chris Hopkins, of Beaumont, were close friends of the Ahlers.
Mrs. Hopkins, an ultrasound technician, has known Hannah Ahlers for more than a decade, having met her through Mr. Hopkins.
"Our kids have grown up together," Mrs. Hopkins says. "We used to take them all to Disneyland all the time, and we'd sometimes look at each other and wonder why we did this, and we would end up laughing. We both knew we loved doing it, even if it was crazy with five kids."
She described Hannah Ahlers as being "the type of person you would meet once, and never forget."
"Her and Brian are the most loving, caring and generous people you would ever meet," Mrs. Hopkins says. "I will miss being able to talk
to her about anything, and laugh with her; and will miss that we can take our youngest girls to Disneyland as we had planned."
Her husband, Chris Hopkins, a Local 1607 millwright in Beaumont, had known Mrs. Ahlers for more than 20 years.
"Her husband, Brian, and I have grown to be best friends over the last 27 years," Mr. Hopkins says. "I met Hannah through Brian at the Redlands Church of the Nazarene, where we attended as teenagers. There are so many memories of raising families together, at the river, and in the desert. She was the most selfless person you could ever have met. She was never one to judge, and loved with every fiber of her body and soul. Her smile was electric, and she would light up every room she ever walked into."
Mr. Hopkins says, "I will miss being able to make a call, or short drive, to talk to her about anything — or nothing — at all, and know no matter what, she loves me, and everything will work out. She was the rock-solid foundation for many people."
Debbie Nelson of Banning, a friend of Ahlers who is among the parents of volleyball players, says, "Hannah once told me she had an old soul. She never judged, and she lived life 100 percent every day. She loved God, her family, and friends."
According to Nelson, Ahlers "was very down-to-earth, and would curl up and watch a movie with you, or talk you into doing something spontaneously."
In a recent moment of spontaneity, Nelson recalls, "She said, 'Hey, let's go get frozen yogurt.' I told her I had to get home, we're having a family barbecue. She said, 'Well, it's not like we didn't just win the championship game,' and I said, 'Well, since you put it that way.'
"I will cherish the time we had together," Nelson says.
Her friends point out that Hannah Ahlers' body is still with the Las Vegas coroner's office; her friends and family are trying to raise funds for transfer and funeral services.
A GoFundMe account has been set up to assist her family, and can be accessed online at www.gofundme.com/Hannah-ahlers-las-vegas-victim .
A memorial car wash, bake sale, lemonade stand and raffle will be hosted at the Calimesa Set-Free Church Saturday, 13700 Calimesa Blvd., from 8 a.m. to 4 p.m. For information, call Shelly Thomas at (909) 435-8633.
Staff Writer David James Heiss may be reached at dheiss@recordgazette.net , or by calling (951) 849-4586 x114.