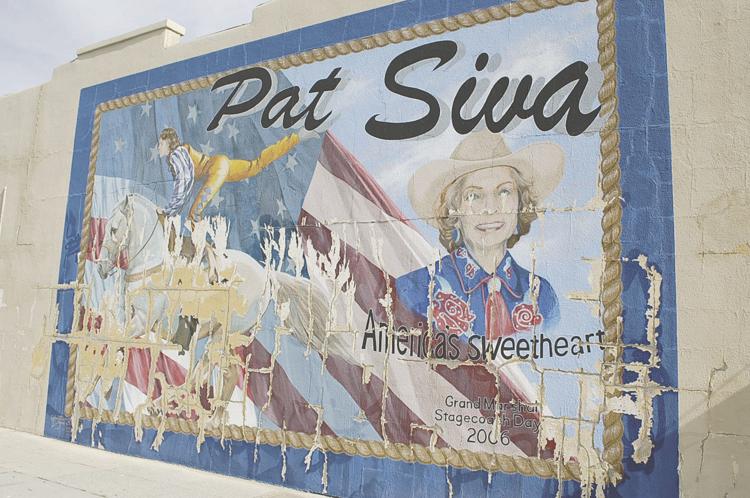 The visage of the late Banning Realtor Pat Siva is slated for removal.
The mural that has added colorful character to the west-facing wall along 1st Street is to be removed, as the owner of the building's complex is taking care of structural issues in response to code enforcement requests delivered to him last October.
Bob Rochelle, the property's owner, claims that the 16-foot high, 42-foot wide mural was never intended to last forever.
"You rarely ever have a west-facing mural, because the sun is so devastating" in California, Rochelle says. And while people may express outrage over the mural's impending removal, until recently no one had offered to pay for its upkeep, he says.
Rochelle has had to pay $54,000 for renovations and structural improvements, including the most expensive component outlined in a notice from the city's code enforcement department — $29,000 to repair cracks in the stucco bearing Siva's likeness, and to "recolor" that wall.
In order to bring his buildings at 65 W. Ramsey St. into code compliance, he also is spending $10,500 to replace overhangs and another $8,500 to add an HVAC system to one of his units.
Demolition permits and fees take on another $2,500, and other functional repairs are required.
Rochelle knew Siva, a former Realtor who had a stint as a cowgirl in Hollywood.
He considered her and her late husband Alvino Siva, a Morongo tribal elder, as friends.
During the few weeks muralist Colleen Mitchell-Veyna was in Banning in 2006, she invited the community to a BYOB (bring your own brush) event to come help blanket the wall in base colors in what she refers to as a "paint by numbers" sort of process; Mitchell-Veyna then finished things off with the blending and details.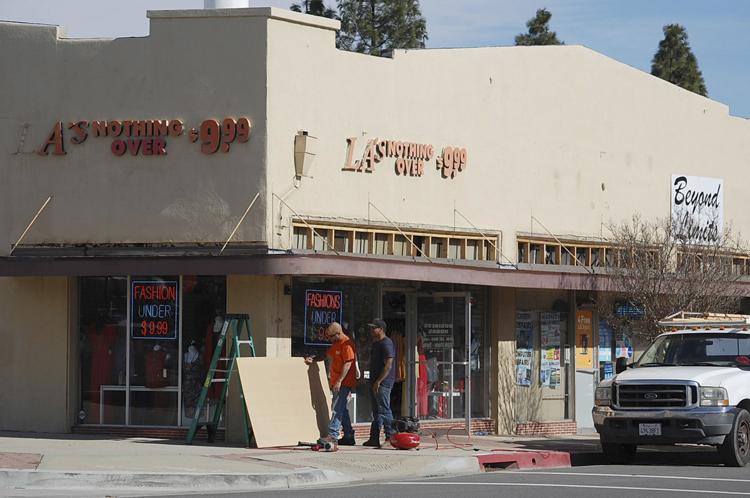 Reached at her studio in Visalia, Mitchell-Veyna explained that "I have a little different outlook" as to the sentimental value of the mural. "What happens to it after I paint it is not up to me, and I'm OK with that."
Former city councilman George Moyer, representing the Downtown Committee, told the Record Gazette "We are constantly looking for ways to improve our downtown image and draw people to it," noting that among the suggestions posed to his committee are requests for more murals. "We were certainly surprised and taken aback when we were told at last week's meeting about the necessary repairs to the building. As one of our oldest and most visible murals, Pat Siva is loved by everyone. We understand that the building's owner did everything possible to preserve it," but agreed that it was not feasible to keep the mural intact. "The committee is discussing ways to publicly memorialize this wonderful part of Banning's history."
Rochelle had an agreement with the Banning Chamber of Commerce to allow the mural to be painted on the wall of his building for a period of 10 years.
The chamber agreed to take care of all costs associated with the mural itself, and its agreement with Rochelle's and his daughter Tiffany's family trust stipulated that the chamber be given a 30-day notice if the mural had to be altered or removed to allow the chamber time to take "appropriate action to preserve the mural."
While Rochelle has not agreed to pay for a new mural, he told the Record Gazette that he would consider chipping in for a new one once the wall has been repaired, and would definitely agree to host another one — even the same one — if the proposed mural was one that spoke to him.
"I like murals, and I'm all about the community. I welcome them to put up another mural," Rochelle said. "There aren't too many open walls with that kind of space available," though he cautioned about west-facing walls and the challenges they face with extra exposure to the sun and wind.
Staff Writer David James Heiss may be reached at dheiss@recordgazette.net , or by calling (951) 849-4586 x114.