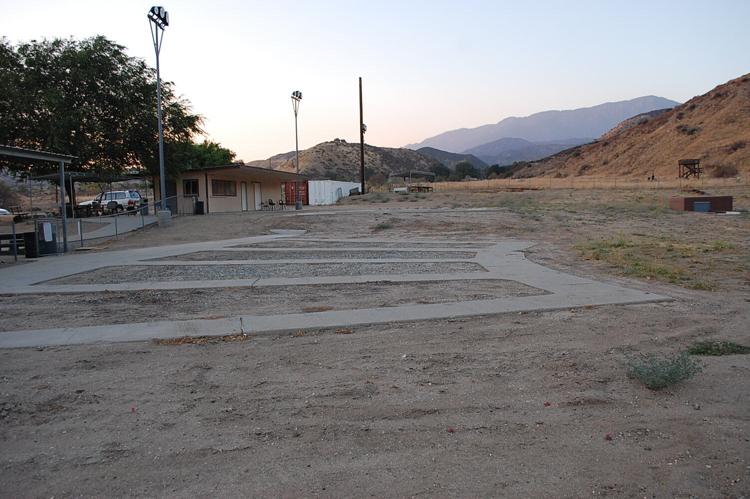 In a remote area of Mias Canyon on city-owned land that formerly belonged to Marshall Palmer's grandparents sits the relatively secluded Banning Sportsman Club, which as a nonprofit organization turns 67 this month.
The cozy clubhouse is decorated much like an Elks Lodge, with taxidermy trophies mounted near the ceiling, and long tables set up for monthly dinner gatherings.
Out back, it is most certainly a gun range, with a few trap houses and paved alleys for rifle and pistol shooting ranges, flanked by the hills of the Morongo reservation.
Being a "club," it is technically private, and for insurance reasons, has to limit how many people can be a part of it, though it boasts a 4,000 square-foot clubhouse built by its members several decades ago and a couple other small buildings that are part of 63.91 acres leased by the city for a token $1 per year.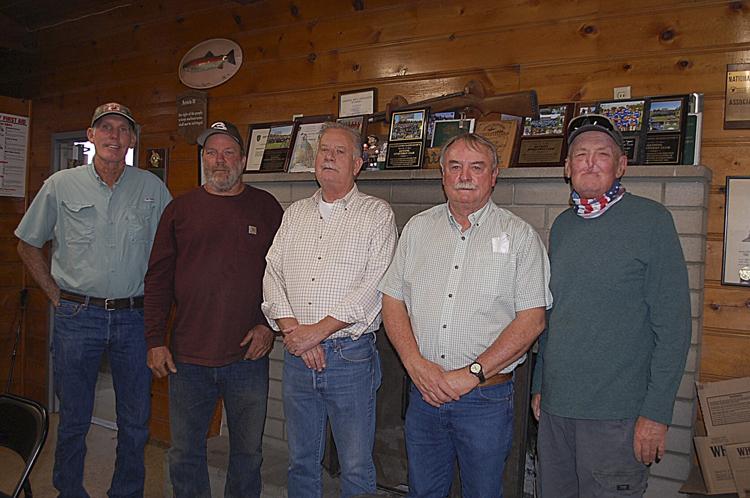 Yet, their members sponsor many activities that are open to, and benefit, the public.
Several law enforcement agencies use their ranges for training, and the club donates use of their facilities to the Junior ROTC Sea Cadets.
It's nearly that time of year they would host their annual turkey shoot Nov. 7-8, awarding 40 turkeys and 20 hams to winners in time for Thanksgiving.
The club's members volunteer at Little League events and fundraisers, and supply volunteers for the Inland Empire Bassmaster's Club.
They host gun safety and training seminars for the public.
A month ago, they would have sponsored a two-day shooting event as a fundraiser for Banning Stagecoach Days, cancelled of course, due to the pandemic.
Banning Police Department has exclusive run of their shooting ranges every Wednesday at no cost to the city.
The Banning Sportsman's Club saves the city roughly $26,000 a year by not having to send its officers out of town to get gun certifications and training at other facilities, according to a city staff report.
The club has been working to upgrade facilities and embark on renovations of its ranges.
With their 15-year lease up for renewal in three years, the club approached the city to renew it a couple of years early, to ensure the club's investments in its renovations are secure.
The original club was built in 1952 through club labor.
During a reporter's visit, club Vice President Marshall Palmer pointed out the recently remodeled restrooms, which are now ADA-compliant. They installed a commercial kitchen to better accommodate their monthly dinner meetings, once those resume.
In its bi-monthly newsletter to members, "The Sportsman's Gazette" recapped discussions at its Aug. 20 board meeting, noting "Much discussion was had about Dinner Meetings, and the lack of them, due to the pandemic. Currently about 64% of the Club's members are over 60 years of age, including 35% that are over 70 years old. The Club doesn't want the liability and bad publicity of being the next virus hot spot … and will do everything to protect all the members and guests."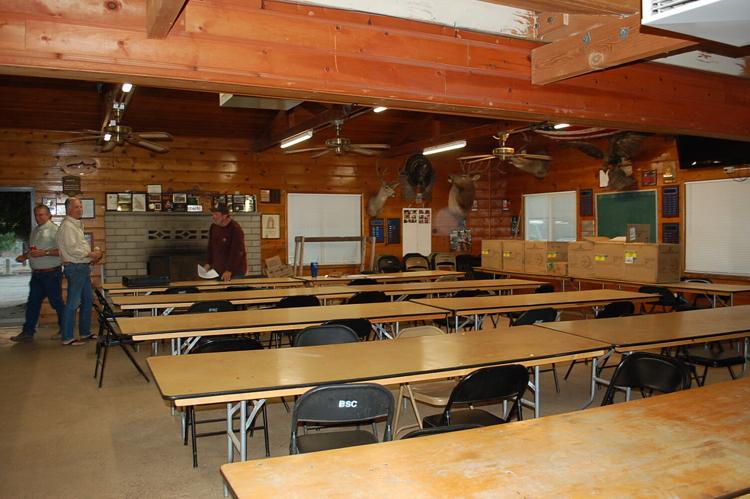 Based on that, they canceled their September membership meeting.
That puts a lot of pressure on the remaining members who are able to venture out.
"All the work done here is done entirely by members," who are all volunteers, having done everything from the recent remodeling to installing new roofing for the clubhouse and new LED lighting around the campus, explains club President Malcom Smith.
Due to the size of the clubhouse, the Fire Department limits membership to 100, Smith says. A couple dozen people have been placed on a waiting list to be able to join.
The pandemic has thrown actual memberships in flux, as some members have moved to other areas.
The club also has 41 Life Members who no longer have to pay the annual $100 dues.
At the Oct. 13 city council meeting, Banning council members interrogated Palmer about the veracity of the club's nonprofit status, which is a 501 (c)7, which qualifies as a social club, rather than a 501 (c)3, which would be a nonprofit; and he strongly questioned its membership, its finances and tax revenues.
Councilman David Happe wanted to know how the club was paying for the remodeling of its buildings; Palmer explained that it was paid for entirely out of its own fundraising and club members' dues, as well as charging law enforcement agencies outside of Banning for the use of their facilities.
Happe stressed that he was looking for how accessible the club was, and how much does it truly benefit the community when it only pays $1 a year, notwithstanding the fact that the club pays its own property taxes, which is part of the lease agreement.
Councilman Art Welch and Colleen Wallace were admittedly the only council members who had ever visited the Banning Sportsman's Club.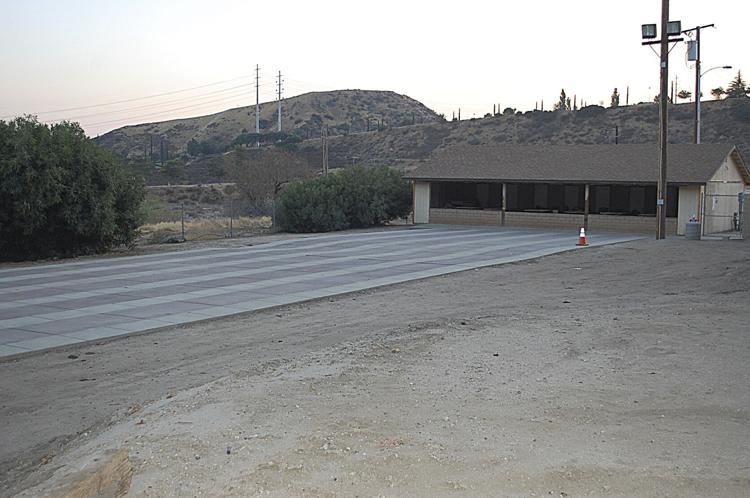 Suspicious of the exclusive organization, Councilman Kyle Pingree suggested holding off on approving the lease until he and others had more time to review the request.
"I'm gonna tell ya, you'll be shocked at what you see, and how well it's managed, on such a terrible piece of geography," Welch told his colleagues. "This piece of the world is not meant to be in my opinion anything more than the Sportsman's Club. They have been a big asset to this city. I challenge some of the questions being asked tonight, which I don't think have any bearing on the real meaning for the Sportsman's Club."
In 20 years of visiting the club, Welch says he has never encountered anyone who has questioned the club's management, safety, or intentions, but has heard countless people say "Thank you to the Sportsman's Club for its support of the communities."
Mayor Daniela Andrade was receptive to an invitation to the club for inspection.
"Mr. Welch brought up a very good point. I think we all need a field trip up there so we can all see everything that it entails." Addressing Palmer, she noted, "I do recognize you from out in the community and I do want to thank you for everything you are doing for the community."
Pingree motioned to continue the item to the Oct. 27 meeting, which was seconded by Wallace, and passed 4-1 with Welch dissenting.
It was the third time the council had stayed action on the Sportsman's Club, considering it had been on their agenda back in September, as well.
At their Oct. 28 council meeting, Happe, Pingree and Andrade continued their discourse. Happe insinuated that the city might take better advantage of the property, manage it so that more people could become involved, and meandered to the subject of gun safety and a need for local residents to have an outlet for proper gun training. The agenda item was about the club's lease.
Police Chief Matt Hamner was summoned to the lectern to discuss gun safety and the advantages of having what is technically a city-owned gun range.
He acknowledged that gun sales are on the rise, and Happe wanted to know what training was available to them.
Happe pointed out "I'm having a feeling it's underutilized for the benefit of the community," suggesting that membership has been exclusively limited to families who have been tied to the organization for a few generations, preventing access to locals who may have an interest in having access to the club's benefits.
Hamner told the council "They keep it very nice and usuable … the vast majority of deaths by guns are murder by people who shouldn't have had a gun in the first place, and suicide," an affliction that is moot regardless of how much gun safety training one offers.
Happe said, "The city has a tremendous asset that has been held closely and exclusively. I'm here to expand that. I want to see more safety classes and training — not just for officers."
Mayor Pro tem Colleen Wallace said, "You have to go with change. The future is changing. They been paying $1 a year; change is coming. It's fine and dandy what they do for the city. People gotta understand that things change, and can't stay" in the 1950s.
City Manager Doug Schulze pointed out that, though insurance limits the number of people who can be inside the clubhouse, the city can always find another venue for the "nonprofit" to hold conventions and large gatherings.
Happe wondered, "If you have a pool of a hundred people" paying dues and volunteering at events "how much more could you do with a pool of 200, or 300. This has been frozen in time; it feels like a good ol' boy handshake, and I do not want to be a part of that. I don't want to trash the lease or paint the club in a bad light. My point is to have more access, maybe expand the facility. It's city property. Maybe the city invests in infrastructure improvements at that property. I'm not here to shut down to the Sportsman's Club," but "let's step into the future."
Councilman Welch asked, "Are we suggesting these people go into a money-making" enterprise?
Welch was the only one to vote against tabling the item indefinitely, as mayor Andrade suggested letting another council worry about the lease, since it is up for renewal in three years.
Staff Writer David James Heiss may be reached at dheiss@recordgazette.net , or by calling (951) 849-4586 x114.