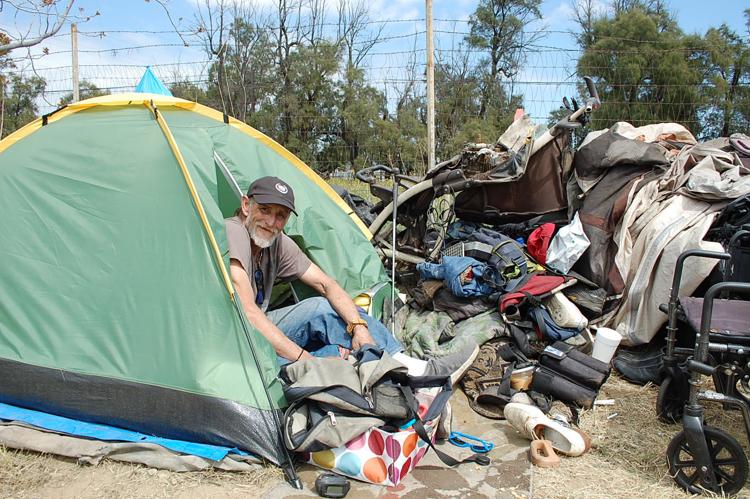 Steven Douglas, a retired sheriff who was once involved with the nonprofit Faith In Action, used to work with that organization to provide assistance to the homeless.
He does not agree that moving the homeless and confining them to a stretch of city-owned open space by the Banning Justice Center is the wisest way to help them.
"I understand the problem. I'm not a heartless guy," he says.
But, in his observations, he insists that "the majority of homeless in town want to sit around and do their drugs and expect the rest of us to alter our lifestyles to accommodate them, and that's wrong," he insists.
In his opinion, the city has "the right" to commandeer hotels suffering from low occupancy due to the quarantine orders and fill them with homeless folks until it all blows over.
According to City Manager Doug Schulze, the owner of the building where nearly 30 homeless individuals were squatting at a commercial building at 553 W. Ramsey St., which the owner has been trying to sell, had asked for the city's help in getting them removed.
It is not the first time the property owner has requested the city's help in removing trespassers, Schulze says.
"The city is aware of roughly 60 homeless who live in our community," nearly half of whom were squatting at the blue building on Ramsey Street.
Most of those individuals have ties to the city, Schulze says, though "Occasionally we get someone who is new, like an inmate who is released from the county jail with nowhere to go.
Faith In Action helped provide some of the tents that have been distributed, Schulze says.
"It's not an ideal situation," Schulze says, and it is temporary until the the city can come up with a longer-term solution as to what to do with everyone who has been invited to stay there.
Look for this developing story in the April 10 edition of the Record Gazette.
Staff Writer David James Heiss may be reached at dheiss@recordgazette.net , and messages may be left at (951) 849-4586 x114.