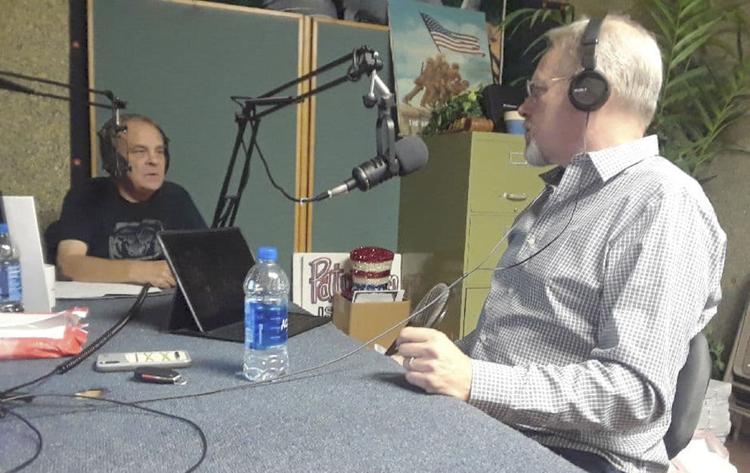 Nearly a year into serving his first term in public office, Banning city councilman David Happe was a guest on KMET 1490 AM's Lou Desmond and Company Show, chatting with interim talk show host Vince Daniels about recent developments and a failed recall vote.
"It's been a real exciting, challenging opportunity to learn about city government," Happe told Daniels during the Oct. 29 podcast.
After spending a quarter century as a fireman in San Diego, "I still wanted to do something for my community," Happe said.
He opened his Station Tap House Bar and Grill in Banning because he saw potential, and he was inspired to change the identity and vibe of the sleepy downtown corridor.
Downtown "hasn't had the best reputation as a safe place to go," he pointed out, "but I've created a safe and comfortable environment in my restaurant, and because of that, I was asked to run. Although I'd been interested in politics all my life, I'd experienced a lot — real life experiences, being in the trenches as a fireman, seeing how people live" has given him an "evolving perspective on politics and society in general."
Daniels asked him about "these people" who brought forth a recall effort against Happe, asking him if it was merely sour grapes, as citing a previous story published in the Record Gazette.
Addressing the fact that Happe accepted developer funds for his campaign, Happe noted "So? So did my opponent."
It prompted Daniels to say, "The people who are doing the most bitching about this, it's like they were asleep in civics class. They don't know how anything works."
Happe replied, "This has been a wonderful civics lesson, so I hope they're paying attention."
"The genesis comes out of being summoned to a grand jury" just a few weeks after he was elected, regarding his colleague on the council Don Peterson. "It was clear to those who were interviewed that it was about Peterson" even though the grand jury did not specify in its findings who it had investigated.
"Peterson has tremendous vocal support" at council meetings, Happe explained, "and so the genesis was, we were considering censuring him. His supporters got together this recall as really a way to"
"Payback?" Daniels interjected.
"Payback, yeah," Happe acknowledged.
Knowing Happe wanted to address a public outcry over comments related to a discussion in which Purple Hearts were mentioned, since Peterson has earned one, Daniels said, "You've been accused of incendiary remarks."
"The article was quoting the petition," Happe said. "What kind of got lost I think is what I intended in my discussion when the Purple Heart was brought up. There were a number of supporters who came up" at the September council meeting, "One of them mentioned that Councilman Peterson was among other many great things in his life — and I don't take that away from him, and I don't take away the fact that he was a wounded war veteran — I mean he received a Purple Heart and that's commendable. But it doesn't incriminate you, and it doesn't exonerate you. It's neither here nor there."
"A non-factor," Daniels clarified.
"It's a non-factor in what we were considering" regarding the grand jury investigation, Happe agreed. "I tried to make that point, which I believe was kind of misconstrued."
Happe criticized anonymous postings online where individuals use platforms to slander prominent people in the community, in which local residents "buy into that: if you're making stuff up and don't put your name behind it … people are taking these commentaries" and come to council chambers after being swayed by untrue sentiments.
"So take a Purple Heart for your stance. And if that's disparaging to the Purple Heart, well I apologize for all those who were insulted in any way. My father was a veteran of the Korean war, my mother served the state of New Jersey in the mental health field, I served as a firefighter, my wife's a nurse — my whole family is steeped in public service … if you're going to make damning accusations" anonymously, that's "an abuse of the First Amendment," Happe said.
Later in the program, after discussing recall efforts of California's governor or impeachment efforts against the president, Daniels said "What I would say to our guest: listen, one point we hadn't hit on yet, whether we're talking about the president, whether we're talking the governor, whether talking about you — for all the big bucks you make doing your job — if people knew how much you make for sitting in those Tuesday night council meetings"
"It's a stipend," Happe clarified.
"The deal with all this is, do we recall, or is the ultimate recall what happens in November every four to six years?" Daniels said.
"Ultimately it should be the ballot box, unless there is evidence of criminal activity," Happe answered. "If Gavin Newsom broke the law, then he should be recalled, perhaps, or at least go down the legal path. But just recall for the sake because your taxes are going up or your guy or gal lost, and you really wanted that to happen, that's just not right. That's a waste of everybody's time."
Staff Writer David James Heiss may be reached at dheiss@recordgazette.net , or by calling (951) 849-4586 x114.